Tarantula Rock Climbing Shoe
Item Details
|
Reviews
(
2
)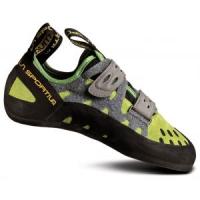 Manufacturer:
La Sportiva



Available now at:

REI
$80.00
Moosejaw

Use coupon code "ALSAVE10" to get the price displayed on this page.

$90.00
$81.00

Use coupon code "ALSAVE10" to get the price displayed on this page.

Use coupon code "ALSAVE10" to get the price displayed on this page.

USOutdoor
$90.00
BackCountry
$90.00
AppOutdoors
$90.00
Description
La Sportiva Tarantula Rock Climbing Shoe. Excellent all around hook and loop closure entry-level shoe that excels at gym climbing, cragging and is slightly more aggressive than the traditional beginner shoe.
2 Reviews
Climb like a spider
Review by: retro, 2011-09-27
I just picked these up about 2 months ago as I was looking for a comfortable, adjustable soft all day guide shoe. I found exactly that in the Sportiva Tarantula. This shoe does not excel on edges (though it's not bad considering the slipper feel), not particularly good for boulder problems or steep overhanging routes. Where these shoes shine is on moderated trad routes, thin cracks and slab. The Frixion rubber is outstanding, sticky and sensitive. The leather uppers form to your feet after only a few hours of climbing in these puppies and they breath very well. Hook and loop closure system allows speeding on and off though I spent the entire day in my shoes two weeks ago...6 pitches and no problems or discomfort. I believe this is the first sportiva shoe to be assembled in China and that concerned me, but two-three months later, the shoes are still holding up nicely. If you are looking for a good, comfortable all arounder, the tarantula is not a bad choice for the quiver.
New Spiders
Review by: Storms_Wind, 2011-07-07
Just got back from testing a brand new pair of these guys, and am somewhat impressed. As my first pair of shoes, these where great, the sizing system was a little wonky, but overall gave a good fit. Had a good grip, and velcro meant easy on and off. However some of the complaints I have include lots of extra space on top of the foot, though this may be because of me. I was also not used to having to curl my toes up so much, but that should change as they wear in. My only real complaint is that the pigment that is used for the synthetic leather is not in there very much, it dyed my foot green after a particularly long run with them on. Not sure if this is unusual or what, but it is annoying taking your shoes off and seeing that you have been cuffed by a leprichaun. Overall it is a good shoe, I just wouldn't buy it as my first choice.