Chantel Astorga Sets New Female Solo Speed Record on The Nose
by Cam Ring
This fall we reported on the women's speed record of The Nose being broken by Libby Sauter and Mayan Smith-Gobat. At the same time, Chantel Astorga was quietly crushing the women's solo speed record. Astorga is no newcomer to the world of speed climbing, having set a previous record on The Nose in 2011 with Sauter, and she broke it twice in 2012 with Smith-Gobat. Astorga was hoping to solo The Nose in a day (24hrs) and made two attempts this fall. On September 26/27 she climbed the route in 24:39. When she climbed it again on October 24/25, she ran out of water and struggled to finish, topping out in 25:40. Astorga 'slowed down' for a few minutes to chat with us about her attempts.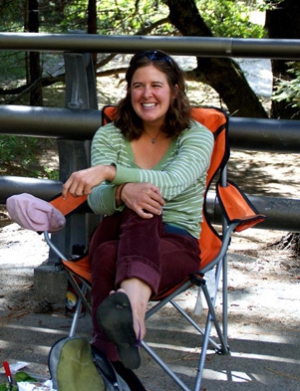 Astorga, lounging around between crushing speed records.
***
What motivated you to try and solo The Nose in a day?
It's something I've wanted to do for years, and then I stopped climbing for a year and a half. I got back in the groove this summer, and then a friend called me up and brought it back to my radar. He encouraged me to give it a try and I thought "Ya, I'm going to do that this fall."
Were you more motivated to do it in a day, or with breaking the old record (27:20 set by Jes Meiris)?
The motivation for me was about doing it in a day—I wanted to see if I was capable of it. I think it's just a really cool thing to try and be up there by yourself climbing El Cap in a day, but I wasn't able to pull it off. I'm just learning the limits of what I am capable of doing by myself and I think that's the most motivating part of doing that.
I think you can give yourself a pat on the back anyways.
Ya right? It's close enough!
Have you soloed The Nose (or any wall) before you tried to do it in a day?
In 2010 I soloed Mescalito. That was the only thing I've soloed besides climbing The Nose this time around.
Any unexpected challenges?
There were a few! On my first attempt I had to pass 18 people. It shouldn't have been unexpected but I didn't go look at the wall the day before. So there were 18 people that I passed, all between the Texas Flake and the pitch above Camp 4. Then I dropped my Jumar and ladder at the bottom of the Great Roof pitch, and so I had to Gri-Gri/Jumar my way up to Camp 6. When I got there some guys wanted me to fix their line up the next pitch and so I made a deal with them that I would do it if they gave me their Jumar.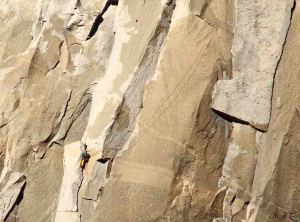 On the King Swing pendulum. Tom Evans photo.
On that try I had three different teams ask me to fix their lines for them, and I did. After I fixed one party's line, I continued up the next pitch and then I rapped down to clean. I started Jumaring back up my line, and then someone from that party got on the same line that I was on and started Jumaring up behind me. On my second attempt, I felt awesome and was moving at a 20-hour speed, and it just felt like I was really going to do it. But it was a really hot day with stagnant air and I just didn't bring enough water. Even if I had rationed my water right it wouldn't have worked, and I ran out of water by Camp 4. So I ended up spending 12 to 14 hours without water up high on the wall. I was pretty dehydrated and on the verge of hallucinating at times.
Did you do any free soloing on the route or were you leading and cleaning every pitch?
I did it a little different both times, but I did free solo some of the Stovelegs and from Dolt Tower to the top of Texas Flake. For everything else I fixed a line.
Did you do any specific training to prepare for your ascent?
No specific training … in fact I only decided to solo the Nose about three weeks prior to doing it.
I spent a lot of time alpine climbing this summer and carrying a pack which I guess probably helped prep me. When I wasn't climbing I was riding my single speed mountain bike for endurance and working out with kettlebells and doing pull up routines. That's about it.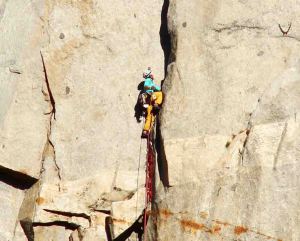 Tom Evans Photo
What's next for you?
My focus and overall passion is in the mountains—climbing big technical routes in big mountains. I'm excited to go try some more technical lines in the Canadian Rockies and Alaska at the moment. There are so many lines in the Canadian Rockies that are big and hard and don't see people ever, so that's what inspires me.
Any advice for aspiring solo big wall climbers?
For soloing you have to be motivated to do it for yourself. It's so much work and such a different state of mind to be up there by yourself that you really have to be motivated for it. It's a lot of work!