The Most Difficult Big Wall Free Climbs in the World
by Paul Nelson
Tommy Caldwell and Kevin Jorgeson finally freed the Dawn Wall this week. We didn't report on it, apart from announcing last year that every pitch had been freed individually, and making some snarky armchair comments on the media frenzy. If you want to read more about it, just check your facebook or twitter feed, or click here for the best climbing-centered perspective of it.
In terms of total difficulty and commitment, Dawn Wall is the hardest free climb in the world. Yes, there are more committing routes, where retreat and access are more difficult and objective hazards like weather and rockfall more severe. There are also harder single-pitch lines as well, going up to 5.15c. But Dawn Wall, with its six pitches of up to 5.14d, and nine more of 5.13, stands as the most stacked, sustained big wall, with individual moves and pitches that are pushing world standards for difficulty. This line took two of the best climbers in the world seven seasons to complete.
The statistic/numbers junkie site fivethirtyeight.com recently jumped on the issue of Dawn Wall's difficulty. They took into account both the route's length and difficulty, and compared it with other big, hard lines, coming to the conclusion that Dawn Wall is the hardest route in the world, backed by cold, hard data! However, their data and comparison sets were a bit limited, given that they used the routes database over at Mountainproject to see what other big, hard routes are out there. The problem with this is that, while Mountainproject has a great routes database (yes, much better than our own here!), it is still 100% user-submitted. Average Joes like you and me contribute to the routes database, which means that a lot of the most cutting edge lines in the world are simply not catalogued; the only 5.14 big wall even listed on mountainproject is Magic Mushroom. FiveThirtyEight was correct in their conclusion that Dawn Wall is the most difficult big wall free climb in the world, but they missed out on what most of the others are, or how it really stacks up against it predecessors.
So, here they are– some of the biggest, hardest multi-pitches and walls in the world, in order of ascent. We made the cutoff at the arbitrary grade of 5.14a/8b+, which unfortunately leaves out some amazing big wall first ascents by Peter Croft, Todd Skinner, and the Hubers in Yosemite. Regardless, most of these routes, at one time or another, were arguably holders of the title "most difficult big wall in the world."
***
The Nose, El Capitan, Yosemite, California
First Ascent: Lynn Hill, 1993
Length and Difficulty: 5.13b-5.14b, 23 pitches
Repeats: Scott Burke (toproped Great Roof pitch), Tommy Caldwell, Beth Rodden, Jorg Verhoeven
This is without a doubt the granddaddy of big wall free climbing, with Hill showing us what was possible on Yosemite Granite. Though not as sustained as many of El Cap's 5.13 free routes, The Nose has two pitches, "The Great Roof" and "Changing Corners" that have rejected almost all suitors. Hill originally rated the route 5.13b, the consensus is 5.14a now.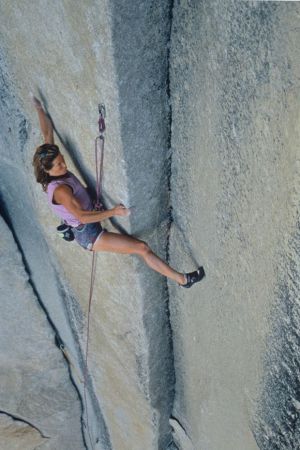 Lynn Hill on the "changing corners" pitch of The Nose.
Bellevista, Dolomites, Italy
Length and Difficulty: 5.14b, 10 pitches
First Ascent: Alex Huber, 2001
Repeats: David Lama, Mauro Bole, Dani Moreno, Sasha DiGiulian, Edu Marin, Dave Macleod, Robbie Philips
Bellevista's overhanging limestone is very different from the Yosemite granite that its author Alex Huber would go on to climb so much of. Contrary to many Americans' stereotyping of European climbing as "safely" bolted sport, his route features runouts, unreliable pitons, trad gear in bad rock, and is often wet. Despite this, it has seen quite a few repeats. In 2007, Huber also established the 5.14b big wall Pan Aroma in the same area.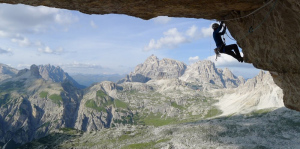 Dave Macleod on a repeat of Bellevista
South Face, Washington Column, Yosemite, California
First Ascent: Matt Wilder, 2002
Length and Difficulty: v10 or 5.14a, 10 pitches
Repeats: Tommy Caldwell
Yosemite's first confirmed 5.14 big wall was not on El Cap, but a free version of many aid climbers' first big wall. It took the likes of Matt Wilder, who not only is an excellent trad climber but a double digit boulderer, to unlock the crux v10 boulder problem over the Kor Roof. With the difficulties coming down to this problem, Wilder hesitated to call the route 5.14, and instead called it "v10/5.12c." Still, a v10 move equals 5.14a.
Dihedral Wall, El Capitan, Yosemite, California
First Ascent: Tommy Caldwell, 2004. Unrepeated.
Length and Difficulty: 5.14a, 25 pitches
By the time Caldwell put this up, he was no stranger to hard free climbing on El Cap, having repeated most of the German Huber brothers' 5.13 routes on the feature, and FA-ing a few of his own. However, this was his first 5.14 El Cap route, and is arguably the one that put him at the forefront of hard free climbing on the feature, with nine pitches of 5.13 or harder.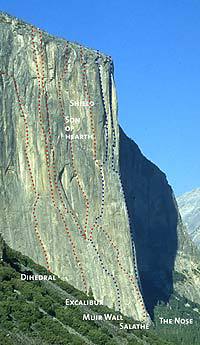 The west side of El Cap, showing the lines of The Nose, Dihedral Wall, and Muir Wall (Magic Mushroom)
Magic Mushroom, El Capitan, Yosemite, California
Length and Difficulty: 5.13d/14a, 31 pitches
First Ascent: Tommy Caldwell and Justin Sjong, 2008. Unrepeated.
This free version of the Muir Wall was a contender for "hardest big wall" at the time it was freed, and is incredibly sustained with nine pitches of 5.12 and a dozen more of 5.13-13+. Although there are likely no moves of solid 5.14 on it, it is considered to be that grade just for its overall difficulty.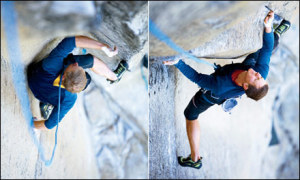 Caldwell in his element: funky, techy granite on Magic Mushroom. Corey Rich photo
Orbayu, Naranjo de Bulnes, Picos de Europa, Asturias, Spain
This was undoubtedly the hardest big wall in the world at the time it was established. The Pou brothers, two powerhouse Basques, had already repeated many of El Cap's hard routes, as well as climbing some of Europe's hardest single pitch sport climbs, and this was their crowning achievement in their long quest to repeat or establish the hardest big wall routes in Europe. Orbayu was repeated a couple years later, and became the topic of some grade controversy when Nico Favresse and Adam Pustelnik suggested that it might be more like 5.14a/b.
Tough Enough, Tsaranoro Massif, Madagascar
First Ascent: Stéphanie Bodet, Sylvain Millet, Laurent Triay and Arnaud Petit, 2008, Adam Ondra, 2010
Length and Difficulty: 5.14a/b, 10 pitches
This prominent feature in Madagascar had an interesting history, as some of the best climbers in the world attempted to free its ultra-techy faces. The story of the individual climbers to free each pitch is too complex to tell here, but click here for more information. The first team to free all of the pitches was a group of French climbers in 2008, but they never managed to send the whole route in a single push. In 2010, Adam Ondra– without a doubt the world's best rock climber, but not particularly known for his big wall repertoire– easily sent the climb in a single-day push, onsighting the whole thing except for the two 5.14 pitches, which took him two tries. Although this was the most significant ascent of Ondra's Madagascar trip, he also FA'd Mora Mora, a less sustained route of the same grade as Tough Enough, and made a repeat of Lynn Hill's Bravo les Filles (5.13+, 13 pitches).
Corazon de Ensueño, Getu, China
First Ascent: Dani Andrada, Chris Sharma, 2011
Length and Difficulty: 5.14b, 8 pitches
As the Petzl Rock Trip, a yearly event that sends the world's best climbers to crags around the world, drew to an end in 2011 China, Spaniard Dani Andrada managed to send what he considers his Magnum Opus, the eight pitch Corazon de Ensueño. Though a bit shorter than most other routes on this list, this is probably the steepest, and to follow the five pitches of 5.13 and two of 5.14, Andrada enlisted Chris Sharma as his belayer.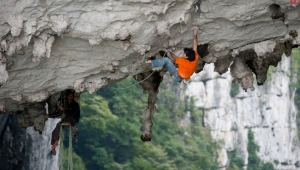 Sharma enjoying his seat while belaying Andrada
Pogulian Do Koduduo and Tinipi, Mt. Kinabalu, Borneo.
First Ascent: Daniel Woods and Yuji Hirayama, 2012
Length and Difficulty: 5.14d and 5.15a, 2 pitches
Ok, this entry is not a big wall by any definition. However, the spirit of adventure and bringing cutting edge difficulty to remote parts of the world definitely shines through in these routes that grace the spires at the summit of 13,436 foot Mt. Kinabalu. Just as interesting, the "odd couple" pairing of Hirayama and Woods is hilarious in the Reel Rock video that documented these routes. Hirayama has been climbing at elite levels in all disciplines of rock climbing for over two decades now; probably only Alex Huber approaches him in terms of depth and talent. Woods is one of the best boulderers in the world, and probably is more capable of harder individual moves than anyone else. Though they were not putting up big stuff, it's still pretty cool that they could bring 5.14+/15- difficulty to one of the most remote parts of the world.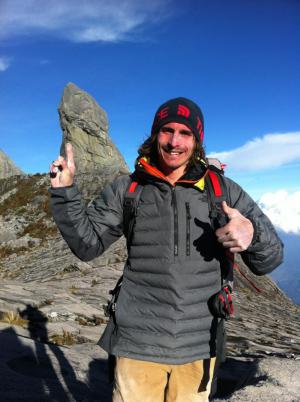 Woods forgot his sunscreen and got his face fried, but still managed to crush
Into the Light, Majlis al Jinn, Oman
First Ascent: Chris Sharma and Stefan Glowacz, 2014
Length and Difficulty: 5.14a, 13 pitches
This route probably gets the "most unique big climb" award on this list, and rivals Corazon de Ensueño for steepness. Whereas most "big walls" look the part, with huge, sweeping faces towering over the horizon, Into the Light is literally a hole in the ground, a huge cave that has attracted rappellers and BASE jumpers. Still, "big wall" or not, this is a hugely committing and sustained 13-pitch route. Although its ascent by two international rock stars was highly publicized in this four-part Red Bull video series, don't count on hearing about any repeats anytime soon. The nation of Oman only allowed climbing in the cave for this specific ascent, and does not plan on granting access to anyone else.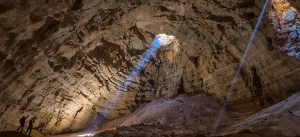 Sharma and Glowacz scoping out the line
moeman

2015-01-17
Note: Orbayu also repeated by Cedric Lachat in 2014. Nina Caprez sent all the pitches, but did not manage a single-push ascent.
moeman

2015-01-17
See also:

Silbergeier: FA Beat Kammerlander--1994(!), 14a, Ratikon, Bolted, Many Repeats
http://www.planetmountain.com/english/rock/routes/itineraries/scheda.php?lang=eng&id_itinerario=838&id_tipologia=38

WoGu, Ondra-2008, 14b, Ratikon, sparsely bolted. Unrepeated?

Zahir Plus: 14a/b (by the "+" variation) http://www.planetmountain.com/english/News/shownews1.lasso?l=2&keyid=37054#

Viaje de los Locos, FA Andrada, 14a, Sardinia, Recent female repeat by DiGulian http://www.redbull.com/us/en/adventure/stories/1331683478800/sasha-digiulian-sardinia-italy-video

Dunn-Westbay, FFA T.C. and undercover crusher Joe Mills, 14a, the Diamond http://climbingnarc.com/2013/08/caldwell-mills-climb-first-5-14-on-the-diamond/

Direct Northwest Face Half Dome, Skinner, 1993 (at 13d); 2nd ascent by T.C. in 2007, with linked crux pitches to produce a 14a grade (http://www.rockandice.com/lates-news/seeing-perfect-visionary)

And "coming soon;" the Tom Egan, Bugaboos, 14a?, work in progress by Segal and Stanhope, might go free this summer

And "the future": Todd Skinner's free project on Leaning Tower (Yosemite) is possible but will, by all accounts, be massively next-level, perhaps even beyond the Dawn Wall. No one actively working it; Honnold scoped it out a few years ago and decided that it would be way too hard and too much work.

I also imagine that with a more liberal attitude toward bolting over old aid/hooking pitches, that much 5.14 would be found on the right side of El Cap. The community will really need to decide what it values more- a pitch of 5.14 crimping or a pitch of A4 hooking (assuming that freeing said 5.14 without bolt protection is deemed unreasonable).
camhead

2015-01-18
Moeman, thanks for the amendments; Beat's routes definitely deserve mention, as well as Ratikon in general.
roninthorne

2015-01-22
Meanwhile, without a word from any of the famous climbers mentioned above, Apache Leap, Oak Flat Campground and Queen Creek quietly fade away. When fame profits no one and nothing save the famous, it has no meaning.
Appelkoos

2015-10-30
Kinabalu is a logistical nightmare - loads of corrupt officials, so expensive unless you have corporate sponsors. And pours with rain half the time.

"Gringos in the Limelight", at Bukit Takun, documented on this site, still waiting for a FFA ... est 10 pitches 8b+
Add a Comment