Clif Bar Drops "Valley Uprising" Athletes from Sponsorship
by Paul Nelson
Energy bar company Clif has dropped five of its most high-profile climbers from its sponsored "Team Clif Bar." The company has been largely silent on why it dropped Alex Honnold, Dean Potter, Steph Davis, Timmy O'Neill, and Cedar Wright, only saying that it is focusing on "getting back to Clif's roots." However, climbing media and internet message boards have been ripe with speculation about the role of high risk activities and media exposure in projecting images of professional climbers that might not fall in line with companies' desired public images.
The climber on their packages clearly has a rope!
The simplest explanation, of course, would be that some of these climbers are pursuing very high-risk activities. Potter has been a prominent free soloist for over a decade, and more recently has been pushing the limits on untethered high lining and even "free BASEing," soloing with a parachute on for protection. Honnold is without a doubt the world's most prolific and high level free soloist as well. Davis has also been soloing for years, and has been one of climbing's most high-profile converts to BASE jumping as well.
It is conceivable that Clif does not want to be seen as condoning these risky activities– many high profile soloists and BASE jumpers have died pursuing their sports over the past few decades, including Davis's husband, Mario Richard. Perhaps some of the higher-ups at Clif anticipated public backlash against the company should the worst-case-scenario happen to one of their athletes, even questioning sponsors' roles in encouraging and egging on high-risk soloing and BASE jumping.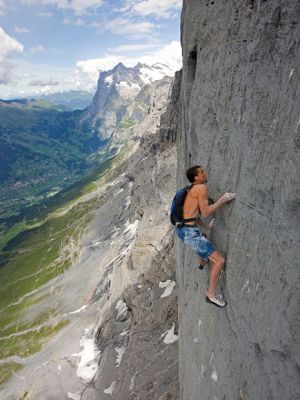 Dean Potter, high up on the Eiger, with only a parachute to save him if he falls.
Potter is no stranger to controversy, and in many ways embodies a paradox. He clearly climbs, slacklines, and BASE jumps solely for the love of the sport, and if you hear him speak, he embodies a sort of "soul climber" mysticism about his pursuits. His philosophy is simply that climbing is an expression of freedom, and he hates to be bound by societal rules or allegiance to corporate sponsors. But, beyond this introspection, his living relies upon mass public exposure by those sponsors that he's so uncomfortable with. In 2006, this conflict came to a head when Potter illegally climbed and filmed an
ascent of Utah's Delicate Arch
. One of his sponsors, Patagonia, a company whose brand relies on an image of environmental responsibility, promptly dropped Potter, as well as Davis, who was married to him at the time.
Honnold, while not necessarily embodying the rebellious combination of 1980s rock star and Buddhist monk that Potter does, is without a doubt pushing the limits of pure free soloing much more than Potter and Davis (he has soloed many 5.13 cracks, as well as committing big walls up to 5.12+).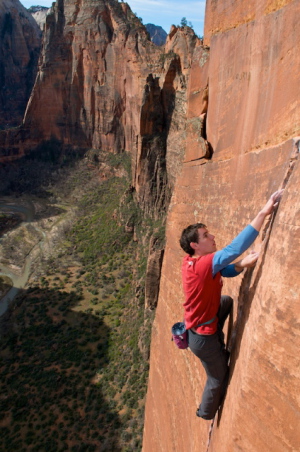 Honnold on Zion National Park's classic "Moonlight Buttress," 5.12+
However, unlike Potter, his own public approach to the practice is more low-key and less defiant of land managers and sponsors than Potter has been. However, it is understandable that a company like Clif would simply not want to be associated with such high risk activities as Honnold's soloing.
That said, it may be that Clif's dropping of Honnold is much riskier than their dropping of Potter. Yes, he partakes in extremely high-risk activities, but he is also without a doubt the most famous and well-known climber in the world right now. The non-climbing public, who will never understand or care about v-double digit bouldering or free vs. aid, can easily grasp what is so badass about Honnold: "he's hanging by his fingertips! If he falls, he'll die!" It is not an overstatement to say that Clif dropping him would be like Nike dropping Michael Jordan at the height of his popularity. In a way, we may even see this as a risky, but steadfast maintaining of principles on Clif's part.
But here's the problem: it is not just about soloing or high-risk activities, as the case of Wright and O'Neill shows. Neither are high-level free soloists to the degree of Potter, Davis, or Honnold, although both have soloed (like about any other Yosemite Valley locals). O'Neill has long been the climbing world's court jester, MC-ing events and hosting climbing films with the high energy humor of Robin Williams-style comedians. He has been incredibly involved in getting disabled climbers more exposure through the organization Paradox Sports. Wright is more known as a big wall climber, adventurer, and writer than as a risk-chasing free soloist. In most climbers' opinions, it is very strange that either of these two would be dropped for the reasons that the other three would be.
What all five climbers have in common, however, is that they all appeared in the recent documentary Valley Uprising, which was the standout film of this year's Reel Rock Tour. The film was excellent in showing how Yosemite Valley's
climbing has pushed national standards ahead from the time of Royal Robbins all the way to the present. However, a large part of its narrative showed, quite accurately, just how rebellious and anti-authoritarian climbers in the Valley have been. From Warren Harding refusing a rescue from El Cap, to Stone Master dirtbags salvaging a crashed plane full of cannabis, to the fact that BASE jumping is simply illegal in the Yosemite National Park, a large part of the film focused on climbers breaking both societal norms and laws. Could it be that this just isn't the image that Clif wants to convey?
Looking at Clif's page of their climber team members, one notices that Tommy Caldwell, America's best all-around climber, and also a figure in Valley Uprising, survived the purge. Once again, this probably comes down to the image that the sponsors wish to convey. For years, Caldwell had embodied a sort of All-American, "aw shucks" modesty as he crushes the El Cap routes. With the exception of his kidnapping in Kyrgystan, he is rarely controversial, and although he runs it out and takes massive whips with the best of them, nobody would really accuse him of being reckless or dangerous.
This whole story has just exposed all of us to the very real, and not very uplifting fact that all sponsorship and professional climbing comes down to how outdoor gear manufacturers want to convey their images. Red Bull wants to be extreme and edgy, Patagonia wants to be environmentally and socially responsible, and apparently Clif wants to focus more on sponsoring climbers who are excellent athletes, but not too controversial.
Although it is significant that Clif is dropping athletes because of risk and image, we need to remember that this is actually not that big of a deal. Potter is one of the renegades of outdoor recreational sports, but even the most controversial things he's done do not compare to the mainstream transgressions of Lance Armstrong, Michael Vick, or Ray Rice. And furthermore, most consumers of Clif Bars, let alone the general pubic, will never know or care about this whole story. Is Clif being responsible in using their position to dictate how they think climbing should be perceived, keeping these crazy soloists in check by withholding their free Blueberry Crisp bars? Or is this overly cautious, big corporate money unfairly hindering some of the most talented and individualistic figures in our sport? It's probably a bit of both.
***
POSTSCRIPT: A few days after this article, and quite a bit of other online frenzy, Clif released this statement. It basically comes down to that the company is uncomfortable with the risk that free soloing, high-lining, and BASE jumping entail. The response is excellent and rational, and makes a very good case for Clif's direction, although the fact remains that Wright and O'Neill are not particularly well-known for these activities (both tend to do tethered highlining, which is no more dangerous than roped climbing).
Regardless, we thank Clif for clarifying this decision. It was not an easy one, and we have to commend companies that feel morally responsible for actions that they may condone, and act upon this responsibility.
salamandersmith

2014-11-12
I think what's most important here is how awful Clif Bars taste anyway…...
troutboy

2014-11-15
Might want to recheck your head line.

sonyapaz

2014-11-17
In light of the comparisons made by Clif Bar between highlining, BASE jumping, and free-solo climbing, an open letter was written to Clif Bar by members of the international community. We are asking them to clarify their position by specifying that free-solo highliners, specifically, are no longer supported in their sponsorship policy rather than highlining in general.

http://slacklink.org/images/An_Open_Letter_to_Clif_Bar.pdf
roninthorne

2014-12-20
Dean Potter- rock star and buddhist monk? LOL... riiiiiiiiiiiiiiiiight. How about "media whore"? "No I hate the camera... get my good side while I close access to this climb forever, while not doing the first ascent."
Add a Comment