Game Changers: Five Innovations and Inventions that Shaped Modern Climbing
by Paul Nelson
When you think about it, pure climbing is not that dependent on gear. Yes, if you want to climb something safely, you'll need equipment, but very hard climbs can and have been done barefoot, with no gear. In this sense, climbing has more in common with running or swimming than it does with mountain biking, kayaking, or skiing.
That said, our sport has made some huge leaps because of technological innovations. Most of these innovations address issues of safety and protection– they make our falls safer. But others, notably the curved ice axe and sticky rubber, have actual made the physical act of climbing easier. Here are the technologies that not only allow us to push the limits, but that actually showed us what the limits were.
***
1. The Nylon Kernmantle Rope
Most of us have heard the mantra "The leader must not fall" from the old days of climbing. While a lot of that attitude had to do with poor, spaced protection, a lack of specific belay devices, and even the fact that older, easier climbs were often low-angle, the biggest danger of falling in pre-WWII climbing was that ropes were not that strong. Then, as today, the rope is one of the only parts of our protection system that we cannot backup. If it breaks, game over, man!
Hemp climbing rope. We'll get to the ice axe shortly.
From the 18th century to the 1930s, climbers used braided hemp or even silk ropes. They were weak, cut easily, and definitely not very dynamic. After the synthetic chemical revolution of the WWII era, nylon and perlon rapidly took the place of hemp (the fact that hemp production was restricted by the Criminalization of Cannabis may have also been a factor). However, most ropes of the 1950s-60s were still braided. The most common type of rope at this time was "goldline." It was cheap and VERY dynamic, but stiff, unwieldy, and twisted and kinked easily.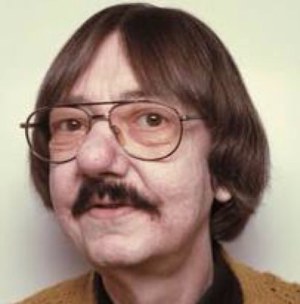 Cheap, old, and kinky. Just like your creepy uncle.
The major revolution (I'm going to be using the term "revolution" a lot in this article) occurred with the kernmantle design– the term is German for "core-sheath." Pioneered in 1954 by Edelrid, and made dynamic by the mid-60s, kernmantle ropes featured tightly woven, individual twists of soft nylon in their core, surrounded by a slightly tougher sheath on the outside for protection. Capable of withstanding multiple big falls, the kernmantle rope was integral to the free climbing revolution of the 1970s. Today, the design stays the same, although ropes just keep getting thinner and thinner while maintaining their strength.
2. The Curved-pick Ice Axe
In a recent interview on the Enormocast climbing podcast, author and alpinist Kelly Cordes stated that the curved, toothed ice axe was the single biggest game changer in climbing history. It certainly is for ice and alpinism.
Before the late 1960s, ice climbing was laborious. With a single long, wooden-handled axe (see the axe in the hemp rope photo above), climbers would cut steps in low-angle ice flows. They would then climb up these steps with their crampons, using a small, dagger-like pick to hold onto the ice, while they chopped more steps with the long axe. Needless to say, vertical ice or anything much more than modern WI-2 was out of the question for this technique. Ice climbing was a low-angle, mountaineering pursuit.
Then, in the mid-1960s, American Yvon Chouinard and Scottish Hamish MacInnes began experimenting (independently from one another) with shorter ice axes, easier to swing overhead. Just the shortened length (around 55cm) was a big deal, but the true innovation of these new tools was the angle of their picks. The Scottish Terrordactyl axe's pick was pointed radically downward, and Chouinard's was curved downward. This gave both of the tools more aggressive bite into the ice, and made use of the natural arc of a climber's swing. Pair two of these new tools together, one in each hand, and vertical or even overhanging water ice was now a possibility.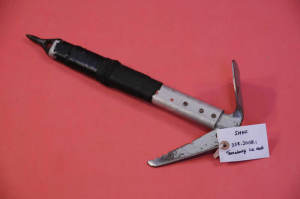 The Scottish Terrordactyl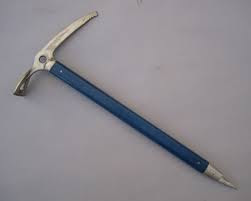 A Chouinard Ice Axe from 1980
More than any other invention on this list, the curved ice axe arguably brought about not just new techniques, but an entirely new sport. Within a decade of their invention, grades were pushing into the WI-6 range and beyond.
3. Sticky Rubber
Ice tools like Chouinard's opened up vast new types of ice that were literally unclimbable up to that point. In contrast to ice, rock is very much possible to climb chalkless, shoeless, and ropeless; 5.14 has been climbed barefoot. Still, what we put on our feet for climbing makes a huge difference. Sticky rubber, along with cams and ropes, was essential to the free climbing standards that began exploding in the mid to late 70s.
The ever-present debate of "edging versus smearing" for shoes dates back to the 1930s. Some climbers wore bulky mountain boots with incredibly stiff soles that could edge fairly well; try climbing a technical edging route sometime in stiff Vasque hiking boots, you may surprise yourself! Other climbers, especially those on friction slabs, preferred more malleable shoes like "Chuck Taylor" basketball shoes, which were occasionally even soled with sticky Vibram rubber. Through the 50s and 60s, various French shoe models such as PA's and later EB's came out with gradually stickier rubber. Although these models refined the fit and style of the shoe, they were still just using regular Vibram rubber.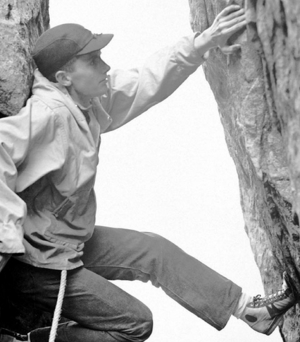 A young David Brower in the 1930s, rocking the basketball shoes.
The true revolutionary moment was in 1980, when the Spanish company Boreal specifically focused on "sticky" rubber for its Fire model (Spanish, so they're pronounced "fee-ray"). The Gallego brothers, who owned Boreal, even took their shoes to Yosemite and put up a new route on El Cap with them. In 1982, John Bachar– already at the top of his game– adopted the Fires and began selling them in the United States. Climbing standards exploded.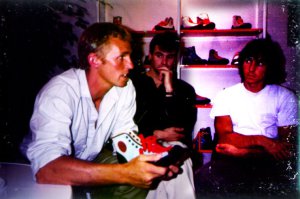 Bachar, Jerry Moffat, and Wolfgang Gullich clustered around a pair of Boreals, sometime in the 1980s
Since then, rubber has only gotten stickier. Five Ten's Stealth Rubber has even been used in racing tires, and some of its latest incarnations are even rumored to be able to stick (barely) to tilted panes of glass. Ironically enough, many climbers consider Boreal to have some of the least sticky rubber on the market now.
2. The Spring-loaded Camming Device (SLCD)
Technically, a "cam" is any device that transforms linear motion into outward rotary motion– as in, when a fall causes some device to wedge or expand outward. Tricams, hexes, big bros, pieces of 2x4's wedged diagonally into a chimney, and even Grigris all use camming action. But, when we say "cam" in climbing, we mean a specific thing: a three or four-lobed, triggered device that places quickly in a parallel crack and lets us feel better about hard crack climbing.
The story of the first four-lobed, spring-loaded camming devices is well-known. Ray Jardine, a talented Yosemite free climber, invented the first version of what are now Forged Friends, and promptly used them to establish The Phoenix, one of the US's first 5.13s, and certainly the first 5.13 crack, in 1977.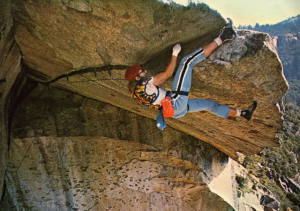 Jardine using cams on Yosemite's Separate Reality (11+/12-).
However, there were many earlier versions of the SLCD that predated Friends. In the early 1970s, Russian Vitaly Abalakov and American Greg Lowe separately came up with various one and two-lobed devices. None really took off, although some were even used on the first ascent of Indian Creek's Supercrack, a 5.10 splitter of unprecedented uniformity and straightness that did not accept passive gear readily. If you look closely, you can see some of Lowe's cams on Earl Wiggins's rack during video of the ascent.
After the commercial availability of Friends, and then TCU's and dual-axle Camalots in the mid-1980s, traditional climbing took a quantum leap. Climbers could refine their pure crack technique, rather than looking for constrictions to fiddle nuts into. The speed of placing a cam allowed climbers to push their limits on pumpy mega-pitches more. And with the further refinement of microcams such as Zeros and Aliens, cams have even opened up the possibilities of protecting tiny little horizontals on face climbs, allowing headpointing and even staving off overbolting and use of pitons in some areas.
Speaking of overbolting…
1. The Expansion Bolt
From climbing's early history and even into the present day, routes have been largely dictated by the presence of natural cracks or fissures in which pitons, stoppers, hexes, or later cams could be placed. This attraction to cracks seeped into every aspect of climbing's aesthetics, and everywhere from major mountains to tiny local choss-heaps climbers sought out weaknesses in the rock, from chimneys to seams. If a climber wished to venture out onto blank faces with no cracks and refine the edgy footwork and crimping that faces required, he could either toprope or solo.
Or bolt. This third option for climbing blank faces is nothing new– it was first used by environmental icon David Brower in 1939 on the first ascent of Shiprock, New Mexico, where he placed four bolts over a period of as many days. For decades afterwards, bolting was seen as a viable last resort for climbers who wished to connect crack systems by way of blank faces. The process usually involved either standing at a stance or hanging on hooks, while using a hammer and a hand drill to peck a small, quarter-inch hole into the rock. The metal pieces that climbers pounded into these holes could be anything from expansion bolts made for concrete anchoring, to simple metal pegs (called "carrots" in Australia), to barely-there rivets that would not even hold a fall. Pitons were even occasionally driven into drilled holes.
Probably no other piece of climbing gear has caused as much controversy as bolts. Many climbers who have no problem leaving tat on belay anchors or widening cracks with pitons still grow red with rage at the prospect of leaving these little pieces of metal in rock. Brower felt guilty over leaving permanent scars on Shiprock in 1939. In 1970, Cesare Maestri hauled a gas-powered compressor up the face of Patagonia's Cerro Torre and drilled hundreds of bolts into virgin stone, often next to protectable cracks. And then in the 1980s, sport climbing swept most parts of the globe, as climbers began scoping out unprotectable, steep faces by rappel and with power drills, equipping entire routes safely with bolts.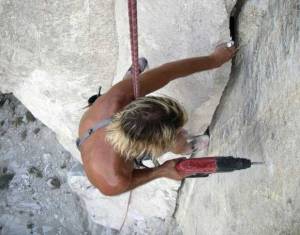 A bolter ruining climbing in Southern California. Photo by rockclimbing.com user jt512.
Although there still is really no broad consensus as to when it is appropriate to use bolts on a new route and when to use removable gear, it is undeniable that these little pieces of metal have gotten more people into climbing, and allowed all climbers to further refine their strength and technique in ways that traditional climbing never can.
***
While I feel that these five innovations have changed climbing more than any other, there are plenty of other technologies and specific inventions that have either changed climbing, responded to changes in climbing, or done a bit of both. Chalk, the Gri Gri, climbing gyms, synthetic clothing, stoppers, the fitted harness– all of these things easily could have made it on this list as well. What other "game changers" have I missed? Let me know!
sklag

2015-01-23
Not to give frost and chouinard too much credit, but what about the invention of nuts as the first removable protection? Yeah, yeah... Brits and their use of railway nuts predates frost/chouinard' design, but I believe that without the call for cleaner climbing, Jardine and Lowe wouldn't be a thing.
munky

2015-01-23
I would have included the modern climbing gym.
sonso45

2015-02-11
Sport climbing itself was an innovation that completely changed climbing. The placement of bolts was moved from "last resort" to the best stance. Projecting and training evolved from sport climbing and lead to the huge gains in difficulty we see today.
Add a Comment