TOTEM CAMS and More -- Vegastradguy Blogs from OR Winter
Submitted by
vegastradguy
on 2009-01-22 | Last Modified on 2009-02-01
Rating
:






Login
to rate this article. Votes: 4 |
Comments
: 28 | Views: 22057
by John Wilder
This is the Day1 blog! Try here for days 2 & 3: DAY 2, DAY 3.
By John Wilder
Howdy folks! Itís day 1 of the Outdoor Retailer Winter Market and Iím bringing you this daily update live from Salt Lake City, Utah- which, in my opinion, is far too cold of a destination for a desert rat like myself! My fellow rc.com and everyoneís favorite benevolent leader, Jay (j_ung) is also here, and he seems slightly amused at my inability to deal with temperatures below 70.
Before I get started with the blog, I wanted to take a moment to mention the loss of one of the outdoor industryís finest folks this past week. Sean Patrick, founder of HERA Womenís Cancer Foundation and the Climb4Life events lost her long battle with cancer. Patrick founded HERA in 2002, a year after she had been given four to six weeks to live, and instead fought for years, working toward her goal to empower women to take control of their health. She will be missed by all of us.
That said, weíve got lots of folks to talk to, so letís get started with the folks from Backbone Media, who we met up with at...
La Sportiva
This winter, La Sportiva is introducing the Speedster, a shoe that almost defies physics with its lack of weight -- clocking in at a measley 160g (compared to the 210-280g of most shoes)-- this is a leather-soled slipper that features Sportivaís P3 platform that maintains the camber of the shoe throughout its lifespan. It stretches to accommodate the foot, but the synthetic upper will prevent stretching over time. The shoe retails at $132, and should be available by July.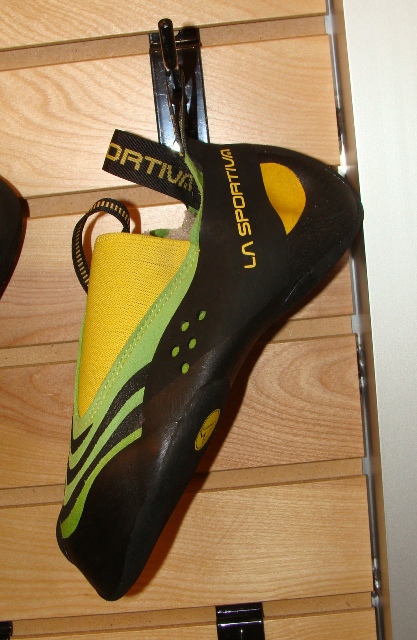 So green and shiny!!!
Also, donít forget about the two luxury liner shoes Sportiva is releasing towards the end of the spring season, the hightop TC Pro climbing shoe ($170) and the ultimate approach shoe, the Gandalf ($215).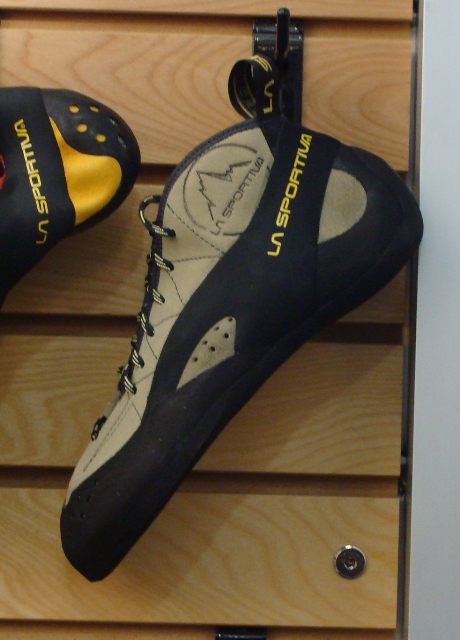 I asked if the holes in the sides were vents for the jets that will let me climb 5.14. Sportiva was not amused.
After finishing up talking shoes, John D. took us over toÖ
Big Agnes
Over the last year or so, Big Agnes has become a leader in their field with green technologies in their products, and this fall is no exception. Check out the Salt Creek 2, Big Agnes latest and greatest green contribution. It features a 100% recycled floor, body, and fly, as well as the DAC poles that use eco-friendly anodizing. They also decided not to use dye in the tent, so its pure white- it weighs in a 6lbs, 5oz and retails at 349.95. It won the Backpacker 2008 Editorís Choice award- look for it around late spring, I believe.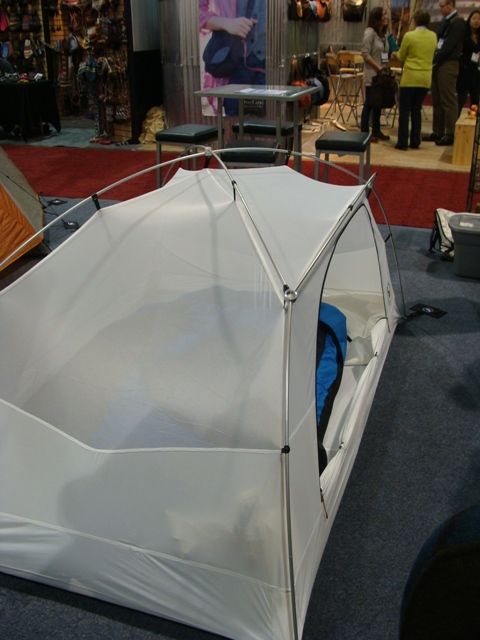 The only 100% recycled tent on the market, the Salt Creek 2.
After finishing up at Big Agnes, John D. and I headed over to everybodyís favorite cam maker
Black Diamond
This winter, BD is revamping and adding to existing lines- most noticeably, the Xenos harness, the Ice/Mixed harness they are adding to their Kinetic Core Construction line of harnesses- which I featured back in August. They are based on a system that supports the body from edge to edge as well as offering insulation and padding for added comfort. This awesome looking harness features a full strength haul loop, 4 gear loops, and 6, count Ďem, 6 ice clipper slots. It will retail for $124.95 and arrive in the spring with the rest of the harness line.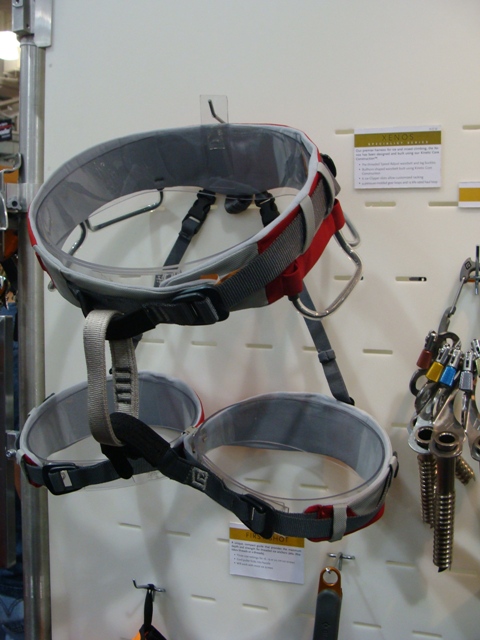 Sexy and red: the Xenos.
Also look for an updated Cyborg from BD this fall, rebuilt with stainless steel and better ability to prevent balling. It will retail for $199.95 and arrive this fall.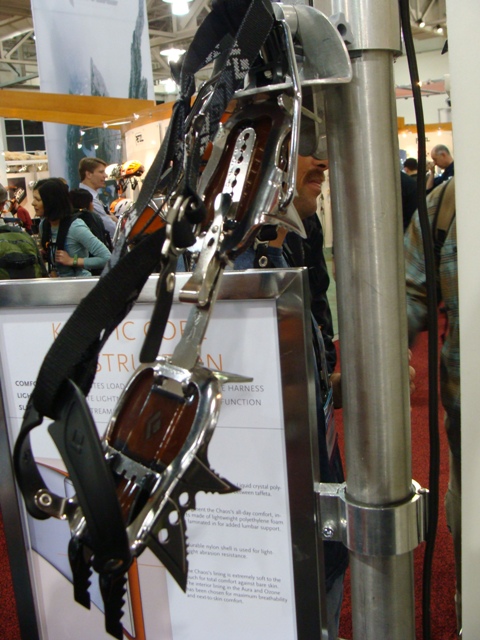 BDís updated flagship crampon.
After our meetup with the clients of Backbone Media, we had some free time, so Jay and I cruised the show a bit to check in on some smaller folks who we didnít get a chance to preset appointments with.
Edelrid
We dropped in at Edelrid first and checked in on how theyíre doing with the Zap-o-mat, which has been remodeled a bit prior to its arrival in the states later this spring. They fixed the plastic component, replacing it with a nylon composite and integrating into one piece rather than two. It should retail around $70, and be around retail shops by May.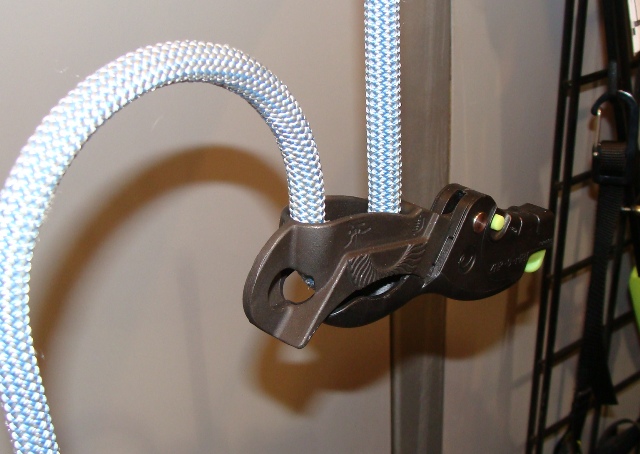 Sleek and sexy: the updated Zap-o-Mat.
Five Ten
So, I managed to work in a last minute appointment with Five Ten, and Iím glad I did as I had a chance to sit down with founder and owner Charles Cole for a little update on where Five Ten is going with its product line. A couple years back, Five Ten had to rethink its approach to rubber use due to high energy costs. The result was a rethinking of how to make their rubber, which eventually resulted in Onyxx, and now, through further refining, they have Stealth Mystique, a rubber that is eight times as durable as Stealth C4 and provides much more friction. This allowed them to start developing some really interesting shoes, one of which is out now.
Introducing, the Project -- a shoe with a 2mm sole (yes, 2mm) -- and no midsole. They laid the rubber right onto the leather. This shoe can literally be rolled into a ball. It has a slight curve in the toe, allowing you to grab features with your toe. This is definitely not a beginners shoe, but more for the climber who has strong feet and wants major sensitivity. I demoed the shoe for about 10 minutes on the demo wall later in the day and was very impressed. The sensitivity is incredible. It retails for $145 and should be in stores now.
Also coming soon is Stealth Paint, which is basically a jar of rubber shavings from the Five Ten plant and a tube of contact cement that, when mixed together, provide an epoxy with the properties of sticky rubber. This is, more or less, the stuff on top of the Jet 7 shoe. If there was ever a product to cover your Moccasyms with once theyíve stretched out, this is it. $16 gets you a fair amount of the stuff in a nice little do it yourself kit.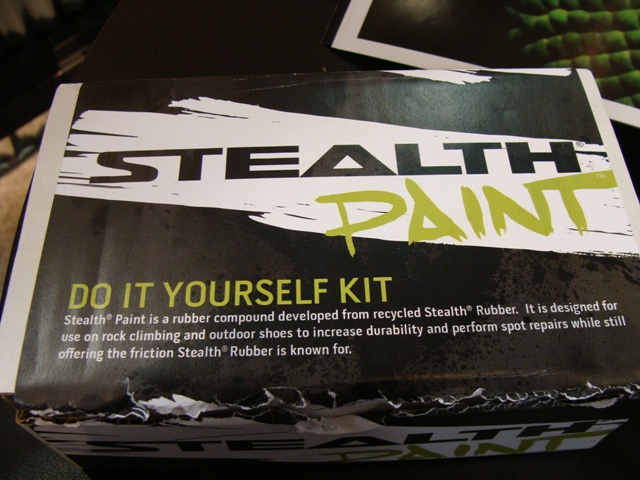 Also up this year is the latest shoe in the Prism series, the Rockwrench. The original Prism was a shoe that had an angled toe box rather than a rounded one. The Rockwrench (below) also has an angled toe box, but the front edge of the shoe is perfectly blunt. The idea being that the Prism was a shoe where the edging power was focused on the inside of the big toe, and the Rockwrenchís power lies on the outside of the foot and in the front edge of the shoe. This shoe arrives in the summer and will probably feature Mystique, and I managed to not get pricing, but I would suspect it's in line with the rest of the brand.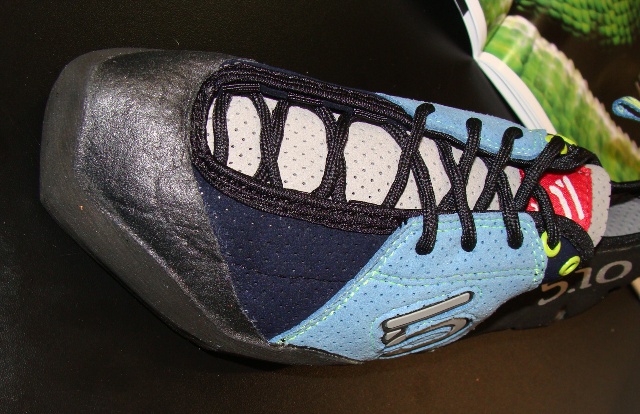 The wildest looking toe box EVER.
Finally, the latest thin crack shoe to come out of Five Tenís plant: the Copperhead. This is a side entry shoe, which basically keeps the laces off the side of the crack, and its pretty orange color means you get to be the coolest guy/girl at the crag. Yay. This bad boy is shipping shortly and retails at $125.
Sterling Rope
As lunchtime approached, we headed over to Sterling Rope, and tried to convince them that food would be an awesome addition to the appointment. After everyone at Sterling finished laughing, we got down to business and talked shop while my stomach rumbled.
Unfortunately, nothing new from Sterling this time around, but the boys at Sterling let me know that everything that they learned from building the Fusion line -- the Ion and the Nano -- will likely produce something new and shiny for us at the July í09 Summer Market.
Also, I always take time to plug Sterlingís Recycling Program. This awesome program is something Sterling started to keep it on the green side and help offset the use of oil based products like nylon. If you have a rope youíre ready to retire, send it back to Sterling (and no, it doesnít need to be a Sterling -- any nylon rope from any manufacturer is welcome!).
Sterling Rope
c/o Rope Redemption Program
26 Morin St.
Biddeford ME 04005
Or go to their website for more info.
Finally, in case you havenít heard, Chris Sharma officially joined the Sterling Team last fall and promptly sent Jumbo Love, that monster 5.15b in the California desert on a custom length Sterling Nano line. Imagine taking one of those monster 60 foot whips on that 9.2mm skinny! Yowsers!
Mammut
After chatting with a rope company, we thought itíd be fun to go talk with another one, but to be honest, we were more interested in getting another look at the Mammut Smart Belay Device -- a device that is getting some strong reviews as its release approaches. Look for a review of this bad boy from our Benevolent Blue Overlord! So, anyway, the Smart comes out in March, and will retail at $30. Itís very light (doh!, managed to forget the specs!) and only works on single lines from 8.9mm to 11mm.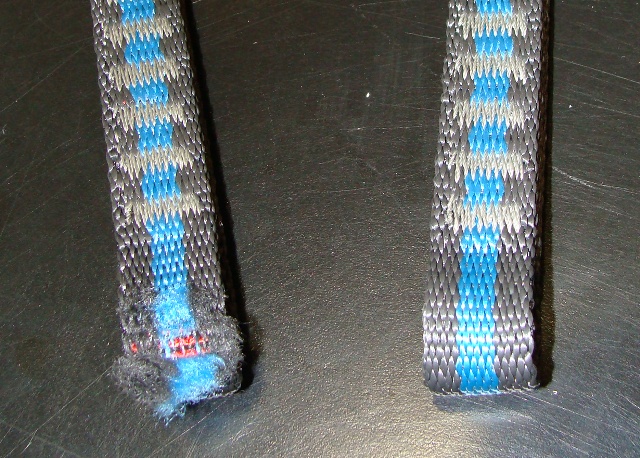 Simple, yet brilliant: the Indicator Dogbone.
Also new from Mammut is the Indicator Dogbone. This slick new product features the same construction as Mammutís Procord, and allowed the company to sew in a red indicator marker inside the tube (see above), letting you know when its time to retire that draw. It should retail in the $6-$7 range and will arrive in the stores in the fall. Also look for more products with wear markers in them in the future from Mammut.
Petzl
With some more free time before our final appointment of the day, Jay and I stopped over at Petzl, and talked about their latest and greatest, the brand new lineup of Tikkas! Thatís right, after overhauling the pretty yellow and blue ascenders, Petzl kept moving and updated their famed line of headlamps. They'll introduce a whole new lineup this fall -- more features, better colors -- including a new Tikkina, Tikka, Tikka Plus, and Tikka XP. The big story is the Tikka is getting an upgrade to 4 lights, the Tikka Plus is getting two colors of lights (and memory so if youíre in the red light, youíll stay there if you turn the lamp off and then back on) and the Tikka XP is going to one button functionality. Also, the Plus and XP will feature a battery indicator light that flashes when the battery reaches Ĺ power. The Tikkina will be $20, the Tikka $30 (120hrs, 29m distance), the Tikka Plus -- $40 (140hrs, 35m distance), and the Tikka XP -- $55 (160hrs, 60m distance). Oh, and perhaps best of all, they fixed the battery compartment, so now you donít need to spend 30 minutes mucking around with the battery changing!! Look for them in the fall!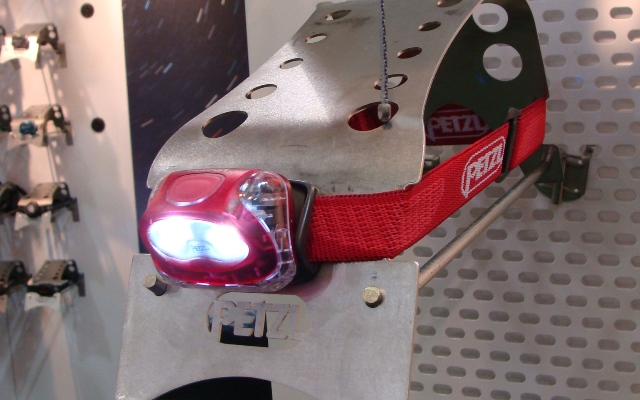 Also this summer look for a pair of new axes from Petzl -- the Summit, a mountaineering axed with the entire shaft wrapped in molded rubber, offering endless grip options and an ergonomically minded axe head. Also, the Sumítec, a hybrid mountaineering axe with a reverse curved axe, a stainless steel pick, and an adjustable trigger grip that slides the length of the axe. The summit will retail at $159, and the Sumítec at $175.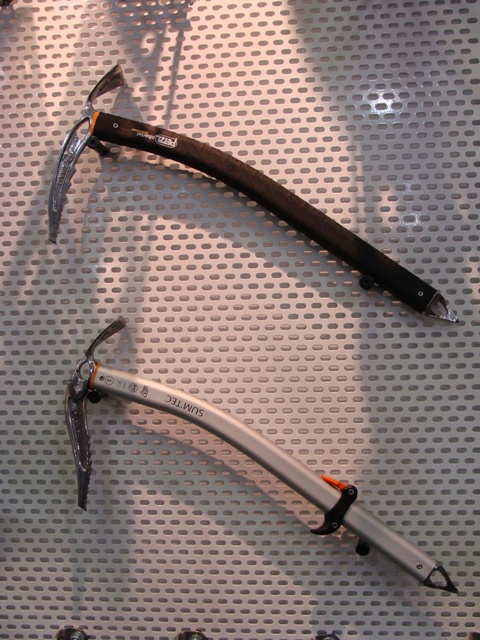 The jet black Summit and its awesome rubber handle, and the Sum'tec below.
Sierra Designs
As part of our last set of appointments, we met up with Scott from Pale Morning Media at Sierra Designs to talk about the latest tents and bags due this fall. First is the BTU jacket, which features a waterproof Drizone shell and 800 fill goose down. The shell is heavier, but the waterproof feature is nice. The jacket is pvc free as well, a nice touch. Also new is the Barricade Hybrid Hoody, a hybrid softshell that features waterproof fabric on the hood and tops of the arms. It also features Ďcondorí construction, allowing you to lift your arms without lifting the jacket off your waist.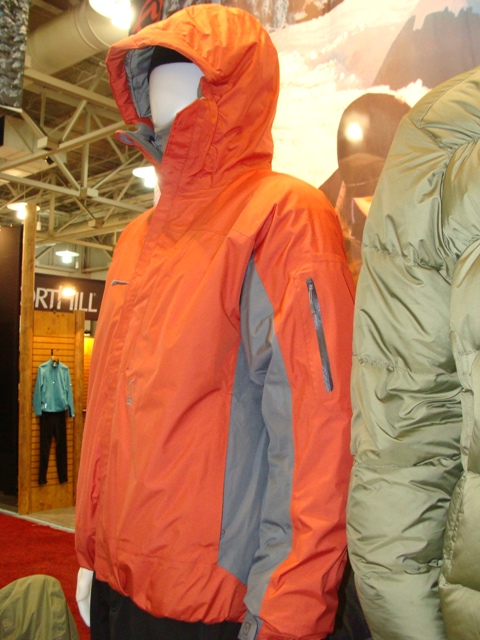 Waterproof Down???
Also coming out this fall is the updated Meteor Light 2, a dye free version of the Meteor Light tent. It features the DAC poles with the environmentally friendly anodizing and has shed a pound since its previous incarnation -- 5lbs 15oz these days. It also has a 7lb 1oz three-person big brother due out with it this fall.
Finally, the latest sleeping bags out from Sierra Designs are the Nitro and the Spark (the womenís version), which feature a jacket style hood to reduce both weight and dead air in the bag, and a half zip entry. The chest area also features Flex construction, allowing the bag to stretch as you move. To compensate for the half zip, they thoughtfully put in a foot box venting zip for those extra warm nights. The bags come in 15 (34oz) and 30 (26oz) degrees in down, and 30 (33oz) degrees in synthetic and will hit stores this fall.
One last thing... this spring, look for the Re-Purpose with A Purpose promotion from qualified retailers by Sierra Designs. Bring in any tent thatís still in decent shape and donate it to receive a 10% off coupon good for any Sierra Designs tent. Donated tents will go to programs that help underprivileged kids get outdoors and enjoy nature!
Primus
Next up with Scott was a stop at Primus. This cool little stove maker has been pushing the envelope with efficiency in its outdoor stove lineup. This fall, theyíll be dropping the LiTech Coffee Press, a $20 pot that comes with a French Press built in, so now you can make fresh coffee for both you, your climbing partner and that dude sleeping on your picnic table!
Also coming out this spring are some stainless steel drinking bottles that feature both a sport top and a clip top, depending on how and when you want to use them. They come in two sizes- .6L and 1L and will retail for $15 and $19 respectively.
Well folks, thatís it for Day 1 here in Salt Lake City. Hope you enjoyed it as much as we did. Look for more exciting stuff from the Salt Palace tomorrow as we continue our coverage of the Outdoor Retailer Winter Market, 2009.
This is the Day1 blog! Try here for days 2 & 3: DAY 2, DAY 3.
williamjbauer

2009-01-22
Great work, I look forward to this piece every year and it doesn't disappoint.
gblauer

2009-01-23
Thanks for the update, next best thing to being there. Can you drop by Evolve and see what's going on there? I am particularly interested in any new shoes designed for women. Thanks!
hotrhoddudeguy

2009-01-23
"asked if the holes in the sides were vents for the jets that will let me climb 5.14. Sportiva was not amused."

Stop giving away market secrets
rockjockrob

2009-01-23
Great break down. Who is running the wall this year? what is the action like there? I hate missing a show! Wish I were there! tell us more
sungam

2009-01-23
Damn, has it been a year already? Time flies, I guess. I love these updates! gearhead porn.
j_ung

2009-01-23
Well, it's been a half year since summer's show. RJR, Walltopia is running the bouldering area this year. It's pretty same old in terms of activity there. Little climbing contests for prizes every few hours, plus the odd shoe demo.
vegastradguy

2009-01-23
gblauer- no worries, evolv's update is coming on Sunday!
superbum

2009-01-23
Does Sportiva have their new AT Ski boot on display??? GAWD I wanna see that thing in person! I know this is "ROCKclimbing.com" but boy howdy, this is an industry altering event! Could you possibly revisit them???
jeremy11

2009-01-23
how about an ETA on DMM brass offsets?
hotrhoddudeguy

2009-01-23
superbum:
http://www.outdoorretailerlinks.com/wm09digest/wp-content/uploads/2009/01/showstopper_dynafit.jpg
"Perturbed that some might have underestimated the power, light weight and incredible flex of last yearís Zeus boot, Dynafit rolled out the Titan. Stiffer than its already stiff predecessor, the Titan is also lighter. ďThe Zeus sort of got lost last year with the debut of some other boots, so we wanted to really make out mark this year,Ē said Dynafitís Tim Kelley. Itís also built to tour, with a walk mode, and fits three bindingsóalpine, standard AT and Dynafit. In short, itís a triple threat of a boot that can charge hard lines day-to-day at a big-mountain resort like Jackson Hole and still be the lightest, quickest, comfiest boot on a long backcountry mountaineering trip. Furthermore, the Titan rings in at $769 and the Zeus drops down to a competitive $699."

vegastradguy

2009-01-23
while dmm reps weren't at the show, the folks at Excalibur (their stateside reps) assured me the offsets will arrive by April.

Sorry superbum, I unfortunately won't get back to sportiva before the end of the show- remind me in the summer and I'll get some pics for ya prior to it's fall release.
moose_droppings

2009-01-23
"I tell you, itís really a punishing job that we suffer through just for you! "

Appreciate it and hate to push you to hard, but could ya try to make it through one more day for us poor shutins?
;-)
adatesman

2009-01-25
Gaaahhhh!!!! Such a tease! There's pics of Totemcams on the front page but you're making us wait until Monday for the write-up! :-(
j_ung

2009-01-25
You just caught me mid publish. Monday's entry is 20 hours early! :)
boymeetsrock

2009-01-26
Can anyone tell me why there is such an extreme change in the cam angle on the Totems? Looks like the cam lobes go flat @ 3/4 compression/ closed.

vegastradguy: Thanks for another great report!!
vegastradguy

2009-01-26
i think it has to do with their ability to hold in a flaring placement, but to be honest i'm not sure. the boys at Totem dont speak english very well, and i dont speak their native tongue, so our conversation was definitely limited to the basics of the cam. hopefully i'll be able to get alot more beta at the July show when they have a booth.
the_climber

2009-01-26
So, no word from Grivel eh? :(
I had heard a rumour, guess it may turn out to be unfounded.
j_ung

2009-01-26
I have another article coming out next Monday that may hit on the Grivel rumor about which you speak.
the_climber

2009-01-26
Could you just PM me the details? I'm working in the middle of nowhere for 10 days starting Friday. Internetz don't work on Sat phones and I WANT OT KNOW! :)
boymeetsrock

2009-01-26
Thanks VTG. I'll keep my eye out for the July show.
robpatterson5

2009-01-26
Any info on BD's umbilical system for climbing?
vegastradguy

2009-01-26
um, i think i covered their via ferrata stuff in the summer show blog- nothing new at least for this show.
robpatterson5

2009-01-26
no, their one for ice/alpine climbing. Like the Grivel Doubel Spring Leash.
I've heard from a couple of sources that BD has one in the works.
vegastradguy

2009-01-27
oh, nope- they didnt have anything to say about ice other than what i covered.
crackers

2009-01-28
Rob: The swivel leash from BD is currently in final testing stages. It should retail at $40, and should be in stores in September. It looked very nice. It's only rated to 2kn, but it looked very smooth, polished and light.
robpatterson5

2009-01-29
Thanks crackers, thats great info!
neghafi

2009-01-31
Very nice. thanks. I will wait for those Petzl SUM-TEC ice axes. ;)
vegastradguy

2009-02-10
sorry, no clear photo of the tikka XP- it blurred out on me. pm me if you any other questions on details, but i pretty much summed it up in the petzl section.
Add a Comment