The Five Ten Project
by Paul Nelson
By Paul Nelson (camhead)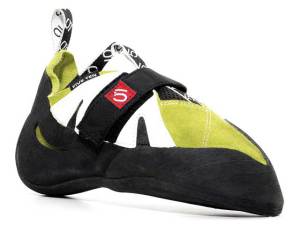 The Five Ten Project
Five Ten
I was PSYCHED to get a pair of the new Projects from Five Ten in the mail to try out. Their reputation preceded them. Five Ten's website touts them as "the most sensitive climbing shoe ever built," which let "you use your feet like your hands," and are "made exclusively for overhanging rock." Only a few weeks ago, in at least one thread, all you yearning masses of rockclimbing.com were wondering if these shoes really lived up to the hype. Interested? Keep reading.
Upon first glance, these shoes looked like just another aggressively downturned shoe made for steep rock; a logical extension of Five Ten's older Dragons, V10s, or their newer Jet7s. The major thing that distinguishes the Projects from all these other aggressive shoes is that these things are THIN! Their soles, at around 2mm, are less than half the thickness of normal high-end shoes. Supposedly, Five Ten has improved upon their very sticky Stealth and Onyx rubber with their new "Mystique" sole, which is stickier AND more durable, so they are able to make a very thin sole. Their unlined leather uppers are likewise just as thin; the shoes just wrap around your foot like a glorified rubber sock. Mine fit so well that I really didn't even need the single Velcro strap for any additional tightening.
I have never owned a pair of shoes in this genre before. Five Ten's Galileos or La Sportiva Katanas have always been more than sufficient for the steeper sport or bouldering that I have done, and I never really felt that I needed anything more aggressive or sensitive. However, upon my first indoor test run, I was immediately sold on these shoes. The bouldering gym that I train at is a small converted garage, with walls ranging from 35 to 70 degrees overhanging. Steep, powerful problems requiring heel and toe hooks, precise nubbin smears, and toeing into tiny pockets abound– the precise type of climbing for which the Projects were engineered. The shoes were excellent, and even allowed me to finish my dreaded pink tape project for the first time without my feet cutting, as they had previously in my Katanas! So, already, I was incredibly psyched on these becoming my number one gym shoes.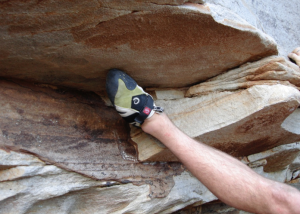 The Projects making a tough heel hook look easy.
P. Nelson
But, what about outside? I had to wait a couple weeks to put the Projects to the test on real rock. We took a trip to the New River Gorge in West Virginia, climbing mostly vertical rock, and a lot of cracks. These are two mediums that Five Ten does not recommend the shoes for, as their thin soles and bodies have about as much support as K-Fed (ZING!) – the Projects stayed in my pack the whole time at the New. However, some climbers may even like the Projects for cracks or slabs (Vegastradguy used them in Joshua Tree, for example). Their incredible stickiness and sensitivity makes them great smearers, and if you were to size them a bit larger for straight toes, they might even be a good thin crack shoe. They are so soft that your foot eventually straightens out the downturned shape. The big qualifier for this is that there is zero support; if you have already logged hundreds of vertical pitches, have strong feet and calves, and do not mind a bit of pain with toe jams, then these may even be a good shoe for you on less-than-overhung terrain.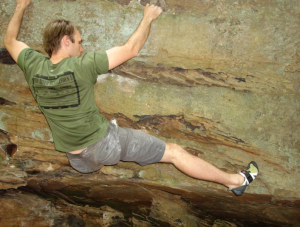 The Projects making short work of delicate smearing.
P. Nelson
But I digress. The next weekend we went to the Red River Gorge, and I eagerly anticipated trying the Projects out on steeper stuff, the stuff they were made for. As it turns out, we wound up climbing at an area called Purgatory, which has a collection of 5.13 sport routes that are steep, bouldery, and seemed to be prime candidates for the shoes. The routes were also completely out of my league, but the Projects helped as I toed into small pockets and smeared on nothing (although rockprodigy's patience and beta on "Paradise Lost" probably helped a lot more). They particularly excelled on a very bouldery and technical route called "Dracula." This route's opening moves consisted of precise oppositional smears keeping you on a precarious and blunt mini-arete layback, later leading to a poor heel-hook while deadpointing to a shouldery sloper. The shoes were excellent for this, once again. I even credit them for the fact that I kept my feet pasted on nothing at all while crossing over to grab a draw in desperation, but that's another story.
So, in the end, these are highly specialized shoes. They are not for beginners, they are not for vertical edging, and most climbers that I know would not like them for cracks or slabs. They even hurt a little, being so thin that an overly aggressive heel cam will leave you limping the next day. But, if you love the steep, or if you love feeling the rock as if you were damn near barefoot, then these may be the shoes for you.
A few more qualifiers and observations on objective matters: My foot shape fits pretty well into both Sportivas and Five Tens (many people only fit in one brand or the other). I take a street size of 10, and in sport climbing shoes, take a 9 in U.S., a 40 in Euro sizing. 9 was a perfect fit for my Projects. Since they are unlined leather, they will stretch a little, but not too much. As mentioned earlier, their downturn will disappear within a few days of use as they mold to your foot shape, but I did not find this a hindrance at all.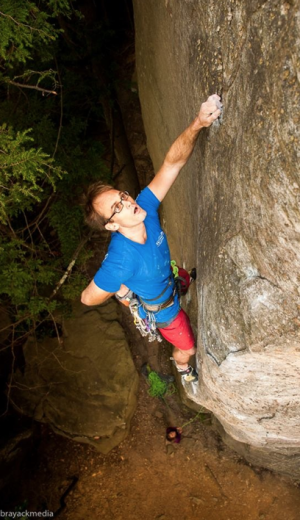 The reviewer trusting his Projects on runout terrain at the New River Gorge
Dan Brayack
Finally, the one great variable that I cannot speak for is durability. In my past experience, Five Ten's shoes have been slightly less durable than other shoe brands that I have owned. Especially with heavy use in a gym, I have a bit of skepticism that the Projects will last longer than a season, since they are so thin. I am also not sure how their thin profile will accommodate resoles, or how many resolers are going to start stocking 2mm Mystique Rubber. Since they are currently selling at $145, you may want to take this into account.
Read more user reviews and compare the latest prices of the Project.
Full Disclosure: The company that manufactured this item provided it free of charge to rockclimbing.com, who in turn provided it as compensation to the reviewer for his review.
camhead

2009-06-09
One addition: credit goes to Lena_chita for the photographs.
cultureshock

2009-06-09
I doubt that you really mean this: "9 in U.S., a 40 in Euro sizing". A size 40 should be a mens 7.5. http://www.fiveten.com/sizing.html
camhead

2009-06-09
Cultureshock, different climbing shoe companies size differently, beyond just equivalent numbers; I guarantee that, for my preferences and foot size, I take 9 in Five Ten's Galileo and Projects, and 40 in La Sportiva's Katanas.
curt

2009-06-09
Nice write up. I also own a pair of these and have used them several times bouldering on very sharp rock (Oak Flat, AZ) and can still see almost no visible wear yet on the soles. I have no idea how 5.10 has accomplished this, but the Mystique rubber is both stickier and longer wearing than anything I have ever seen before. I also wear a size 10 street shoe and my Projects are size 9.5 - and they seem very tight--but that may be because I have a wider foot. Overall, these are amazing shoes, but they might never become my "everyday" shoes for some of the reasons you mentioned.
camhead

2009-06-10
Thanks for the info, Curt. I had not yet had the chance to try the Projects on anything as rough or sharp as Oak Flat, so that's good to know. I was half-wondering if volcanic rock like that would simply puncture the thin soles. Either way, since I wrote this article (about two months ago, actually) I've continued to use the Projects indoor about 2-3 times a week, with pretty regular outdoor weakend use as well, and they are still going strong.

I'd be interested to hear from others on how they are holding up durability-wise, however.
vegastradguy

2009-06-10
Mine are holding up fine- i've been using them fairly regularly on the sharp limestone here in vegas and on the sandstone as well. they even occasionally find themselves on plastic...
Rubicon

2009-06-19
Id like a another strap for the toebox... none of that jet-7 bullcrap.
dkoz

2009-06-24
i don't even attempt to doubt that 5.10 makes the stickiest rubber out there... and all the shoes preceding this one attest to that... but what 5.10 forgets about is making the shoe itself... though climbing in this shoe wasn't bad and overhangs were its no doubt forte whatever happened to making a shoe of this caliber for the rock and the plastic??? and making a shoe who's heal didn't feel so weak as to leaving the user unsure as whether they should trust it... though i agree its the stickiest rubber around i feel there are better shoes out there...
dudemanbu

2009-06-24
The heel issue is just a sizing thing. 5.10 heel cups work great for me. If none of them fit you, wear something else.
camhead

2009-08-11
just a brief update: I have experienced the first sign of wear and tear on the Projects: a small pinhole puncture in the rand. I am not sure how this happened; I had been climbing some routes that had pretty sharp protrusions. Anyway, I'm not sure if or how I will get them resoled with rand fixing, but will post up when I do.

So, right now it looks like I went 4-5 months of climbing about three times a week before they had a problem.
bustloose

2009-08-24
forever ago, 5.10 made a shoe called the VX. super thin, no midsole, best fitting shoe ever made. it looks like history is perhappas repeating it's own bad self.
camhead

2010-01-23
Just another update here. It's been about 9 months that I've had the Projects, climbing three times a week in them, as well as at least two weekend a month outside. The pinhole in the rand has enlarged to about a 1/3" split. They are still climbing pretty well, but definitely are on the way out.

I am satisfied with the lasting durability, however.
Add a Comment