A Climber in the Winter of his Content
by Luke Mehall
ďYou know thereís something special youíre needing. And you know thereís no drug thatíll do the healing, and no liquor in the land to stop your brain from bleeding. You need something special to open up a new door, to show you something youíve seen before, but overlooked a hundred times or moreÖyou need something special to give you hope.Ē
Last Thoughts on Woody Guthrie by Bob Dylan
Iíve spent so many cold, lonely winters without climbing in the heart of the Colorado Rockies I guess I deserved this one; a winter when I escaped to Indian Creek, Utah, the crack climbing Mecca of the world as often as I could. But then again what do we deserve? What is our right as humans, as Americans? Is this land ours, or is it borrowed, from the ancestors, from the future? Regardless, the land is there, and I needed to experience Indian Creek with my friends, more than anything that winter.
It was the winter after my dream job dissolved; a full time job in higher education with benefits, relative freedom for a 9-5, a writing gig where I could put my talents to use and be adequately compensated. Like many Americans I lost my job as the economy went downhill, and was left wondering, just as my thirties began, what now? I often wonder how deep I would have sunk into depression without my hobbies, interests and passions. I think about everyone who lost their jobs, and I feel for those that did not know what to do with their time, sitting around unemployed, glued to the television, waiting to work. A climber does not have this problem of time. If a climber has a buck or two to scrape together, a climber goes climbing.
Basecamp for last winter was Durango, Colorado. I was new in town, and I spent many nights alone, with my heart aching for human companionship. I searched around for rocks and trails. With plentiful climbing areas, endless single track trails, beautiful women and hot springs within reach I quickly loved Durango. Itís proximity to Indian Creek sealed the deal that Iíd found my new home.
The trips to Indian Creek are blended together in a cocktail of memories, and now with the snow falling outside of my writing window, I try to assemble them in an order of which they happened. There were highs and lows, and I know as a human Iím drawn to remember the highs more, though I can recall that the winter climbing season at The Creek started with some lows.
The name Creeksgiving has been given to the celebration of Thanksgiving with twenty to thirty of our closest friends. We gather at Super Bowl, our favorite campsite, for climbing, food, games and general relaxation. Last year was the worst, temperature wise that is, it was cold, the lows dipped into the single digits, and one night it even dipped to zero. Camping in these conditions is pure survival mode, all the water freezes, and it makes camping more of a chore than a pleasure. Somehow our crew stuck it out and our Thanksgiving dinner was still a vibrant celebration. We cooked turkeys in dug out pits in the ground as we always do. Mike, The Mayor of our event, tended to them all day long, while the rest of us played.
The Mayor
Our friend Shaun had the keen sense to borrow a twenty person wall tent, wood stove and all, where we cooked dinner, and kept everything and everybody warm and happy. Part of Thanksgiving for us is coming together with other climbers, friends we havenít met, and our crew was delighted that some twenty other folks joined us for dinner, celebrating Americaís simplest holiday, sharing food and drinks. Two new friends who brought over a pony keg and turkey fryer were especially heroic, as the freezing temperatures did a number on the coals in the turkey pits, and we ended up finishing the half cooked turkeys in the fryer.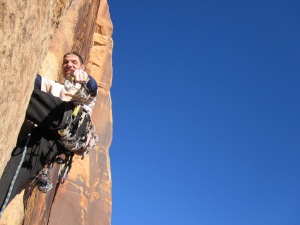 Tim Foulkes taking time to pose on Generic Crack (5.9+), Battle of the Bulge Buttress.
Because of the cold, It was hard to do much drinking that year at Thanksgiving, and we surprised ourselves by how much climbing we got in during the day, not being hungover and all. With sunshine, no breeze and temps in the 30s and 40s climbing is a downright joy, a revelation that kept me going back for more that winter.
Back in Durango I searched for work and for meaning. Incredibly, after placing an ad in our local weekly newspaper, the Durango Telegraph, I scored a house to live in all by myself, for a very affordable price. The retired couple who owned the place needed someone to live there and keep an eye on the place while they wintered in Mexico. To a dirtbag climber like yours truly, it was a mansion, complete with a TV room for movies, a wonderful kitchen with every domestic appliance imaginable, two full bathrooms and an extra room for a guest. There was a solarium that provided passive solar heat, and I made the living room my writing space. Morning writing sessions in this place were absolute heaven, while the nights were a mixture of enjoying being alone and just simply being lonely.
Finding work was harder than finding a place. I was able to freelance for the Telegraph, but it seemed every steady job I applied for had an infinite amount of applicants, and thus I only got one interview the entire winter. As a person who identified my well-being with a satisfying job for the last three years, this change took some getting used to. We all put our ego and self worth into something, and Iíve realized I do this with my work more than anything.
I also had fears of loneliness when moving to Durango. I think anyone does when they move to a new town. By a great stroke of luck, one of my best friends, Tim, had also moved to Durango, to start a new life with his lady. So while I lived ten minutes west of town, and spent a lot of time alone in the mansion, I still had human companionship I could rely on from time to time.
My other best friend named Tim, T-Drizzle as weíll call him here, rolled through after the December holidays, and together with Tim, and Ben, a Durango climber we met at a local crag, we all ventured out to The Creek. Pulling into our beloved Super Bowl we forged through the couple inches of snow, and had our choice of every single campsite. It appeared that no one had been there since the last snowfall, and our tire tracks carved through the snow to camp. We set our tents up amongst the snow, and gazed at the South and North Six Shooter towers to a fire red sunset, and retired to the campfire, a modest meal and a chocolate dessert. The night was cold, but not near as cold as Thanksgiving. Sleeping bags seem like a divine refuge, the only place one would want to be out in the desert this time of year. I dream of a woman to share my tent with, but also dream of climbing red rock splitter cracks with my dear friends, a dream that would undoubtedly come true when the sun came back around.
We awoke to have Indian Creek all to ourselves. Mornings are usually leisurely and slow at The Creek, any time of year. Unlike many forms of climbing nothing is rushed, we have time to do whatever we want: drink coffee, read, stretch out, organize gear, or just simply chat it up.
As I do some yoga I look across our camp to the ever present Six Shooter towers in the distance, and the other red rock walls, which starts getting sun when it arrives over the Cliffs of Insanity, a crag just north of the campsite. The hills around camp are snowy, and as the sun, the divine source reaches camp it signals us to complete our morning routine, and head out climbing. This day we venture to the Cat Wall, a cliff that receives ultimate sun, usually one of the most popular at The Creek.
We have the cliff all to ourselves. During the busiest time of year there could be thirty some climbers at the wall, for good reason, The Cat is absolutely stacked with crack climbs. The most current guide for the area lists eighty routes; in many areas of the country this wall could be a climbing area in itself.
As we hike up to the wall, and the blood gets flowing, my thoughts flow as well. When Iím in Durango, in society, I canít help but feel a constant nagging that I need to get a job. At this paradise, hiking up to these walls, all I can think about is climbing. A pure honest motion of hiking up the rocky, winding trail leads us up to the sunny cliffs, the feeling of sunshine is so divine. January feels just perfect for the moment for climbing.
We warm up on a moderate 5.10 crack, and then find another crack to climb, and another. The perfectly vertical hand cracks are so good they swallow our hands wrapped in tape, as our feet go into the crack. In these cracks fear isnít present, only an athletic meditation of vertical progress. The more difficult finger cracks take only our tips, while the feet are left scrambling for a quarter sized edge or a place in the crack to insert the edge of rubber at the end of the shoe.
After a few climbs weíre intoxicated with happiness, and make silly jokes and noises as men will do. Everyone is smiling. T-Drizzle has introduced to us a new theory of his, the Rock Temperature Index, which he refers to as the RTI. We laugh directly from our souls as he proclaims, in his best weatherman impersonation that the temperature of the rock is 70 degrees. Off in the distance across the canyon is a great rock formation nicknamed The Cat, the namesake of this wall. The Cat watches us, as if in approval as I bask in its domain, our rock climbing heaven.
The days are short, and with the light fading, we are reminded itís still winter. But what do we care? Back at camp we have a fire, as we cook another modest meal, and eat chocolate for desert. Ben has left to head back to Durango. T-Drizzle and I drink beer, while Tim sips cola. After a while of joking and talking about what weíll climb tomorrow, the tent and sleeping bag beg me to enter their refuge again.
Another morning at The Creek, another similar routine based around the heat of the sun. I stretch out with some yoga, planting my mat down in the dirt, attempting to find some space in my always tight neck. T-Drizzle is quiet as he stokes the small morning fire, and cooks up bacon and eggs for us.
As a party of three, much like the musketeers, we head to the Broken Tooth. We search the wall for a warm up, and Tim ends up leading Gingivitis, a long pitch with a chossy beginning followed by an overhanging thin hands section above. This climb might be the worst popular warm up at The Creek. The 5.10 grade often suckers people into thinking it would be a good first climb of the day, as it did for us this day. Tim leads up while T-Drizzle belays. I take some photos, and then start walking around the cliff to scope it out.
Incredibly I find a right facing dihedral that is mostly off-width and appears as though it has never been climbed. I hike even further past the wall, taking photos of this elegant dihedral, zooming in to see if there are anchors on the climb. Sure enough there are not, and I work myself into an excitement thinking the crack has never been climbed. Iíd always wanted to do a first ascent in Indian Creek, and I run back to my comrades as they finished Gingivitis to tell them what Iíve discovered.
They arenít as excited as I am, but as true brothers of climbing, agree to get involved in the endeavor. I run back down the trail to the car to get the bolt kit. A quick check of the kit reveals I only have smaller bolts, designed for granite; the line would have to wait. Instead of making our way to an unclimbed line, we head over to the most well traveled route on the wall, Rock Lobster, a perfect hand crack to a defined, finger-crack crux. In the busy season this line is always occupied, in the winter of a rock climberís content, we have it all to ourselves. ďThe RTI is up to seventy degrees again for sure,Ē our weatherman proclaims.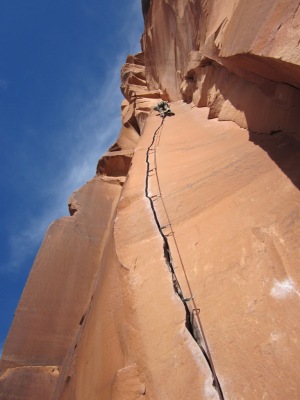 T-Drizzle on Scarface, (5.11)
We climb until we are exhausted, and then head back to Durango. T-Drizzle heads up to the Front Range to visit some other friends, and I get back into the routine of writing and looking for work.
When T-Drizzle comes back through Durango it takes absolutely no convincing to venture out to The Creek again. What else would we do with our lives? We caravan out west towards our beloved red rock desert in the middle of the week. The Super Bowl campsite is empty again. In the busy season weíre always scrambling to find a site, in the deep of winter I almost hope thereís other climbers present for some company. Alas, itís just me and my best friend.
Armed with longer bolts for sandstone, I convince T-Drizzle to check out the unclimbed line on the right side of Broken Tooth. After a warm up we head over to the line, which I consider naming after his front gold tooth, a result of a nasty break dancing accident years ago. I figure the name would be appropriate for the wall.
The line starts in somewhat loose rock, with protection in a crack thatís about half an inch wide. Foot holds crumble off as I climb up and down the rock. Quickly I resort to aid climbing as the climb turns a small roof into a flare; the crack just larger than an inch. T-Drizzle settles into the despair of a long lead belay, as I aid through this section, and then a hundred foot long off-width that looms above.
Suddenly Iím not excited at all about the possibility of a first ascent, as I have T-Drizzle send up all our off-width gear on a tag line. Thereís a reason the pursuit of first ascents have mostly faded at The Creek, more often than not they involve off-width and for the average suitor a new route takes most of the day, with one person struggling above, and the other in another kind of sufferfest, a long belay. Why do this when you could be climbing perfect splitters, one after one, all day long?
I go into a mode of climbing and prayer as I fit my body in the off-width for inches of upward progress. I curse myself for the pursuit as I put my off-width skills to the test; knees on one side of the crack, heels and toes on the other, my arms chicken-winged into the crack, my entire body filled with dust, from head to toe. T-Drizzle sends up occasional words of encouragement, the only remainder of the positive and optimistic notions I had before starting up. Ninety feet up the off-width section I place my last piece of big gear, a #3 green, Big-Bro. I worm up and finally reach a hand crack, jamming it until I reach a spot to place anchors. Tim sends up the drill kit. I am weak and not psyched to drill the anchors, as the sun is quickly fading. Defeated I sink in two bolts, rappel and clean the gear, leaving a top rope for my partner. He seconds the route in style with the last rays of light for the day. I feel exhausted as we hike down the trail, relieved to be done with climbing for the day, as the heavy pack sinks into my aching body. The campfire and food restore warmth to the soul.
On our next day I decide to rest and belay T-Drizzle, building back my belay karma I used up the day before. Weíre at the Cat Wall, and itís somewhat crowded, at least for February anyways. The weekend has started and the highs are reaching the 50s. Nearby, one young girl is loudly complaining about her ex-boyfriend, and another group has a crying child. As we bask in the Cat Wallís high temps and belay Tim, we yearn for our lost solitude.
T-Drizzle is headed back to Oregon at the end of this trip, and we decide to head up north to Castle Valley for a tower. When we roll in to the campsite weíre relieved to be the only party there. While we sit next to the campfire we work on the plaque for our new route back at The Creek, carving the name in with the drill bit. Though Iíd considered naming it after T-Drizzleís gold tooth, I decided the line was just too brutal and haggard to commemorate my best friend in such a way. After my comradeís approval we name it Snaggle Tooth. It didnít take long to get back to The Creek, but by the time I did, old man winter had passed yet again, and the spring brought warmer temperatures and more climbers. I solicited other partners, one being my good friend Adam, who nabbed the first free ascent (FFA) of Snaggle Tooth. He was surprised that I would give up the FFA so easily, but I still hadnít forgotten the punishment it inflicted on me, and I was content to just climb it on top rope. It was a gift I was more than happy to give as Adam wiggled and wormed up Snaggle Tooth with grace. The smile he had on his face afterwards was evidence Iíd made the right decision. Good karma is more rewarding than personal glory. And karma always comes back around.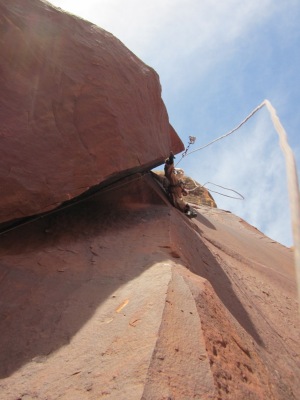 ďHit me with your best butt shot,Ē Adam Ferro on the FFA of Snaggle Tooth, 5.11
Seasons always flow together, and memories are unreliable when it comes to detail. Nearly a year later my life is still in a similar crux, and I am embracing the creative lifestyle and philosophies of a dirtbag climber more than ever. While my memories will fade more with each passing year, I know there was a time when I didnít have a job, or a clear direction of where my life would go from there. Yet, somehow I was a climber in the winter of his content, amongst friends, in our desert home, a place called Indian Creek.
Luke Mehall is the publisher of The Climbing Zine. To read more of his writing visit his blog at: lukemehall.blogspot.com. The Climbing Zine is now on Kindle and can be found here: http://www.amazon.com/Climbing-Zine-2012-ebook/dp/B0071E9JN2.
kupright

2012-02-13
Thanks for sharing such a great story!
shockabuku

2012-02-14
I like that. Thanks.
j_ung

2012-02-14
Normally, I think your stuff is long-ish. This one held me, though. It was well written and the last paragraph... outstanding.
lukem

2012-02-14
Thanks ya'll. Here's T-Drizzle in action on Timmy Foulkes TV.

http://youtu.be/Y7M2nEra4HY
lukem

2012-02-14
might have to copy and paste that URL, can't see how to get it to be able to click on it.
j_ung

2012-02-17
I don't think you can in comments.
damienclimber

2012-02-21
Nice Photos, You bring alot of compassion to your article.
If you want female company, a cold tent , and a buried turkey on thanksgiving isn't exactly a turn on!
Did you ever consider getting a puppy?
olive

2012-03-19
It was interesting to read this for me. I was unemployed (having lost a higher education job too) and spent bunch of time at Indian Creek too. Still in the crux as you are saying, and your last paragraph totally speaks to me.
pyramid

2012-07-07
Dude where you from?
Add a Comment