Climbing on the Costa Blanca Spain
Submitted by
markvjaarsveld
on 2012-01-23 | Last Modified on 2012-05-08
Rating
:






Login
to rate this article. Vote: 1 |
Comments
: 3 | Views: 6848
by Mark van Jaarsveld
One of the joys of living in Spain for me is my ability to rock climb throughout the year – something that was extremely difficult in the UK, where the weather made almost every trip out a feat of endurance! This is far from the case when you are climbing on the Costa Blanca when, even in the middle of winter, you can revel in conditions that would match the finest experienced on a British summer's day.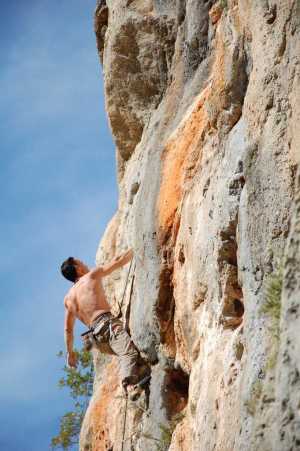 Rock Climbing in Spain
In fact, if you are thinking about climbing in Spain then you could do a lot worse than climb during the winter months. Of course, no-one can guarantee fine weather and the Costa Blanca (like anywhere along Mediterranean Spain) can become overcast and grey. But, on the whole, this rarely lasts long and is frequently followed by bright blue skies and the real warmth of the sun. The latter is a real treat and, for a rock climber, a blessing - as it quickly dries off rock faces that only the day before were streaming wet.
I mention all of this because the past week(January 2012) here has been outstanding with day time temperatures (in the sun) reaching well into 20+ degrees Celsius, enabling a friend and myself to take full advantage of rock climbing on the Costa Blanca and its almost limitless crags. In fact, as you can see from the images here, we have been rock climbing in Tee shirts and shorts. Wonderful!
Certainly, climbing on the Costa Blanca is superb. The rock is excellent and extremely well protected with generally very well maintained bolts. Meanwhile, there are routes to suit all levels from 4+ to 8 (and above), with the routes varying from short single pitches to 40m pitches and multi-pitch climbs up some 'serious' mountains.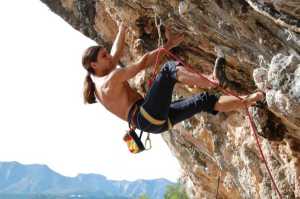 Costa Blanca Rock Climbing
The good news is that most Spanish climbing clubs are very energetic and are constantly 'opening up' new crags – so much so that it is sometimes difficult to keep up with what is available. Often this is only possible through the 'jungle drums' of meeting up with other Spanish climbers who are enthusing about somewhere new! Recently, I came across a new crag near Bellus (the crag is opposite opposite Aventador) which just shows how committed some clubs are about extending climbing on the Costa Blanca. As importantly, many of the clubs, to their credit, are not obsessed by only putting up really hard routes and, often, take considerable care to ensure that a crag (where possible) has a full range of grades.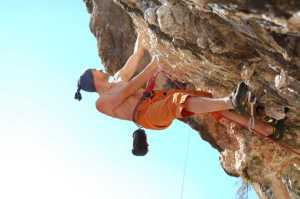 Winter Climbing in Spain
This is true of the new Bellus crag (as yet unnamed, to the best of my knowledge!) which has 65(!) new routes that were put up a couple of months ago. Very remarkably, the crag has a terrific selection of routes (perhaps 30+) in the 4+/5/5+ range, making it ideal for the lower range climber with a decent selection of 6/6a+ routes and a few 7s.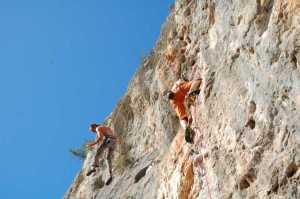 Costa Blanca Winter Sunshine Climbing
In fact, the Bellus area (close to Genoves) is becoming a fantastic area for climbing on the Costa Blanca as there are now some 6 crags within half an hour of each other, with some stunning climbing available from 'slab' climbing through to 'steep' routes and 'intricate' vertical pitches. All are newly protected and benefit from being within a lovely part of the Valencian countryside – notable for having a fully flowing river passing through the valley bottom (great for summer swims!). Perhaps as importantly, nearby are a couple of very welcome bars for that after climb 'pick me up'!
So, whether you are 'into' climbing or just winter sun - you can do a lot worse than taking your holidays in Spain during the winter months. Just walking around with the warmth of the sun on your back can be a tremendous elixir – made truly wonderful if you are also doing a sport that you love.
rockgirlCO

2012-01-25
Will you post the route ratings and location description for the new area near Bellus? I'd like to add it to my guidebook for (hopefully) future use. I was in CB in November and the apparently aberrant weather chased us north! Too bad because I had the nice color guidebook all flagged and ready for a week of climbing in the sun. I suspect I'll make another attempt to climb in CB.
damienclimber

2012-02-22
These are great photos! No Photo-Shop?
The guy with the ponytail looks pretty awesome as does the climb!
obinjatoo

2012-04-28
I will be in Spain this coming winter. Probably somewhere around Malaga as I have access to a house there. Where can I get more info? Are there guide books oout there somewhere? How can I find partners in Spain?
Add a Comment