Geology for Climbers, Part I: Igneous is Bliss
by Paul Nelson
This is part I of a three-part series on different geological rock types as they relate to climbing. For Part II, "In a Sedimental Mood," click here. For part III, on metamorphic rocks, click here.
From the West's scattered domes of granite, to the Southeast's "Sandstone Belt," to the Pacific Northwest's canyons of columnar basalt, North America has a startling diversity of rock types. As you begin moving out from the local crag that you cut your teeth on, towards roadtrips on new and different rock types, you will both see how fun it is to climb on new rock, and perhaps be a bit intimidated or perplexed as to the techniques and gear that different rock types require.
These three articles will be part basic geology/geography lesson, part technique primer, and part gear guide to give beginners an introduction to expanding out into the fantastic variety of crags that make up North America. As you learned in Earth Science class, there are three main rock types, or classes: Igneous, Sedimentary, and Metamorphic. While there are some areas that have greater concentration of a certain rock type than others, most areas of the United States are within a day's drive or less of at least two different rock types.
For geologists, I apologize for any mistakes in nomenclature or over-simplification. And for non-geologists, if you want more information on the geology of rock climbing, both on rock types and why certain features form, check out Sarah Garlick's excellent book Flakes, Jugs, and Splitters from Falcon Press.
PART I: IGNEOUS ROCK
The most basic form of rock is igneous (sometimes just called "volcanic")– quite simply, this is rock that is formed from cooled magma from beneath the earth's surface.
Igneous rock falls into two categories: extrusive and intrusive. Extrusive rocks are the product of magma flowing to the surface of the earth, where it cools by direct contact with air. Intrusive rocks are the product of much slower cooling, in which magma pushes toward the surface of the earth, but cools and hardens without direct air contact.
EXTRUSIVE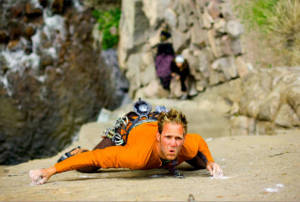 It's so tuff to climb! Owens River Gorge, photo by rockclimbing.com user nswelton .
Despite being nothing more than air-cooled magma, extrusive rocks are very diverse in terms of features. Some crags, such as
Smith Rock
, OR,
Owens River Gorge
, CA, and
Penitente Canyon
, CO, are made up of "welded tuff," which forms when layers of volcanic ash are compressed into rock. Welded Tuff tends to have tweeky pockets, great friction, and mostly vertical faces, requiring strong fingers and shoes that can both edge on a dime. You may want some sort of stiffer shoe for the edging, and a sharper toe profile can be useful for precision pocket toeing. With the rare exception of truly steep routes, you probably will not really need aggressively downturned shoes.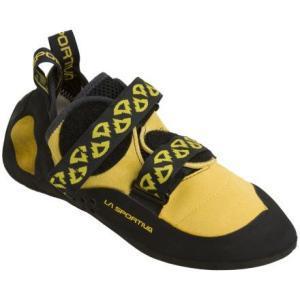 La Sportiva's Katana Velcro is a great shoe for Welded Tuff's edges and pockets
As far as gear goes, most welded tuff is best-suited for sport climbing, and in the case of Smith Rock, a lot of it can be chossy and loose before development. If you are placing gear in welded tuff, make sure that cam placements are not gravelly, and stoppers are not in rotten rock that will just break.
Most other extrusive crags tend to be some form of "columnar basalt," which is lower friction and harder than welded tuff, and fractures into the vertical crack and dihedral systems that Paradise Forks, AZ, Smith Rock's Lower Gorge, or Devil's Tower, WY are so famous for. It can also produce pockets for great sport climbing like Massacre Rocks, ID, and occasionally even produces big, steep blocky crags such as Jailhouse, CA. Probably the ultimate combination of fractured steepness and techy corner/crack systems is found in Armenia. Steep AND columnar!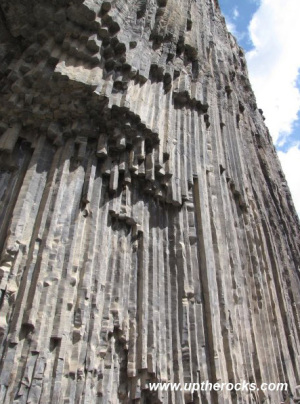 Columnar Steepness in Armenia. Unfortunately, most of these crags are now closed to climbing.
As far as gear goes for columnar basalts, its cracks usually eat up gear, and there are not surprisingly many more traditional crags of columnar rock than there are of welded tuff. Cams tend to work better than stoppers, since the vertical fracturing usually produces parallel, straight-sided cracks. However, be careful about outwardly flaring cracks, since sometimes the rock is so hard that cam lobes can track right out of placements with hard falls. As opposed to the precise edging that Welded Tuff requires, columnar rock usually favors softer shoes for both twisting into cracks, and smearing onto its faces while stemming.
Notable Features:
pockets
dihedrals
cracks
aretes
Major Crags:
Smith Rock, OR
Penitente Canyon, CO
Owens River Gorge, CA
Happy Boulders, CA
Paradise Forks, AZ
Devil's Tower, WY
INTRUSIVE
Intrusive igneous rocks make up some of the most diverse and classic crags in the world, from the Buttermilk Boulders of Bishop, CA, to the biggest walls in the world such as the Karakorum's Great Trango Tower.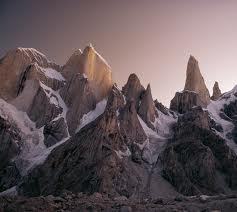 We can take the Karakorum range for granite. Photo from alpinist.com.
Although most of us just call it all "granite," this rock can make up canyons or domes, range through every color of the spectrum, and be as slick as a Yosemite slab or as rough as a Vedauwoo crack. Because it is formed by cooling beneath the earth's surface, intrusive rock only gets exposed and made into cliffs by erosive forces. Sometimes glaciers will carve massive valleys and canyons, polishing the rock into a slick sheen at the same time in places like Yosemite or Little Cottonwood Canyon, UT. Other times, blisters (called "laccoliths") of intrusive rock are pushed towards the earth's surface and then exposed by wind and rain, forming scattered domes such as Joshua Tree, CA, City of Rocks, ID, Vedauwoo, WY, or Enchanted Rock, TX.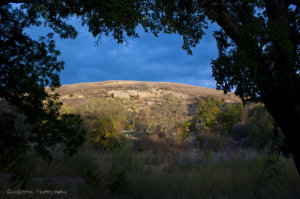 Yes, there is even granite deep in the heart of Texas! Photo by rockclimbing.com user Gaelstorm.
Most of the igneous intrusive rocks that climbers fixate upon are either granite– which contains more than 20% quartz and tends to be slicker, with smaller crystals– or quartz monzonites, which contain less than 20% quartz and tend to have larger crystals. The major factor in an igneous intrusive rock's crystal size (and whether you'll be skating around on slick slabs, or wincing in pain from sharp jams) is the rate at which the rock cooled. If the magma that once formed the rock cooled deep and slowly within the earth's surface, it had time to form large crystals, such as Vedauwoo's painfully sharp features or Tuolomne Meadows' knobs. If it cooled quickly, crystals had less time to form, such as in Yosemite or Little Cottonwood. Connoisseurs of many different intrusive rock types know that there is a perfect compromise "medium" of crystal size that is large enough to have friction, but small enough not to be painful. In this writer's biased opinion, the perfect consistency of intrusive rock can be found at areas like City of Rocks, ID, Looking Glass, NC, or Squamish, BC.
Granite-type rock tends to be all-encompassing when it comes to gear. It is very hard, especially in areas like Yosemite, where nearly all innovations in climbing gear from hard-iron pitons, to stoppers, to cams were first tested. Granite also forms plenty of splitter cracks and corner, so a standard rack of cams is always a good idea to have. However, unlike many columnar basalt areas or the Southern Utah desert, granite cracks can waver in size quite a bit, offering diverse gear options.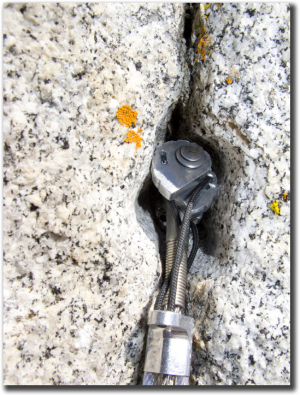 A Metolius Mastercam in a pinscar.
Because granite is some of the best and most prominent rock in the nation, it was often climbed by aid climbers seventy or more years ago, back when piton use was popular. For that reason, many established routes have what are called "pin scars"– gashes in the rock where pitons used to be. Pin scars often require specialized gear to fit in them, such as brass micronuts, offset nuts, or offset microcams.
As for techniques, the adjective used to describe granite climbing the most is almost always "old school." Many granite routes were put up in ground-up, traditional style, with bolts placed on lead, and favor a cool head, delicate footwork, and balance over burley strength. Compared especially to sedimentary rocks like limestone or sandstone, granite does not form as many features like pockets, edges, and jugs, and often the cruxes of granite routes are the points at which face features disappear and pure finesse and technique are required to get through these blank sections. That said, granite cracks can still require their fair share of brawn, and there are even a few new-school steep granite sport crags out there, such as Maine's
Shagg Crag
and Adam Ondra's ultra-hard route laboratory in Norway's
Flatanger Cave
.
Even for vertical to low-angle, technical granite, there is no one defined style or perfect shoe. Some slabs, such as North Carolina's notorious Stone Mountain, are completely devoid of features, and require a shoe that is loose and soft enough just to smear the entire ball of a climber's foot onto the rock. Other places, like Yosemite's Tuolomne Meadows, will require stiffer edging shoes to make their way up the knob features.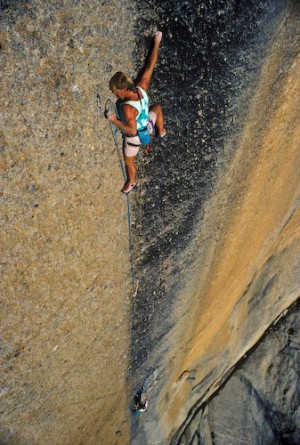 A slightly overhanging slab, with features. Bachar-Yerian, 11c r/x, photo by Greg Epperson.
Either way, most consider granite to be one of the most elegant types of rock to climb, and if you can succeed on climbs at granite areas such as Yosemite, Squamish, or Cathedral Ledge, NH, you will be well on your way to being a well-rounded climber.
Notable Features:
slabs
dihedrals
cracks
aretes
Major Crags:
Yosemite, California
City of Rocks, ID
Joshua Tree, CA
Vedauwoo, WY
South Platte and Boulder Canyon, CO
Looking Glass and Stone Mountain, NC
North Conway, NH
***
Click here for part II of this series, all about sedimentary rocks!
sonso45

2014-11-02
Nice explanation. This should help when thinking of protection available for climbing. Although I have a few friends that treat all igneous rock as if it were granite.

Devil's Tower and Paradise Forks look alike but the former has nice large crystals and the other doesn't. The Forks is known for hard slippery cracks and the Tower is not. Guess which one sucks up hexes and nuts?


Add a Comment