Raising
Submitted by
climbingparadis
on 2011-01-28
Rating
:






Login
to rate this article. Votes: 3 |
Comments
: 2 | Views: 8335
by Vaclav Novotny
"Mate, I tell you something – you're bloody heavy!"
"Shut your mouth and stay still! I'll climb up on your shoulders now."
"Bloody hell, what have you eaten? That's something. Stop waggling otherwise you'll crush my collarbone!"
"You stop fidgeting or I'll fall on you!"
"Christ sake, what's your weight? Do you know that your feet smell really bad?"
"Stop complaining and hold my bloody foot up here so I can stand up!"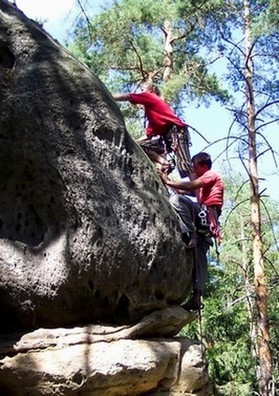 Route Mad Arete (V), Prachov Rocks, Czech Paradise
You can hear dialogue like this coloured with groaning and panting during a walk in any of the sandstone rock towns.
Raising is a climbing technique which from time to time is used while climbing routes in sandstone climbing areas. It's a human pyramid which is created from a minimum of two people and is used where there is no other way to climb the upcoming part of the route. Most of the "raising" routes were done many years ago. The trend nowadays is to climb everything free, but there are bits, which are really unclimabable. Real masters of this type of climbing are climbers from the German Saxon region who for some reason like this odd branch of climbing a lot and some photos of their human pyramids would make plenty of circus performers jealous.
The Czech climbing location which is full of a variety types of raising is Adrspach Rocks. Knowledge of this climbing technique becomes handy whilst attempting many of the local routes.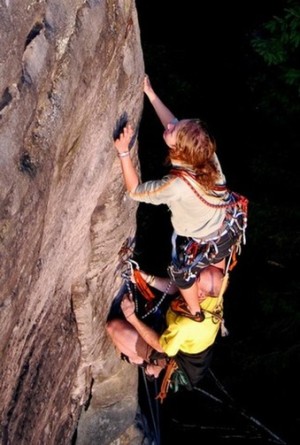 Smitka's Route (VII), Prachov Rocks, Czech Paradise
One of the unwritten rules is that the base of the 'raising'technique is made of the heavier and stronger climber. His lighter fellow-climber climbs up on him.
During some raising, climbers have fun and this slightly acrobatic element can nicely brighten up attempting the route. But when you look at the "baboonery" of some athletes you'll get goosebumps and nobody for sure would envy some extreme situations of a swaying human tower. Where there's a will, there's a way!
Second climber can try to free climb the higher part. If it's to difficult for him, he can use a ring bolt, prusik knots or fixed end or rope which is arranged for him by his lead climber.
Raising from the Ground
In order to overcome some of the impossible parts of a route to get to more climable parts or a ringbolt, some raisings need up to 20 people to be done!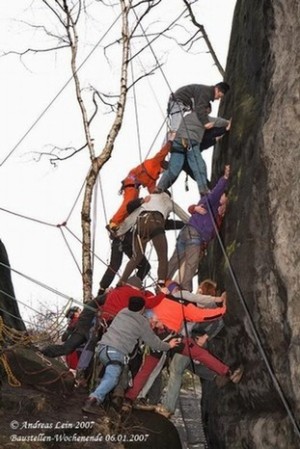 Saxon, taufelsturm.de
- The South Face (VII), Rozmanita Vez Zaadni, Prachov Rocks – it's needed to raise up to about 7 m to the ring bolt
- The Fear Revenge VIIb (old Czech sandstone grade), The Hammer, Prachov Rocks (Babinec area) – it's needed to raise up to about 6 m height into the hold under the ring bolt. Than you have to swing up, clip in and climb very difficult and mossy slab to the top. This route hasn't been repeated since the first ascent in 1973, so the grade in nowadays used Saxon graded system wasn't settled. According to unsuccessful attempt of the route in the summer 2010 by the members of LKP (Climbing Club of Prachov) the difficulty of climbing is around the grade IX.
Raising from the Harness – Unsporting
Very common and fairly safe way to manage a blank bit. Climbers raise from the ring bolt. One anchors himself as close to the bolt as possible and the second one climbs up on him using his knees, harness, shoulders or even head if it's needed to get over the critical part. In some routes you can reach the next bolt this way. But in some parts, the lead climber has to cope with the difficulties of out-coming climbing once he or she leaves the base made of the fellow-climber.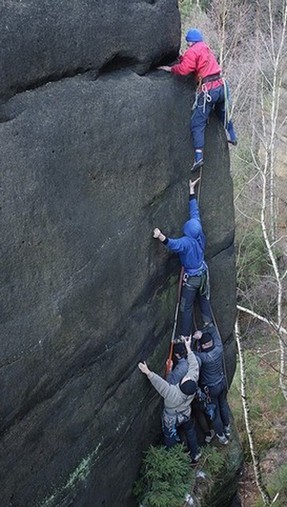 Saxon, route grade VI, taufelsturm.de
- Smitka's Route (VII, RP VIIIc), Smitka's Tower, Prachov Rocks – raising from the first bolt to the second one. Very nice. Free climb graded VIIIc. Very good climbing conditions are needed.
- The South Face (V), The Northern Route VII, Schlik's Tower, Prachov Rocks (free climb grade VIIb) – nice raising from the big ledge from the last bolt of the routes to the top.
- Crazy Arete (V), The Wide Tower, Prachov Rock (Lahole area) – raising from the bolt to the slab leading to the top. It's not over once you leave shoulders of your fellow! Free (Sporting) raising
At least three climbers are needed. The first one climbs under the critical place and firmly holds on. The second one climbs up on him. The third one is belaying. It's scary and difficult way.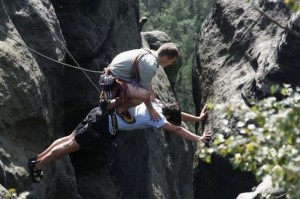 Saxon, route grade VI, taufelsturm.de
- The Greek Gift (VII, RP VIIIc-IXa), Sun Tower, Prachov Rocks – raising to the first (the only one) ring bolt
- Dungeon VIIIc, Hungry Tower, Prachov Rocks – climb the north face via two ring bolts to the ledge. Free raise to the top.
These days this type of raising is not too common. It's usually used in routes which are not very popular because of the difficulties of this type of raising.
olympicmtnboy

2011-01-28
I love it! I've use some of these technique in canyoneering as well.
JoshkellySD

2011-01-28
I've also done something similar to this while canyoneering too!!
Two of my buddies and I slipped into this water hole that was covered with algae so we couldn't climb out. i stood on their shoulders and pulled them out with all three of our t-shirts tied together. job well done!!
Add a Comment