Rock Climbing in Nepal
by Madan Prasain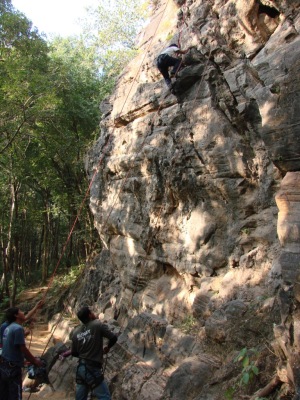 Climbing Natural wall inside Nagarjun
Paolo De Santi
If you want a cliff hanger experience in Nepal, the Kathmandu valley perimeter offers some hair-raising spots. There are some terrific, dizzying places for those who get their kicks from crawling up vertical cliffs. If you are not making it to some of the kingdom's high peaks, here's another opportunity to get a high. Of late, rock climbing has found increasing popularity among the tourists coming into Nepal as well as for local enthusiasts.
Most of the spots are situated to the north and northwest of the valley, in the vicinity of the Nagarjun Royal forest and the shiva puri watershed and wildlife reserve. Your rock climbing trip can therefore be combined with bird watching, game watching and experiencing some of the last of the valley's wilds. Nagajuna is a verdant hill located to the northwest of the Swyambhu Stupa and believed to be the place where the famous Buddhist philosopher. Nagarjun meditated.
The cliff here is located inside the Nagarjun forest reserve suitable for both beginners and wall rats. The limestone rock face is about 12-15 m high and bears the remnants of earlier climbs. what purists would describe as "piton scarred " or a defaced face. You could always do a free climb if experienced enough or use the friendlier chocks.
Another interesting rock wall is situated on the slope of Shivapuri hill to the north of Kathmandu . Drive approx. 9 km up to Budhailkantha, the shrine of the sleeping Bishnu, then walk west from the bus stop the Vishnumati stream through terraced fields and enters the Shivapuri Watershed and Wildlife reserve. The granite faces here lie scattered about, and the big cliff in the center is equipped with a single route.
DLMeiresonne

2010-05-31
is this primarily sport?
Hinko

2010-06-20
I think it is really just toprope, it isn't very tall IIRC. I was there briefly about 12 years ago.
Add a Comment