The Czech Paradise Sandstone Climbing
Submitted by
climbingparadis
on 2011-09-05
Rating
:






Login
to rate this article. Votes: 0 |
Comment
: 1 | Views: 7168
by Vaclav Novotny
The Czech Republic sandstone tower climbing is pretty cool. Sandstone climbers are called "sanders". You can be sure that each "sander" is a proud "sander". He usually climbs in ragged clothes. On his harness hangs a mixture of strange ropes, cords and laces and somewhere among all this crap hangs sand-scratched and shiny carbines, and quick-draws. Many of the still living legends of sandstone climbing look like hobos and tramps, but the size of their fingers and forearm muscles show that they are true masters in their kind of business.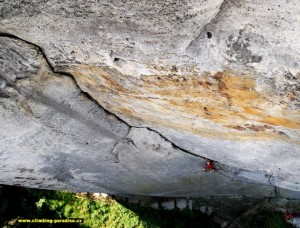 The Smoke Wall (VIIIc), The Czech Paradise
A "Sander" uses chocks and friends to open a bottle of beer. Those things are not allowed to be used on the soft sand-stone. Mastery of setting roped knots is an inseparable part of our climbing. Badly set knots can easily change beautiful and safe routes into ones we call an "obvious suicide"
Each route is climbed in the true meaning of on-sight climbing, because you can't follow a line of bolts and chalk marks. Instead of common bolts there are special sand-stone ring-bolts set into the rock. There are not many of them on the routes, so not every time you manage to see all of them from standing on the ground. You just have to believe that they are there – somewhere. This very specific climbing style developed here – on-sight or death. It's not always like this but it speaks for itself, about local climbing here for sure. You have to make sure that you damage soft sand-stone as little as possible – no top-rope climbing, and making sure that the rope doesn't drag on the rock too much. On the other hand getting scared to death, and your body knocked and damaged is guaranteed. For some unexplainable reasons serious injuries or death are very rare. Perhaps it's the job of our human self-preservation instinct. You will be shaking hands with this fellow of yours on the top of each tower.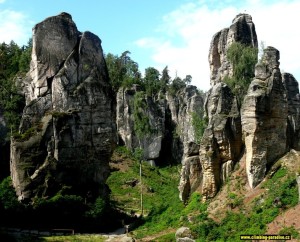 Prachov's Rock Town, The Czech Paradise
Use of chalk is not allowed, because of the chalk marks. There is a big and never ending discussion about it's use on the sandstone. I'm against the use – I respect the tradition and old-times style. It's possible to climb harder without chalk than anybody could think. I wouldn't recommend to foreigners to irritate locals with the use of this white powder. I recommend to wear a cotton T-shirt and absorbant pants, on which you can wipe and dry your hands. A little advice – before climbing "wash" your hands in the sand at the bottom of the rock, and if this is mixed with tree needles and other forest crap it dries your hands pretty good.
Grades? In general I can say – up to grade "V" it goes quite easy, "VI" is unpredictable, "VIIs" usually are beautiful routes. In "VIIIs" you get pumped and scared. "IXs" from 70th are classic master pieces – hard, scary and breath taking lines. From the "X" up the routes are safer with ring-bolts each 5 – 7 metres. One thing is clear – you won't remember climbed routes because of their numbers, but because of the route itself. A route grade is given by the first ascender and nobody can change it apart of him/her. That means that one's "VIIb" can be more difficult than other's "VIIIa" or "VIIIb". After a couple of route choosing mistakes leading to a "fight for life" - you will get into it eventually.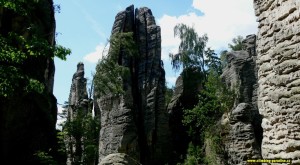 The Monk, Prachov, The Czech Paradise
It's not important what grade you climb. Every route is an adventure. Worn hands from cracks, and back from chimneys, "crapped" pants from no-hold slabs and exposed face-climbs where you have to do awkward moves high above the ring-bolt. To climb the sand-stone you need – courage, desire to get to the top, good foot technique and ability to estimate what you're capable of and when. You just have to know when is not the right day to play a hero, and down climb from under the first ring-bolt which is 8 – 12 metres high. It's definitely better than trying to confront the strength of your bones with the power of gravity and the hardness of the ground. Typical for sandstone climbing are slabs, vertical or slightly overhanging faces where you need to stay on the tiny foot holds, hold on small hand holds and work with your balance.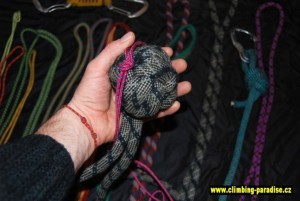 Smal Display of Sandstone Rack
From the back of the "sander's" harness hangs a bit of a strange tool –a worked piece of wood or a brush stick. It's called a "digger" and basically it's a sand-stone nut-key. It's used for setting up knots in the splits and deepness of the cracks. Sometimes it's priceless. The best is to hang it on a piece of pant's rubber, so it's on hand and you can reach with it as far as you need to.
A "Sander" likes to drink lager in the pub somewhere by the rocks. It's the best place to chat about adventures of the day, week, month or century. He also likes to play instruments and sing songs. The most common instrument is the guitar, but violin, bass, tambourine, spoons, piano or the broom are also played on. Every evening is filled with songs, laughter and climbing stories celebrating "your famous" climb, no matter the difficulty.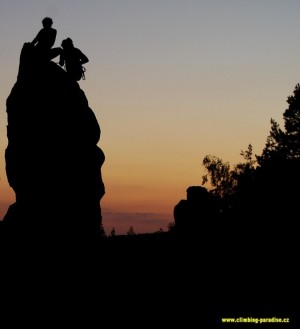 Setting the Absail in The Sundset
Sand-stone climbing is a dangerous adventure but it's so awesome that it's worth it, to give it what it takes and have a triumphant look around the rock town and the landscape from the tower just climbed. There is a small metal box with a small notebook and pencil inside where accents to the top of the tower are written in. Writing your name and the name of the route with a shaking hand is always a small ritual. But careful – it's addictive. When you do it once you will want to sign each one of them on the tops of all towers you see around you.










Hooky

2011-09-05
Kdy uz si tenhle patetickej clanek strcis nekam, to by me teda zajimalo...
Add a Comment