The Nissan Winter Outdoor Games
by Apoorva Prasad
Nissan Winter Outdoor Games
Chamonix is a special place. Bang underneath the Mont Blanc Massif, the small, narrow valley is recognized instantly the world over as a centre of extreme mountain sports. Like practically every climber, paraglider, skier, speed-rider and modern sports nut, I've always dreamed of living here. Even if illegally camped out in a tent, watching the tourists buy Prada ski jackets, it would still be the only place in the world to master the mountains.
But there's another side to it all. This came home to me only after several trips to the valley, when I watched the circus that is modern high-end alpine climbing. Like vultures around carrion, a helicopter carrying well-known photographer Philippe Fragnol and Gael Couturier of L'Equipe magazine hovered over Frendo Spur, watching Christophe Dumarest finish the route in barely 4 hours.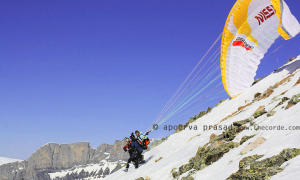 The Chamonix Alpine Circus - Christophe Dumarest finishing Frendo Spur in short time for a film by Race the Planets and shot by media crews
Apoorva Prasad

The Chamonix Alpine Circus - Christophe Dumarest finishing Frendo Spur in short time for a film by Race the Planets and shot by media crews. Photo by: Apoorva Prasad.
An average alpine climber (even though the term "alpine climber" instantly makes you above-average) does the thousand-something-meter route in about 6-8 hours, according to the guidebook. (No, I haven't done it at all).
Christophe and partner were banging out this route for a 5 minute film being made by Annecy-based Race The Planets. All of this for a competition – "7 teams, 5 sports, 5 days to make a (5 minute) film" went the tagline. The Nissan Winter Outdoor Games, sponsored by Columbia (in case you weren't sure where that much money was coming from) was all about getting extreme athletes together with production crews to make the best movie they could.
Filmer Arnaud Jambut crouched over his camera just under me. Chamonix guide and grandson of the route's first ascentionist, Sylvain Frendo had him clipped into a line. Also clipped into this alpine-style, loop-it-around-a-boulder anchor were photographers Pascale Lebeau and Christophe Margot. Hanging off a line he'd fixed in the ice, a filmer from TVMontagne.com happily solo-jumared up and down getting footage.
Out of sheer chance I followed the winning team for the four days I was there. We all knew what kind of characters dominate outdoor sports - take South African Julian Boule for example. He's a bit of a luddite. He hates cellphones, email, TV and other things we take for granted – "If someone really wants to talk to me, he can just come up and knock on my door", he says. He lives 40 minutes from Jo'burg. He admits that he does indeed have an email address and a cellphone, but, he says, "my friends know that I don't check my email. I switch on my cellphone every Friday, and I'll get messages telling me to check my email. That's when I do." On the other hand, this guy can operate a helmet strapped cam for base jumping and wingsuit flying. Adeptly enough, in fact, to be the stuntman and camera guy for some pretty big Bollywood blockbusters (check out Dhoom II).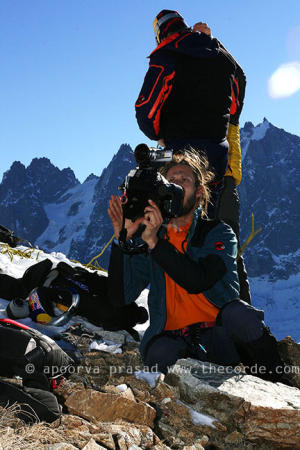 Julian Boule and Ueli Gegenschatz prep for a wingsuit-off-paraglider flight
Apoorva Prasad

Julian Boule and Ueli Gegenschatz prep for a wingsuit-off-paraglider flight. Photo by: Apoorva Prasad.
"When I got down to Bombay, the director asked me which hotel I wanted to stay in. I told him, hey man, if you got 20 rooms in your house, why do you want me to stay in a hotel?"
On Friday, I watched Julian jump out of a helicopter somewhere above 4000m, dropping like a stone towards the sharp rocky needles of the Chamonix Aiguilles. Within seconds the gravity in 'gravity sports' made its presence felt. His colorful body visibly accelerated against the stark background of sky and stone. The thin webs of fabric between his arms and legs caught the air like the webbed arms of a manically deranged flying squirrel on acid. He began to glide like a rocket, moving forward 3 m for every metre he dropped. I was shit-as-bricks sure that he was going to smack the rock. Gliding just over an arête somewhere between Aiguille du Midi's north face and the spires of Aiguille de Peigne, he swooped down all the way to Chamonix, finally pulled his chute just a hundred metres above the town.
The star wingsuit flyer in the world today is Loic Jean-Albert. If you haven't seen his world-famous videos of batman-style flying just a few feet above skiers' heads in the Swiss Alps, go to YouTube right now. He was supposed to fly for the event, but unfortunately he's out of action, after an accident. Accidents are common, as I soon figured out (see box – day-by-day account).
The team Ride the Planets is based out of Annecy. You can see that they've all known each other for a long time. That camaraderie came out in the film. Added to a decent scenario (a cartoonist sitting in a bar overhears drinking extreme athletes brag about their day, as he sketches out their exploits) and excellent shooting and editing; their film won the Aiguille d'Or at the Nissan Winter Outdoor Games festival.
The energy needed for something like was apparent – the crews seemed more fatigued than the athletes, who didn't necessarily have to perform each day. A lot of footage was of course shot by the skiers and flyers, especially since helicopter shots weren't allowed. RTP got around this with aerial shots from the paragliders who took off just before the action started.
Each of the teams was given a Nissan 4x4, all-day all-valley lift passes, a place to crash and food to eat. That was it. At the end of 5 days, they had to present a short film to the jury (which included legend Christophe Profit) and an audience gathered in the town square.
At night in the dinner tent I met the some of the guys from the only "Anglophone" team, Radical. Apparently they'd gotten the call barely a few days before the event itself, and hadn't ever all met before getting to Cham. They weren't even really English-speakers. "I guess our production team was Canadian, but our athletes and crew were very international - Hungary, Finland, Czech Republic, France, Switzerland, Austria, Belgium, America…" said Stu-Mackay Smith, cameraman, editor and overall "computer guy". The crew would get up, setup and shoot from morning to night, grab dinner and "hit the editing suite all night. The last couple days we didnt sleep at all, with the exception of the occasional 20 minute catnap", said Stu. Technical difficulties with using rental computers and differences between North American and European standards screwed up their final showing.
Each team had an editing room down in Hotel Priere, and each was stuffed with equipment, junk food, a mattress to crash on and whatever energy drink they could find to replace Red Bull, which is banned in France.
Many of the teams had seriously polyvalent talent – flyers who were filmers, athletes who were artists, one team even a music conductor for the video! All these skills were pretty evident in the crazy ideas that went into the videos – both good and bad (see box – The Films)
So there we were on the last day of filming. Within a few short hours the climbers had finished a hard variation to Frendo Spur, getting to the last ice section. Arnaud radioed to them to hang out a while below the finish – they hadn't gotten the cameras in place. In the meantime they used the cable car, which goes directly over the route, to get some more shots. On top we walked down the infamous knife-edged snow arête that connects the Midi with glacier. Right after the climbers topped out on the route, hugged and gave me an extra biscuit to munch on (!), I watched Mathias Roten infinity tumbling his wing for the last few minutes of footage needed by RTP. Little did I know that he'd be dead soon, killed earlier this month in a speed-riding accident in Switzerland.
That's adventure sports at the extreme of its gamut. A wild ride. Often really creative. Filled with energy and overly energetic people. Until the danger of flying so close to the edge comes down like evening in the mountains.
Check out pics and more info at the event website – http://winter.outdoorgames.org/en/
DAY BY DAY
Day 1 – Wednesday, 13th Feb
An 8.00 am start saw us at the base of the Brevent station, on the other side of Cham. The telepherique takes us up on the opposite side of the Chamonix valley from that big white Mont Blanc hill. Laurence introduced us to a two teams that will be shooting some scenes here this morning – Ride the Planets and Focus. The latter have two girls on their team, but they're both injured and out. Karina Hollekim is a Norwegian base jumper. Apparently her chute didn't open properly – line twist - and she slammed into the ground at 100 kilometres per hour (that's about 70 miles per hour) . Her lower body was pretty smashed up but somehow she survived. She was telling me all this as we walked down a few stairs to a terrace under the cable-car station. She had about 20 degrees of flexion in her knee, and leaned heavily on the railing as she came down. I didn't realize that the other one was Geraldine Fasnacht, who was also injured.
Up on top of Brévent we found Pascale behind the camera, with Julian and Ueli prepping for a 'base' jump off a three-man paragliding wing. Julian's primary concern was that the press doesn't say that "he blows". Because that's what he was doing - into the camera trigger, to take pics from his helmet cam.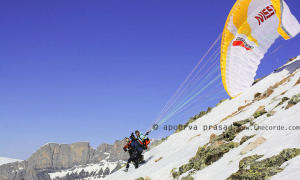 Julian and Ueli on a wingsuit-off-paraglider flight
Apoorva Prasad

Julian and Ueli on a wingsuit-off-paraglider flight. Photo by: Apoorva Prasad.
Critical preparations and makeup done, one wing took off from behind the hill to act as camera 2; while Julian and Ueli ran wildly under a massive parent 3-man wing to take off. Patrice Janet, producer and filmer got camera 1 rolling.
Apoorva Prasad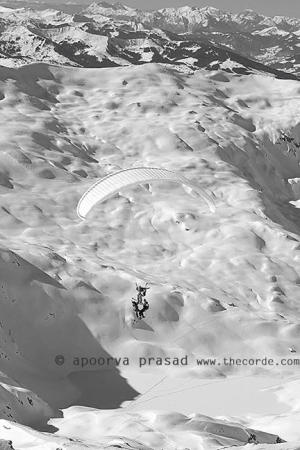 Hanging off a massive wing
Apoorva Prasad

Hanging off a massive wing. Photos by: Apoorva Prasad.
Later in the day they ran over to the other side of the mountain – Aiguille du Midi - to plan the wingsuit shots while simultaneously location scouting and decision-making for the next day's shooting.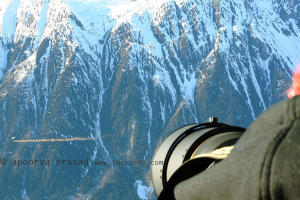 Philippe Fragnol shooting RTP flyers
Apoorva Prasad

Philippe Fragnol shooting RTP flyers. Photo by: Apoorva Prasad.
Day 2 - Thursday
Stuck with a guide we didn't want who eventually didn't show up, we were late to take the first cabin up to the halfway station of Aiguille du Midi. Christophe and his buddy were starting up Frendo Spur. Quickly hiking to the base, we got there in time to watch them start the route, two tiny dots resting in a sea of white before a great spur of rock.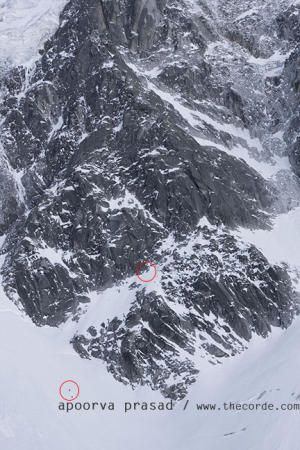 RTP climbers about to start on Frendo Spur at 8.30ish in the morning
Apoorva Prasad

RTP climbers about to start on Frendo Spur at 8.30-ish in the morning. Photo by: Apoorva Prasad.
Day 3 - Friday
Since it was supposed to be editing day for the filmmakers, I decided to put my free lift pass to good use and went off to Grand Montet for a day of snowboarding. This being my first time snowboarding in the Alps, I had no idea what to expect – length of runs, conditions, whatever. Somehow I got given a free guide, so I put him to use too. "Show me some powder, dude"; except I said it in French, which I somehow mistranslated into "Show me some off-piste glacier stuff, dude". Which he did. Off we went to access the Argentiere glacier, witnessing a serac fall off Aiguille Verte that wiped out the rock face under it; while I desperately tried not to wipe myself out by falling into one of the million crevasses. The route was desperately flat, mogul-y, and icy. Ok, this was not what I'd signed up for. Add to that the fact that this was my first snow day in a year. Guide definitely didn't like it: "non, ca va pas!!"
Day 4
Film showing day – Check it out...
So what did all these guys finally come out with? Here's a short round up of all the films: (You can view them on their website here http://winter.outdoorgames.org/fr/gallery/video.php?idIndex=181&noeud=6&a=1&b=0 )
Ride the Planets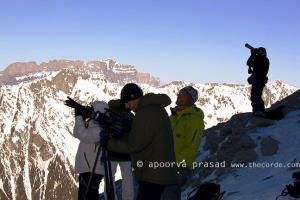 RTP shooting climbers on Frendo Spur, North Face of Aiguille du Midi
Apoorva Prasad

RTP shooting climbers on Frendo Spur, North Face of Aiguille du Midi. Photo by: Apoorva Prasad.
Festival winners had the best montage, multiple camera angles, great music, the best wow moments and an overall feeling of camaraderie that shone through the movie, giving everyone a feel-good glow. A cartoonist sitting in a bar overhearing the exploits of bragging athletes sketches out parodies of their day. Like the judges said, this was a video good enough to be aired tomorrow on TV. Best moment? When Julian and Ueli swung out wildly and cut away from their parent-paraglider, dropping like stones just above Chamonix and drawing "aaaahs" from the crowd.
Mountain Babes
It was truly unfortunate that the only all-girl team came up with such a pile of crock. Breaking the wall and tying their story together was an off-screen godlike voice (or mountain hick, judging by the accent and slang) My French street lingo not being up to the mark, what I could figure out from the film was that this guy had the babes skiing, climbing and doing their thing in order to … do something unclear. What didn't help was them spoofing themselves, pouting, falling and embarrassing themselves in party dresses on a portaledge hung just off little cliff for the shot.
Focus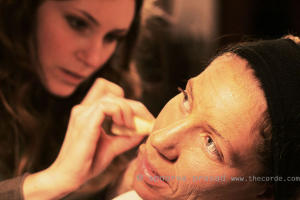 Geraldine Fasnacht gets made-up to become a film 'grandma'
Apoorva Prasad

Geraldine Fasnacht gets made-up to become a film 'grandma'. Photo by: Apoorva Prasad.
Karina and Geraldine (both actually injured) are 'grandmas' reminiscing about their mad young days. They flip through an album of photographs remembering their crazy friends - speed-riders, skiers, base jumpers and climbers.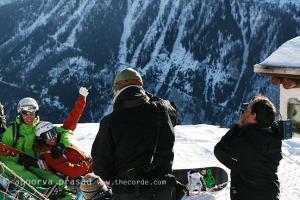 Focus goofing off for promo shot
Apoorva Prasad

Focus goofing off for promo shot. Photo by: Apoorva Prasad.
Great shots of Hernan Pitocco infinity tumbling, arresting with a partial collapse before spinning downwards; and of Aurélien Ducroz skiing and somersaulting over rocks.
TKB (The Kitchen Boys)
Cham's got its own hicks, and who says they can't be world-class extreme athletes as well? TKB's video was surprisingly awesome as well. Titled "The Magic Cristal" (that's not a typo on my part), it had great shots of coordinated skiing ala Apocalypse Snow, extreme couloir snowboarding and speed riding off a glacier – with an on body shot tracking the athlete's ski tips as he and the viewer suddenly launch into thin air.
Golgoht
This is another one with a story. A young mod Japanese tourist drops his cellphone off the Aiguille de Midi top station; and a succession of flyers, riders and jumpers catch it, record their exploits on it, and pass it on, before it returns to the shocked __. Best moment? Tourist: "I need my phone!" Wingsuit pilot: "Give me 2 minutes and 30 seconds!" Before landing on the verglassed parking lot of the Aiguille du Midi base station and handing it to him.
Medeo'z
Guide, photographer and overall hotshot Tony Lamiche aims to get the perfect picture – all the mountain sports in one frame. Great story, good music, nice action and an English voiceover on French conversation. A pretty good contender for the prize.