Wide Eyes, High Times and Hard Times; a Story of Climbing with Mark Grundon : Part 1
by Luke Mehall
This story was written in 2005, and a much shorter version was published in the Mountain Gazette. It was heavily revised in 2012 for Mehall's upcoming book, Climbing Out of Bed.
Say a prayer for those you love and everyone else. Thatís what Iíve written on my sleeping pad, and the last words I read before going to bed. The first person I pray for lately is my friend Mark Grundon. Mark is twenty two years old and has cancer; or hopefully by now had cancer.
I can vividly remember the first time I saw Mark on the campus of Western State College in Gunnison, Colorado. He was leaving class and I was going to one. I was admiring the fresh new faces on campus (checking out women). Somehow Mark stood out from the crowd with his wild appearance: six foot two, matted dreadlocks and wild blue eyes.
Through the collegeís search and rescue team, a fine group that is considered the best of its kind in the country, that also offered camaraderie in abundance, we met and became acquaintances.
I can remember the first time I saw him, but in the next couple of years, maybe due to all the college parties, I donít remember how much we hung out. But we were both climbers and passionate about it. Mark is the most motivated climber Iíve ever met. Like many college students my passion surpassed my motivation to actually do something, so Mark was an ideal friend and climbing partner.
A young Mark Grundon in Escalante Canyon, Colorado.
When Mark and I first started climbing together he was working for the National Park Service, waking early around six and getting off around dinnertime. Mark would motivate me to show him some obscure routes in a nearby canyon. Weíd climb till dark and immediately when the day was over, heíd be trying to hook me into more climbing plans likely the next day after his long shift. This is Mark Grundon, an honest hardworking American, wide eyed, packing as much life into each and every day.
The climbing adventures would continue as would the parties and growing and learning as climbing partners, and more importantly as friends. The winters around Gunnison are cold and seem to last forever (forever-ever), if you donít keep yourself mentally and physically occupied.
I was never prepared for winter, and the five winters I went through while going to college there, I suffered through each one. Iíd hibernate and lose track of Mark. Mark, of course didnít sink into the denial of winter I had. He got himself a job at the nearby Monarch ski area, this while maintaining a near perfect GPA at Western with a double major in Environmental Studies and Recreation.
His first winter, Mark was skiing up Monarch and fell; lacerating his liver. He was flown out by helicopter to Denver. They stitched up his liver and part of it was removed. I found this out the following season at a party at his house, when he was the guy who lived at the party house. Mark was never the guy who partied his college away. Plus, he couldnít abuse his liver with alcohol like the rest of us. So while weíd take over his house, the only one we knew of in town with a hot tub (girls would always get naked in a hot tub), Mark would mostly be studying in his room maintaining that near perfect GPA, keeping his healthy perspective on life while the rest of us went on partying; acting like weíd be young forever.
Occasionally Mark would party and Iíd be drunk, trying to get him to drink. Iím sure I was obnoxious and one night I was giving Mark an unusually hard time about not boozing. My ladyfriend got upset with me. I think this started a brother like relationship between us, and then Mark would start to tease me about something, usually the girl, and weíd break out into a wrestling match.
So our friendship was born and molded by rock climbing, partying and some good natured teasing. Another winter would come around and by then I knew I had to do something I remain sane to avoid sinking into the dark depression of winter. The only thing I could come up with was to continue climbing. Sure there was the college climbing gym, but pulling on plastic can only build up physical strength. My mental health was what worried me. School kept me active as well, and girls would come and go. But I needed to climb, outside.
My solution to combat the eventual seasonal depression, cabin fever, whatever you want to call it, had one major problem. We were living in a place often referred to as The Coldest City in the Lower 48. Truth be told though, itís not really a city, or technically the coldest, but itís a relatively fair assessment. Itís not uncommon to wake up in the dead of winter in Gunnison and it is negative twenty out, or even colder. I believe itís the combination of the high altitude, an open valley and the close proximity to the Blue Mesa Reservoir. Either way it will chill you to the bone, and it comes as no surprise that less than ten thousand people live there year round. Some say there are more elk and deer than people in the region. Two and a half hours to the west, though, is red rock sandstone desert at lower altitude, with some great climbing.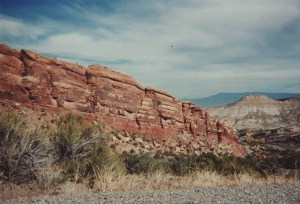 The Grand Junction red rock desert.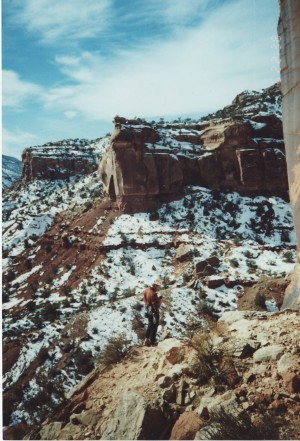 Escalante Canyon, a scrappy Indian Creek-like canyon.
We could wake up at seven, down a quick breakfast and coffee and be climbing in forty degree temps by ten oíclock. By noon Iíd forget I lived in such a cold place, and my spirit would be a little warmer, which was exactly what my cold hardened soul needed. But who could I convince that driving five hours a day in the winter for a few hours of climbing was a good idea?
The first trip Mark and I made, or maybe it was the second, was the worst. It was November, the start of the dreaded winter. It was one of those rare days when Escalante Canyon wasnít a desert paradise, in fact it was snowing off and on and a wicked wind was brewing and by the time we starting climbing it was whipping and making us suffer.
Escalante is a quiet place where manís influence is minimal. There are some cows, a small river, and lots of dirt and rock. Up to the wall where we would climb there is no distinguished trail. We just wandered up the red dirt, juniper trees, past little shrubs, and Mormon tea, a green broom like, small shrub with jointed stems. Ahead red rock walls, a couple hundred feet tall, actually maroon, with cracks to climb.
Despite the fact that it was snowing and wind was whipping, Mark was still psyched to climb. Perhaps without his motivation I would have just given up and got stoned. He even wanted the lead. I agreed knowing the climb we were preparing to do would work him good, but how long could it take?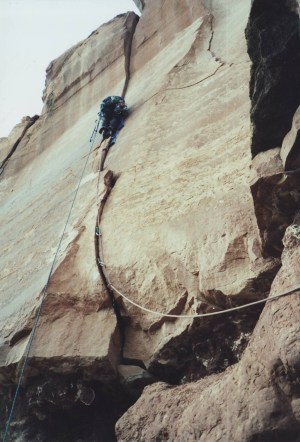 Another Escalante Canyon splitter.
The climb we were about to get on isnít described in any guidebook; therefore I can tell you no name. Mark began up a perfect hand crack, which had no other features other than the split in the rock. He was vaguely familiar with this technique of climbing those cracks, quite different than our backyard climbs in Gunnison, but he slowly struggled up the wall. Iíve been trying for years to pen the joys and philosophies of climbing as it can relate to normal everyday life. My experiences with Mark this day slowly logged themselves in my brain. Looking up to Mark it became clear this climb was much more than just a challenge. He lacked the training in the style, the prior experience to know what to do it. Yet somehow, inch by inch, in the cold and intermittent snow he was reaching the top, jamming his hands and feet into the crack accepting the pain of it.
He used some techniques modern purist climbers might call cheating, resting on his protection pieces wedged in the crack, but with no one but myself and God watching how could it be called cheating?
Two men suffering in the wilderness. Mark in the physical realm, managing his way up the steep red rock wall. I was suffering in the mental realm, on the ground belaying, tending the rope, challenged by patience for being there for your friend. I did my best to send nothing but encouraging words up, Mark struggled on. The time came for me when Iíd usually lose my patience, cursing myself for bringing a less experienced climber along and letting him lead. But there was something about his determination that kept me from anger.
It was cold, it was November and I wasnít depressed. Something about fresh air, wind, rock, and dirt that keep one from depression, a recipe that should be prescribed in moderate doses, to all who are sad.
I was paying the dues for a climbing friendship that would grow and blossom and we were suffering together in the Colorado red rock wilderness. Though weíd been hanging out for years, it was a beginning. The start of our adventures in desert climbing. The start of being brothers of the rock and the road, away from home, away from the college parties, taking down some of the walls we all put up in civilization, to where we were just two young men, excited about life and willing to suffer to climb them walls.

Stay tuned for part two, of Wide Eyes, High Times and Hard Times; a Story of Climbing with Mark Grundon.
This piece is an excerpt from Mehallís upcoming book, Climbing Out of Bed.
Luke Mehall is the publisher of The Climbing Zine. To read more of his writing visit http://lukemehall.blogspot.com. The Climbing Zine is now on Kindle, http://www.amazon.com/Climbing-Zine-2012-ebook/dp/B0071E9JN2 and Nook, http://www.barnesandnoble.com/w/the-climbing-zine-volume-3-luke-mehall/1109366935?ean=2940013913387&itm=1&usri=the+climbing+zine+volume+3
caughtinside

2012-03-20
Wow, best to Mark. I barely met him, but he makes a distinct impression as a ridiculously pumped climber.
mcadams.andrew

2017-02-01
Thank you for taking the time to write this article. I look forward to reading part 2.
Add a Comment