Wide Eyes, High Times and Hard Times; a Story of Climbing with Mark Grundon : Part 2
This story was written in 2005, and a much shorter version was published in the Mountain Gazette. It was heavily revised for Mehall's upcoming book, Climbing Out of Bed.
We would make about thirty more trips to Escalante Canyon, our new winter climbing home, over the next couple years. Mark was as fun to drive in the car with, as he was to climb with. He was what mountain folk would call always psyched. He had a childlike lust for life. I was an old, tired soul in need of a friend like Mark. He could get excited for the silliest of things, and his excitement was infectious.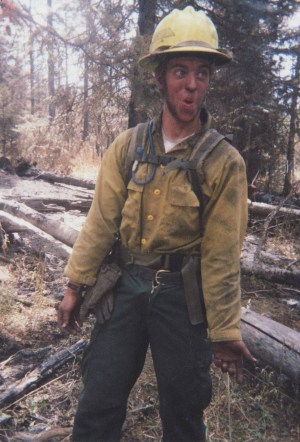 The one and only Mark Grundon.
The drive to Escalante is long, for a day trip, so he would designate landmarks along the way, as we drove from Gunnison, through the towns of Montrose and Delta to Escalante. The more he tried to find landmarks, the weirder they were. It started with the Giant Boob, a Department of Transportation structure half way to Montrose, that from one side that modestly resembled a fake boob, nipple and all.
With pure excitement and a manic energy he would yell, "Giant Boooob" each time we passed the structure. Just outside of Delta, headed west, we discovered a yard with odd alien lawn ornaments, a monster truck on top of a crashed car and even a boat on a pole.
Mark was fun and he got better at wrestling the sandstone crack climbs too. One semester Mark and I had dream schedules at Western State, modeled after many Crested Butte skiers; class on Monday, Wednesday, and Friday, with Tuesdays and Thursdays off. So of course we'd go to Escalante. My obligations were minimal: a part time dishwashing job and two courses at the college. Mark however, no slacker, was ski patrolling at Monarch, taking more than a full school schedule, as well as working on his Emergency Medical Technician (EMT) certification.
Escalante Tuesdays were the days. Mark provided the motivation to leave early, and I would provide the avocado and cheese sandwiches. We'd usually take his little Hyundai, hell ten bucks in gas there and back. And of course, there would be holidays and he would be ready to climb on those days too. We'd climbed so many of the cracks within our ability level there by then, so we began to search for the holy grail of routes to climbers, untouched, unclimbed ones. The climbing in Escalante had been going on since the seventies so most of the obvious safe cracks had been done. The leftovers from the golden age of climbing in the west were typically littered with some loose rock, but some were desirable and if your mindset was like ours, a strong desire for a first ascent, a little loose rock, or even a lot wouldn't deter you.
On the Martin Luther King Jr. holiday of 2003, we found ourselves facing up at an unclimbed route, obvious that to human had ever climbed it because of the presence of many loose blocks in the first fifteen feet of the pitch. One feature, similar looking to a snow bollard, a ball of rock a few square feet around, hovered above us, destined to meet with the ground as soon as we got up to it and knocked it off. Though it was clearly a dangerous climb, both of us wanted our hands on it.
The obscure line, Living The Dream, in an obscure location, Escalante Canyon.
We eyed the line, with a hint of competition, like we were both after the same woman. Since I had more experience, and karma wise I'd spent lots of time belaying Mark, it was agreed that I would lead. I didn't have the warrior like mental focus needed for steep difficult climbing, and each move was a battle, made more difficult because of the unstable nature of the rock. I would reach up a hold, and it would crumble away. When I'd step down with my feet the same thing would happen. Any time I found a hold to move up on I'd be afraid it would crumble, and send me back tumbling to the ground. After ten feet of humbling groveling through loose rock, I arrived at a ledge five feet left of the bollard feature.
Once I arrived at the ledge I was too chicken to traverse on my feet, so I simply crawled across it on my belly, as it was perfectly featured to do so. The scene was comical, but frightful at the time. Funny how climbing is sometimes the most joyous thing in the world, other times it is a nightmare. I must've looked like a fool to Mark, but he stood there belaying patiently. I got to the bollard feature and karate kicked it off the wall, sending the three foot tall ball of rock just beside of Mark. Finally I'd reached the perfect crack. I used the same techniques Mark made the year before, weighting the protection I'd placed in the rock, while knocking down loose rocks off trying to miss Mark while doing this. At a snail's pace, some say rock climbing can be one of the slowest forms of human movement, I eventually finished the climb.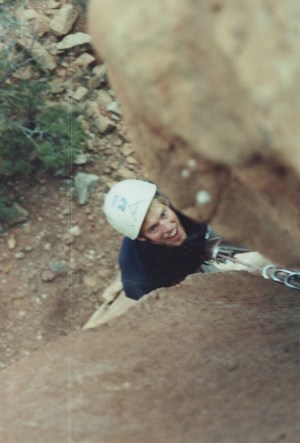 Mark Grundon following the first ascent of Living The Dream.
Mark faced what I had with seeming ease, moves that I had struggled with, he performed with delicate execution. I was witnessing the student growing closer to the teacher in ability. In climbing all are equal, regardless what the ego says. I was not envious of Mark, his passion was shared. Quickly, Mark was figuring out the techniques to climb these desert cracks, and he reached my perch with grace. We called the climb, Living The Dream, to commemorate Dr. King, and to reflect the dream lives we'd been living that winter.
The following week, we were back hungry for another first ascent experience. While I was bolting the anchors on Living The Dream, Mark had discovered a perfect crack, right around the corner that looked like it had never been climbed. Since I got to lead the previous week Mark would get the sharp end this time. Mark started up the stunning crack, split in a corner, like an open book, jamming his fingers and toe tips in the crack, placing the mechanical cams as he went. Forty feet up, I heard some mumbling fearful chatter followed by an, "Oh shit."
Before I even had a chance to think Mark had fallen thirty plus feet, upside down. The rope had gotten caught around his foot, and he was now looking me directly in the eyes, hovering a few feet from the ground. A piece had popped from the crack, the rope stretched a little, but luckily his second piece held. If not he would have landed on the ground headfirst. For a second I saw Mark more wide eyed than ever, and we went through some climber dialogue.
"Are you okay?"
"Yeah."
"Holy shit dude."
"I know."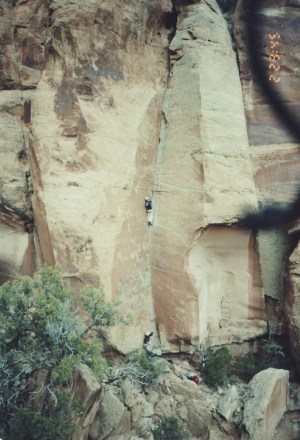 The climb known as Oh Shit.
My friend could have just died, had things gone slightly differently. What to do now? Our gear was placed in the half-inch crack up there. All of it added up to a couple hundred dollars. We couldn't just walk away. One of us would have to focus back on the seventy foot climb. The crack hadn't exactly been friendly to Mark, but I geared up, and used the most conservative techniques I knew to climb a rock. I quickly saw why Mark had been spit out of the crack, green lichen grew on the edges, and the climb was perfectly vertical. We still thought it had never been climbed before. As I reached the place of his fall I was resting on the gear. I inched to the top of the climb and disappointingly there was an anchor, a bogus sketchy chockstone at that, evidence we were not the first to climb the thing. But we were both alive and uninjured, and deemed the day a success. And we had a story to tell when we got back to Gunnison.
As always winter turns to spring, the cold is forgotten, and the seed of dreams planted turns to reality. Eventually Mark and I were climbing at the same level. Being a desert climber means little in the grand scheme of things (no one is going to take your picture and put it in a magazine just for that), and in a technical sense it basically means you've figured out how to jam your limbs into a variety of sizes of cracks. In your heart it means a lot more, climbing changes lives, over a season in the desert I learned to trust Mark with my life on the end of the rope, and together we spent many days in the car and in the desert growing.
The summer following our winter breakthrough, as school was done Mark was off on another adventure to Alaska, spending his summer guiding helicopter/glacier travel adventures. In the fall, when school started back up, I was living out of my truck, standard for any climber at some point in their lives. Mark invited me to park the truck outside of his newly rented home. It's a situation many a climber has dreamed of, living for free, surrounded by friends, and having all the luxuries of a modern home. I stayed living out of the truck for a few months till it really got cold.
Just before the cold set in, we planned a climbing weekend. Starting with the nearby Black Canyon; followed by a day in Escalante. The Black in November is always a gamble. There was always that chance that we could be caught in a storm a thousand feet up on those intimidating granite walls.
And how to describe the Black? It has the tallest wall in Colorado, the twenty three hundred foot Painted Wall; a crumbly thing with pink pegmatite strokes that run diagonal across it. Driving up it all looks flat, park the car at the primitive campsite at the North Rim, where most of the climbing is done, hike maybe a few hundred yards, and there is the void. See the guardrail, stop and look down two thousand feet, with the ever moving Gunnison River roaring below. People have jumped off and commit suicide right there. Climbers have been on the wall and discovered body parts. I've heard that the Natives, the Utes, believed the place was haunted. Without a guardrail it was probably spookier. Anyways the first time I walked up on that guardrail I started to believe in evil spirits, and my stomach sunk deep down. But there is an equally empowering positive energy that one can access on the sheer grey walls; inching upward to the rim.
That morning in the Black we were one of just two climbing parties, and the sky didn't indicate there was a storm coming in. Even though winter was in the air, I was with Mark and he was psyched. I had done the climb once before, The Journey Home, named after an Edward Abbey book, with a most exciting initial section of the climb (long run out without gear for falls). We approached the climb, and stared up at the beginning of our vertical world for the day. I felt calm knowing Mark would be leading the first dangerous section. He climbed off, set a piece of protection, and then embarked on a long section without any pro for falls, not that difficult of moves, but sure to send all the adrenaline in one's brain tingling down the body. I let out rope, and watched Mark weave his body on small edges on the dark gray rock, with swirls of pink and lighter tones of gray. The rope hung from his harness, mostly useless for now, as he danced his way up the wall.
At one point he knocked down a small chunk of rock, but managed to stay on. It was a good thing too, had he fallen it would have been to where I was standing twenty feet below. He was simply in a position where he couldn't fall, and he didn't. He climbed higher and secured good gear, a relief for both of us. The rest of the climb went smooth each time we'd set out and climb a full rope length, two hundred feet. When I was the leader I remember I'd be staring off into the never ending vastness of the canyon, it goes on for something like fifty miles, feeling tiny and empty, and then eventually Mark would draw nearer. I'd notice those wide eyes and soon after that we were on the perch together, a ledge just enough to put our feet on, dangling almost a thousand feet above the canyon floor, just two people but a closeness and enthusiasm that I've rarely found except when I was in the wilderness with a friend. And Mark was (is) the best of friends, and full of the purest energy and enthusiasm.
The energy of climbing in the wilderness led us onward to the top of the wall, a thousand plus feet above where we began. Three other friends, from Western State, who had been the only other climbers in the canyon, were there to meet us with cold beers, a rare treat. Usually when we top out there's no one or some curious sightseers, asking questions like, "ya'll been climbing down there?" We were the only people there in the vast park, no surprise; we were on the heels of old man winter. The sun left us and we cooked a humble meal in the cold night and then left the canyon for the season, for another favorite, where we always go when things get too cold, Escalante Canyon.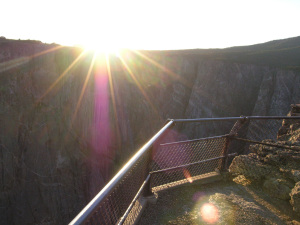 The magical, mysterious, Black Canyon.
Escalante, no secret, no surprise we'd learned many lessons, survived the falls and now it was an old friend. There was little, if any, mystery of what to do when we woke up. We ate some food and hiked up the hillside to a red rock sandstone crag. Once again it felt right to be in the desert. We would spend all day climbing different cracks.
In the Black Canyon, we had picked up The Benson, a particularly funny young man from Gunnison. The Benson added an essential element to the day, humor (there's never too much). Mark once described him as a teddy bear. But as we were laughing, climbing, laughing, climbing, just as fast as the autumn fades to winter, if we're not paying attention, the sun steadily leaves the day. Usually as the day is ending I lose my energy too, but Mark sees the setting sun as an opportunity, for more life, for one more climb. I've learned I better bring a headlamp if I'm climbing with Mark, and we walked down the hillside, well after the sun had set.
The winter soon came upon us after this trip, but by now we were too good of friends to just lose track of one another. Basically we were family now. One morning after a snowy weekend I stopped by Mark's house to say hello.
"How was the ice climbing this weekend?" I asked. They'd been climbing near Silverton, Colorado, that weekend, a couple hours southwest of Gunnison.
"Not so good, we had an accident," he told me somberly with a look of despair in his eyes and on his face.
Mark and his roommate Scott, and Steve, another climbing friend, had gotten hit by an avalanche, while they were well into the climb. Steve, who was leading, fell over two hundred feet to the base of the climb, while Mark and Scott were nearly ripped from their anchor from the force of the avalanche. They all could have died. They immediately went into rescue mode, and got help for Steve. He was rushed to the hospital in Montrose and spent the night there. Immediately we made plans to visit Steve that afternoon.
For the first time ever in the winter, we were heading west towards Montrose, not for the pleasure of climbing, but to visit an injured friend. We arrived in the evening to see Steve in a hospital bed, tired and injured, but alert and in good spirits. He was the reality of what could happen to you while climbing. I didn't know what to say. There wasn't really much we could do. We gave him some food, and told him we admired him. Time was the only thing that would heal the wounds, which included injuries to the discs in his back and a broken sternum. We left, he needed rest, but I knew from surviving that kind of fall that his body was as strong as steel, his spirit as strong as any other human's I'd known.
Winter went on. Slow as winter does as did the sadness that comes with it. Steve was healing slowly. Mark and Scott were mentally recovering too. But life is sometimes like the avalanche, the hard times just keep coming down. I was at work, washing dishes in Crested Butte, when I received a phone call from Mark with the news. He'd been diagnosed with testicular cancer. He immediately needed a surgery to remove his testicle, and would have to leave in two days, to Vermont, where he grew up. I didn't know what to say, and I didn't know what to do.
This piece is an excerpt from Mehall's upcoming book, Climbing Out of Bed. Luke Mehall is the publisher of The Climbing Zine. To read more of his writing visit http://lukemehall.blogspot.com.The Climbing Zine is now on Kindle, http://www.amazon.com/Climbing-Zine-2012-ebook/dp/B0071E9JN2 and Nook, http://www.barnesandnoble.com/w/the-climbing-zine-volume-3-luke-mehall/1109366935?ean=2940013913387&itm=1&usri=the+climbing+zine+volume+3
USnavy

2012-08-28
I have climbed with Mark, he is a great climber.
Add a Comment