Geology for Climbers Part III: Metamorphic Rocks
by Paul Nelson
This is part III of a three-part series on different geological rock types as they relate to climbing. For Part I, on igneous rocks, click here. For part II, on sedimental rocks, click here.
When Gregor Samsa woke up one morning from unsettling dreams, he found himself changed in his bed into a monstrous vermin. --Franz Kafka, The Metamorphosis (1915)
Okay, well-meaning granites and sandstones do not wake up one morning to find themselves changed into cockroaches. However, metamorphic rocks are in many ways the lesser-known Dark Horses of the climbing world– they can be slippery, irregular, sharp, and even suddenly pop up unexpectedly in the middle of igneous or sedimentary rocks. With the exception of the Black Canyon of the Gunnison, there really aren't that many metamorphic big walls in the North America, and from an aesthetic perspective, the rock really doesn't have the same beauty as many igneous or sedimentary formations.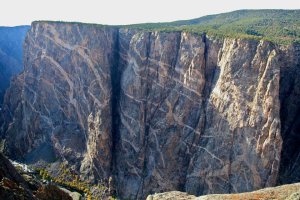 It's no Half Dome, but at least if you don't like the holds here, you just throw them over your shoulder and pick another one.
Metamorphic rocks, as the name implies, are rocks that have undergone some form of change, either by way of some combination of extreme heat and pressure, to the point that they have lost the characteristics of their original igneous or sedimentary selves. Indeed, some metamorphic rocks might have deep geologic histories as both types of other rocks– a granite monolith could have been ground down into sand, pressed into sandstone, and then cooked into quartzite over the eons.
It's too bad marble is so slippery. Fat David could be a SICK sloper problem.
Whatever their origins, the fact that metamorphic rocks have undergone such heat and pressure usually is the reason that they are so hard and also can be almost glasslike in slickness (marble, which is the metamorphosed version of limestone, is so slippery that it's basically unclimbable).
Because of how they are formed, metamorphic rocks are often layered beneath or even within other types of rock. For example, beneath the limestone of northern Utah's Logan Canyon, you can sometimes see the point at which the sedimentary rock has reached the pressure point of becoming a pinkish quartzite; in the still largely unclimbed depths of the Grand Canyon, granite has been pressed into Vishnu schist, a rock that is older and harder than a Viagra patient (zing!).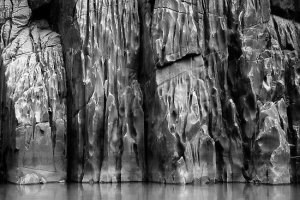 It's the Bob Dole of the geological world. NSFW!
You can also often find layers of quartzite within huge granite domes, called "dykes" or "sills." Often, climbing routes even follow these metamorphic pathways through granite, such as on The Nose of Looking Glass, NC, or Intruding Dike at City of Rocks. Going even further, sometimes cracks and weaknesses within monoliths have been "injected" with hot magma, which forms veins of igneous basalt, lined with metamorphic rocks at the point where the hot magma has "melted" its surrounding rock. These types of dykes are common in the pegmatite bands of the Black Canyon of the Gunnison in Colorado, on routes such as the Upper Black Dike on The Chief in Squamish.
As for the geographic distribution of metamorphic rocks, they tend not to form huge swaths such as California's widely scattered granite domes and canyons, or the Southeast's Sandstone Belt. Rather, because of localized heat and pressure, metamorphic areas can be literally next door to sedimentary or igneous areas– Utah's Big Cottonwood Canyon (quartzite) and Colorado's Clear Creek Canyon (gneiss and schist) are right next to the granite areas of Little Cottonwood and Boulder canyons, respectively.
One notable area that is predominantly metamorphic is North Carolina. While the rest of southern Appalachia is known for its bullet hard sandstone, the Tar Heel state is almost all composed of rocks like the steep tiered quartzite of the Linville Gorge or Moore's Wall, the schist of Boone's boulders, or the gneiss of Rumbling Bald. Even many of North Carolina's huge granite domes like Looking Glass Rock have interspersed veins of metamorphic rocks.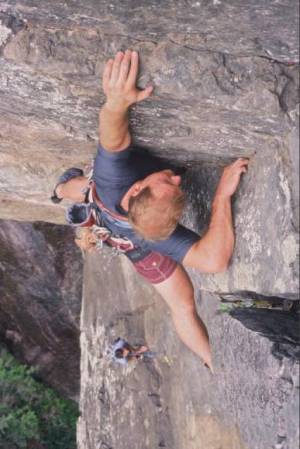 Metamorphic goodness at the Linville Gorge, NC. Photo by rockclimbing.com user J_ung
***
METAMORPHIC ROCK TYPES AND CLIMBS AROUND NORTH AMERICA
QUARTZITE:
Although Quartzite is prevalent as veins and dikes within other rocks, it also occasionally stands alone at its own crags. It can be blocky and overhung, forming steep, tiered features such as "Sessions" in Utah's Uinta Mountains, or smoother and more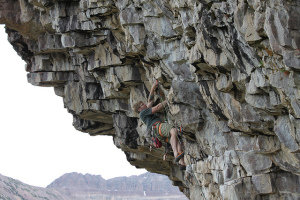 "Blocky," defined. Sessions, 5.12a, a beautiful steep jughaul in Utah's Uinta Mountains.
vertical, such as the cliffs of Wisconsin's toprope and headpoint area
Devils Lake
. Although not as sweepingly smooth as granite, sandstone, or limestone, quartzite can still have its own aesthetics, and the most beautiful can exhibit glistening pink hues.
Quartzite areas through the US seem to be equally distributed through the trad and sport world. Most of the Uintas are sport, but neighboring Big Cottonwood Canyon's quartzite is mostly traditional. A few things to keep in mind when placing gear in quartzite is that this rock is incredibly hard, which can be good for passive placements but less so for active gear. The tiniest constrictions for brass nuts and tricams can be much more bomber than equivalent sandstones or even granites. Cams, however, can be another story. Some quartzite, such as that of Big Cottonwood Canyon, is high-friction enough that cams would work, but I have heard stories of cams simply pulling out of the slippery rock of Devils Lake. In general, when placing gear in quartzite, it is good to always look for constrictions, and be very wary of completely parallel-sided cracks.
For shoes, quartzite is usually not rough enough for pure smearing, and almost never features pockets. So, you will want to focus more on edgy shoes than anything else, even for steeper routes.
Notable Quartzite Crags:
Uinta Mountains, UT
Big Cottonwood and Ogden Canyons, UT
Devils Lake, WI
Linville Gorge, Moore's Wall, and Crowder's Mountain, NC
SCHIST AND GNEISS:
When sandstones, mudstones, and shales undergo their metamorphoses, they become slates, schists, and gneisses, depending on their relative coarseness; slate is the slickest, and gneiss the coarsest. Although it is counterintuitive, the coarseness of these metamorphic rocks is related to the heat and pressure that they have undergone– slate is metamorphosed under lower heat, whereas schist and gneiss are under a higher heat that forms higher-friction crystals. Though the rock types are very different, they all have "foliation"– the tendency to fracture along parallel layered features, which is obviously very good for climbers looking for interesting holds and angles. While there are not many slate crags in North America, it is a very prevalent rock in Great Britain, where old slate quarries have yielded some very bold traditional routes.
Although schists are often slippery, in some areas such as Rumney, NH, they have enough embedded mineral crystals within them that their friction is great. Furthermore, because schist is formed from layered sedimentary rock types, it can produce ample edges– the features of sandstone, with the hardness of a metamorphic rock– win/win!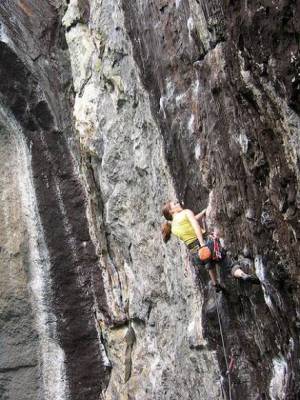 Steep, bouldery schist at Rumney, NH. Photo by rockclimbing.com user cracklover.
Because of foliation, Rumney schist fractures not just into sharp crimps, but into the dihedral and crack features that characterize many of its routes. The only thing that this rock type lacks is the regular, horizontally arranged jugs that are prevalent in sandstones and quartzites. Schist is bouldery! For an even more pure (and probably less pleasant) schisty experience, check out the D.C. area toprope crags of Carderock and Great Falls. The rock here is slick, sharp, interspersed with crystals, and incredibly difficult to read. This is where Chris Sharma fell off of a 5.12 toprope!
Many schist areas, such as Colorado's Black Canyon and Clear Creek Canyon, are also interspersed with gneiss, since the deeper you go, the higher the pressure and heat. For the most part, this gneiss is nicer than shitty schist (ok, that's the last time I'll use these bad puns) on account of its higher friction crystals, but it shares schist's scarcity of straightforward jugs, and can be just as "weird" and bouldery to climb. In some areas, most notably Rumbling Bald, NC, the gneiss climbs almost like granite.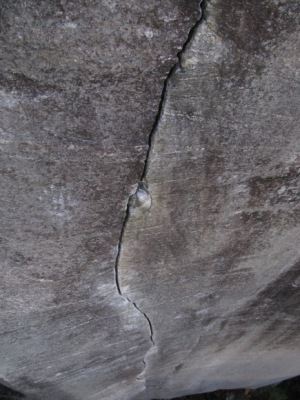 Granite? Nope, gneiss. Photo by rockclimbing.com user ACJ.
The types of gear you'll need for schists and gneisses is not clear-cut or straightforward. You'll usually want some sort of edging, or even downturned shoe, especially for boulder areas like Rumney. For trad gear, these rocks can be just as slippery as quartzite, but is usually not as bomber hard. Cams can be slightly better than in quartzite, since schists and gneisses can have grippier crystals within, and they certainly form cracks that take cams very well. However, pay attention to the foliation of these rocks, they can have more loose choss than quartzite.
Notable Schist and Gneiss Crags:
Rumney, NH (schist)
Carderock and Great Falls, D.C. area (schist)
Black Canyon, Clear Creek Canyon, CO (schist and gneiss)
Rumbling Bald, NC (gneiss)
rhei

2014-12-07
Good info.

Additional examples of intermixed schist and gneiss are found on the cliffs in the Tetons. Lower Exum on the Grand and Irene's Arete are two popular lines with this blend.
Add a Comment