Geology for Climbers, Part II: In a Sedimental Mood
by Paul Nelson
This is part II of a three-part series on different geological rock types as they relate to climbing. For Part I, "Igneous is Bliss," click here. For part III, on metamorphic rocks, click here.

Nothing much, just a bunch of packed-together sand
I'm not going to lie, sedimentary rocks are my favorite (especially sandstone). This type of rock is probably the most diverse on earth, ranging from the rough and cobbly conglomerates of the Gunks to the splitter sandstone desert cracks and towers of Southern Utah, to the difficult limestone caves of Rifle, Colorado. Like the best granite, many sedimentary rocks can form slabs, cracks, and corners, but because they can be a bit softer, they also can weather and erode into a huge range of features: huecos, pockets, edges, and high friction slopers.
Most sedimentary rocks form when loose, unconsolidated soils, sands, silts, muds, and even the remains of prehistoric shells undergo heavy pressure and turn to rock. This rock is then re-exposed for climbers as it is gradually uplifted by deep volcanic activity, and then eroded by wind or water, such as in the complex canyons of Southern Utah, or the rugged plateaus of the southeastern Appalachian hills.
Because of their relative softness in relation to igneous rocks, sedimentary rock tends to form the biggest overhanging caves as well. For this reason, the majority (though not all) of the world's most difficult routes are on sedimentary rocks. Sometimes, when softer sedimentary rocks, such unconsolidated shales, sit beneath harder ones, the bottom rocks erode more quickly than the top ones, resulting in fracturing that forms the sweeping amphitheaters of the Red River Gorge in Kentucky, or the tiered roof systems of the Obed in Tennessee. In other places, like Rifle, CO, steep rock is caused by bends in canyon bottom streams, where water erosion gradually carves out caves.
***
SANDSTONE
Even more than granite, or even limestone, it is incredibly difficult to lump all sandstones into one category– this rock is diverse in every respect, from the bullet hard features of Eldorado Canyon, CO or the New River Gorge, WV, to the crumbly barely-held-together "kitty litter and rye crisp" of the Fisher Towers, UT.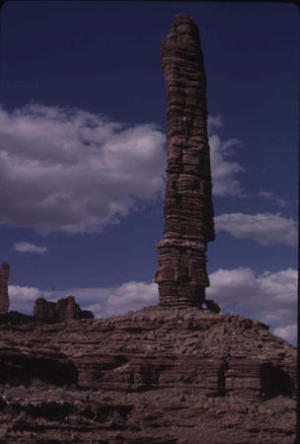 Standing Rock, a monument to chossy sandstone
The one thing that all these rocks have in common, however, is that they were formed when layers of sand (itself a ground-up rock to begin with) is compacted and consolidated into rock. Some sandstones began as massive, Sahara-like sand dunes, others as flood plains for prehistoric rivers, and still others as the bottoms of ancient oceans.
Some of the softest sandstones that are still free climbable are the Navajo and Wingate formations of the Southwest's Colorado Plateau. While these rocks do occasionally form great face holds, most are so soft that any face holds will simply tear off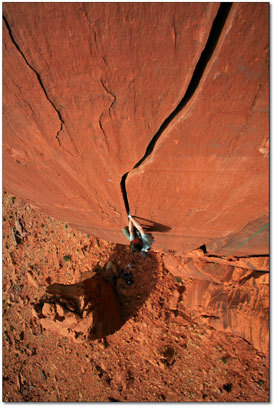 A typical Indian Creek splitter
the wall. For this reason, holdless slabs such as the
San Rafael Swell's multipitch adventure routes
, or the perfectly eroded, linear splitter cracks of
Indian Creek
are the standout features of this soft rock. People flock to Indian Creek in particular precisely because it has no face holds to "cheat" your way up its cracks.
Occasionally, softer sandstone is just hard enough to form swiss cheese-like pockets and huecos. An added bonus is when iron "patina"– minerals soluded in water– flows over these softer rocks, giving them a harder exterior that can preserve otherwise fragile face holds. Red Rocks Canyon in Las Vegas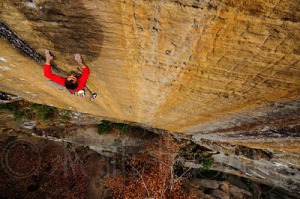 Streaks of multi-colored patina and beautiful holds at the Red River Gorge's Gold Coast crag
has plenty of great, steep sandstone face climbing of this sort, but even its sport crags are no match for the quality and quantity of the Red River Gorge in Kentucky, where the holds are so big and the walls so steep that it is the finest pure endurance sport climbing in the nation (possibly the world).
On the other end of the hardness spectrum, you have the rock of places like the New River Gorge and Seneca Rocks, WV, and Eldorado Canyon, CO. Both of these places feature very old, very hard sandstones that often climb and weather more like metamorphic quartzite, with dime edges and blocky fractures, but still retain sandstone's great friction. These hard sandstones are some of the best medium for intricate face trad climbing, both because they featured enough to form many cracks, pockets, and horizontal slots, and because they are so hard that even tiny TCUs and brass nuts are bomber in their cracks.
The gear required to climb sandstone is diverse, but there are definitely some unique points to keep in mind, especially on softer sandstone. At Indian Creek, you need more cams than you will need anywhere else, both because its cracks can stay the same size for forever, and also because you never want to run it out too much on its soft rock. For shoes on both soft cracks and slabs, you want something that focuses more on smearing and jamming then edging, since often the rock is so soft that there are few edges to use! For harder sandstone, your shoes will probably be more for edging, and your rack may include a wider variety of micronuts, tricams, tcu's, and ballnuts, both because small placements are more ample, and because they will be good.
One special note on soft rock: sandstone erodes more quickly than any other rock type, and can be in a constant state of breaking. The common practice at Red Rocks is to give the rock at least two days to dry after a heavy rainstorm, since water-weakened holds break very easily. The same goes for gear in Indian Creek cracks, where a friend of mine decked after pulling out four perfectly placed cams in wet rock (water is also a great way to get stuck cams out of the rock, by the way).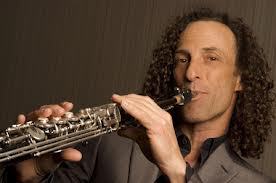 Soft Rock is serious business
We also hear occasionally of bolt failures in soft rock (especially at the mega-popular Red River Gorge). This is not the place to learn about bolting, but glue-ins or half-inch bolts should be considered mandatory in soft sandstone. Furthermore, many old anchors at Indian Creek still feature "drilled angles," where climbers have drilled holes and then pounded pitons into them. These can be good for lowering off of, but are very weak for outward pull. Always tread lightly on these anchors, and only apply downward force to them.
MAJOR SANDSTONE CRAGS:
Indian Creek and Zion, UT
Red Rocks, NV
Eldorado Canyon, CO
Red River Gorge, KY
New River Gorge, WV
***
LIMESTONE
Although Adam Ondra's recent development of the Gneiss/Granite cave at Flatanger, Norway, as well as Rumney, NH's hard line-up of bouldery routes, certainly are contributing to ultra-hard climbing (stay tuned for the metamorphic section up next!), limestone is currently the dominating front-runner for over 90% of all hard sport climbs in the world. Especially in Europe, where sweeping waves of limestone in France and Spain spawn 5.15 mutants, this is clearly the hardman's rock.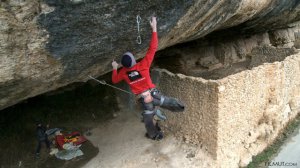 You can almost hear the tendons popping. Iker Pou on "Dementia Senil" (5.15a), Spain
Why? Well, for one thing, limestone is soft and sedimentary, which allows it to erode into plenty of ultra steep caves. But, it is harder than the sandstones of Red Rocks or the Red River Gorge, which means that it has fewer features and holds. You are much more likely to find hard, blank sections on limestone than you are on sandstone, and its holdless sections tend to be slipperier than sandstone, making intermediate smears and crimps very difficult.
Although a sedimentary rock, limestone is not formed from "sediments" like sand, mud, or gravel. Rather, it comes from living organisms: the shells and reefs of millions of years of undersea creatures accumulating together. Quite literally, limestone is "all fossil"– occasionally, you may even find yourself crimping on the outline of a shell on a limestone route
A lot of limestone's cool features come down not just to weathering, but also to chemistry. Many of its pockets are formed by chemical solution, in which acid-laden water drips its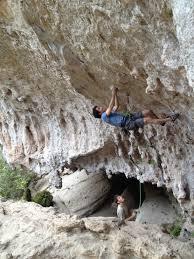 Tufas and stalactites at Reimer's Ranch, Central TX
way into weaknesses, enlarging them into divots, monos, two-fingers, jugs, and more. Another feature unique to limestone are tufas: accumulations of different mineral such as travertine that flow down limestone to form stalactite-type pillars and columns embedded in the rock. For some reason, tufas mostly form in warmer climates, possibly because freeze-thaw action breaks off nascent tufas as they begin to form. The small limestone crags of Central Texas, and plenty of bigger crags in Mexico form great tufas, but even these really don't compare to some of the striking tufa and stalactite features of Thailand or Kalymnos.
Unfortunately, North America is kind of the underdog to Europe when it comes to limestone, even though we have plenty of it. A crag like Ten Sleep, WY, has European hardness, height, and beautiful pockets, but lacks major overhanging cave features. Wild Iris, also in Wyoming, has the steepness and pockets, but lacks much height. Rifle, CO, has height and steepness, but tends to be more blocky and less pockety. Probably the greatest concentration of hard, steep limestone routes, including Chris Sharma's mega-pitch "Jumbo Love" (5.15b, unrepeated), can be found in the southwestern Mojave Desert.
For gear and techniques, limestone can be an acquired taste. Though there are a few good limestone trad lines, it is probably the worst rock for placing gear into; it can be brittle, and its cracks not uniform enough for good cam placements. Be very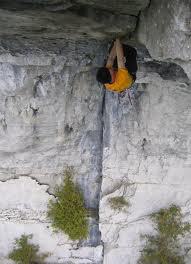 Ontario's "Monument" (5.12c), a rare limestone trad roof crack
cautious whenever climbing trad on limestone. For shoes, you will rarely want smearing shoes on limestone– its smears are just too slippery! However, it can form some great edges on par with Smith Rock's best, so for vertical limestone, a stiffer shoe will work best. For steep, pocketed limestone, you will want aggressive, downturned shoes like the Five Ten Dragon or Sportiva Solution, with pointed toes that can dig into the smallest pockets.
Hard limestone sport climbing will build technique on unparalleled levels, and anyone who thinks that steep climbing is just brainless campusing only needs to boulder at Priest Draw, AZ, or McKinney Falls, TX, to see that this is not the case. Limestone can slippery. You need to have just the right combination of upper and lower body tension, with just the right positioning to make tweeky pockets, edges, and even slopers work for you.
LIMESTONE CRAGS
Central Texas Sport crags
Rifle and Shelf Road, CO
Homestead, AZ
Tensleep and Wild Iris, WY
American Fork and Logan canyons, UT
Virgin River Gorge, AZ
***
CONGLOMERATES
Conglomerate rock is the weird red-headed stepchild of the sedimentary family. It lacks the sweeping beauty of sandstone or the lofty glory of limestone, it can be uncomfortable to climb (seriously, I have to crimp that pebble?), and placing gear in it can just be annoying. On top of that, it's not even really a true, unique type of rock! Rather, it is existing rocks, pebbles, usually the result of massive prehistoric flood plains, that are held together by finer, more sandstone-like cementing agents. Indeed, many sandstones at places like the New or the Red actually have layers of conglomerate within their rock layers, randomly strewn pebbles that are usually the most unpleasant part of the climb (Tobacco Road, I'm talking about YOU!).
That said, there are some standout conglomerate crags, both sport and trad. Although conglomerates can be metamorphic, The Gunks, NY, Maple Canyon, UT, and El Rito, NM are all sedimentary, mostly mixes of quartzite (itself a metamorphic rock) and sandstone.
The Shawangunks (known to every climber as simply "The Gunks") is a huge series of cliffbands that house some of the best easy and moderate trad climbs in the nation, perfect for weekend hordes of urban New Yorkers who can crowd the place. Why are the Gunks so great for beginners? There are several geological reasons, all of which come down to the fact that the conglomerate rock was laid down in ways that fractured it into horizontal cracks. What this means is that most Gunks climbs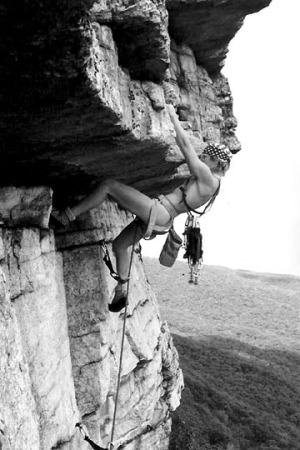 5.6s so easy and steep that you can climb them naked
are broken by horizontals that provide decent rests and great gear placements before little cruxes that come up between the horizontals. Furthermore, the horizontal layering of the Gunks is not completely flat– rather, the layers tilt away from the climber and the exposed cliffbands. What this means is that often the horizontals are "incut," providing great bucket holds. Finally, like some of the best roofs of the Red or New river gorges, Gunks conglomerate overlays a softer shale layer, which means that it gradually weathers into huge roofs. Most easier climbs, especially in the West, follow chossy gullies or slabs, and are less than vertical, making falls risky. However, the Gunks have possibly the continent's greatest concentration of easy roof climbs. Nowhere else can you find so many overhung 5.4-8's, and nowhere else is it so safe to fall on easy climbs. However, the fact that the Gunks are conglomerate can make some of the gear and techniques challenging. Unlike sandstone, which can have a uniform texture, resulting in uniform techniques for smearing and crimping, Gunks rock can either be high friction sandstone, or slippery quartzie pebbles, depending on which square inch of the rock you step on or crimp. Furthermore, even though horizontal cracks are abundant, their interiors can be broken and uneven. Especially for thinner placements (yellow tcu and smaller), the presence of a random conglomerate pebble can make the difference between a bomber piece and a tipped out, useless cam. For this reason, most Gunks climbers not only carry a healthy selection of both three and four-lobed cams, they are also well-versed in passive and semi-passive pieces such as stoppers, tricams, and ballnuts, which actually make use of the constrictions and irregularities that conglomerate pebbles can form.
Conglomerates can also form some great sport climbs. Maple Canyon, UT is the country's standout conglomerate sport crag. Its quartzite insets, called "cobbles" are quite a bit larger than the pebbles of the Gunks– they usually range from golf ball to basketball size. The climbing at Maple Canyon, although monotonous to many, usually requires equal amounts of climbing on the slippery slopers and rounded jugs formed by the cobbles, as well as more welcome rests in the high friction sandstone holes where cobbles have fallen out!
Cobbles, cobbles, everywhere. Maple Canyon, Utah
CONGLOMERATE CRAGS
Gunks, NY
Maple Canyon, UT
El Rito, NM
As you can see, sedimentary sandstones, limestones, and conglomerates make up way more than their share of awesome rock in America (and the world for that matter). This article has not even scratched the surface of all the amazing sediment that exists out there– little limestone outcroppings show up everywhere from Minnesota to Missouri, and the amazing Dakota Sandstone of Joe's Valley and Mill Creek Canyon, Utah, is also equally exquisite.
Stay tuned for the next geology for climbers article, when we get metamorphosized!
rurprider

2014-11-15
Nice article, camhead, but as we all know the ratings at The Gunks are WAY "wacked!" Quartz conglomerate that forms horizontals that makes 5.6s that can be climbed naked??? Get us a broke! Shockley's Ceiling may carry a Gunks 5.6 rating, but in Joshua Tree (known for stiff ratings) it would be rated 5.10a. I get such a laugh when I read in Climbing Magazine about "my favorite 5.10" and Russ Clune offers up a Gunks 5.10b that would be 5.11c elsewhere. I appreciated your knowledge of Geology, but next time don't include SANDBAG Gunks routes to make a point regarding rock characteristics.
camhead

2014-11-17
Sorry, rurprider, I've got to respectfully disagree there. I've climbed at the Gunks quite a bit, and once you get the style dialed, it is not unusually sandbagged. Yes, there are some stiffies there (huh huh), like Arrow or Co-ex, but I don't consider Shockleys to be stiff for the grade. Routes at the Gunks feel about on par with those at J-tree, Smith, City of Rocks, or other "old school" crags, though maybe a bit stiffer than at some newer developed crags like Maple or Muir Valley, rrg.
munky

2014-11-18
Aint nobuddy care bout sum names of rocks!!! Jus climb those suckas!! Lava this, glaciated that, who gives a hair up John Muir's ass? I wanna know if Sasha Digulian is getting pounded by that Spanish dude! Is Sierra Hot ass legal yet? And what the hell happened to America's sweetheart, Katie Brown? I'd give my nuts to see her rack and climb Vulgarian style with her. Last I heard she was going the way of the devil in CA, breaking dem chains of religious dogma, and working in some coffee shop finding her place in life and balance and harmony with nature. Or some stupid Daoist shit like that. Give me the real scoop. Ta haell wit dese stupid rock articles.
Add a Comment