Learning How to Learn
Submitted by
arnoilgner
on 2008-03-20 | Last Modified on 2010-02-25
Rating
:






Login
to rate this article. Votes: 34 |
Comments
: 27 | Views: 42141
by ARNO ILGNER
A few months ago a student, Steve, told me how much he liked my book, The Rock Warrior's Way. In my book I discuss the importance of falling as part of the climbing process and practicing it. Steve did that. "I went to my climbing gym and took some 15-foot whippers," he said... "I was a bit tense doing the falls but felt more relaxed afterwards."
It's important to know what learning is and what it isn't. What Steve did is an example of what learning is NOT. Most of us deal with fears by looking for tricks or techniques that will take us around our fears instead of facing them directly. In order to learn we must process ourselves through a situation, not just get to the end of it. Let's see how this plays out in one particular aspect of climbing — falling.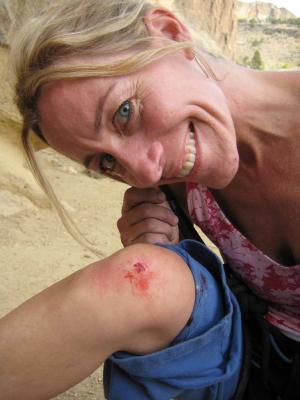 Sandra Wroten practicing falling at Smith Rock
arno ilgner

Sandra Wroten practicing falling at Smith Rock. Photo: Arno Ilgner.
In order to learn how to fall you need to develop the ability to take a fall and still remain relaxed in your body. By taking your body through experiences you learn. Your body creates schemas to embody knowledge. If you take a long fall first and tense up, then you learn to tense up. This is exactly the opposite of what you want to learn in falling. Instead, you need to learn in smaller increments. You know you've learned something when you're comfortable doing it. You know you're comfortable falling when your body responds in four specific ways. You need to be able to fall and:
Breathe…continuously throughout
Eyes…looking down, in the direction of the developing situation
Relax…your body, use just the amount of energy needed for the task
Posture …with shoulders rolled back and down, and arms out, knees bent and shoulder width apart
This is universal for learning any skill. You need to experience all four of these states while doing the skill, not when it is over. Steve did not experience these states during the fall, but rather bypassed the learning process due to a few misalignments.
Misalignments
Learning involves acquiring two types of knowledge, intellectual and experiential. As an example of intellectual knowledge, imagine a climber facing a 15-foot fall on a slightly overhanging wall. His mind tells him that he shouldn't be afraid because the fall is clean. But, no matter how much he intellectualizes about why he shouldn't be afraid, he still has difficulty committing to challenging climbing when the risk of a fall is great. He doesn't fully trust the intellectual knowledge and can't actively engage the fall. Experiential knowledge, on the other hand, is complete knowledge that your whole body possesses. Experiential knowledge derives directly from situations you've gone through; that you have actually engaged many times. You aren't afraid of taking a 15-foot fall on a slightly overhanging wall because you've taken many such falls.
The learning process consists of constantly converting intellectual knowledge into experiential knowledge by engaging your body. By engaging stressful situations you process your body through them and expand your mind's perception of what it can deal with.
Limitations of the Mind
There are two things that will impact the quality of your learning. First, if you are too mental in your approach, you'll focus on the end result instead of the process. This is because your mind doesn't like stress. It is focused on the end goal because that is where the mind will be comfortable again. Second, if you bite off too big of a learning chunk you will react in the way Steve did and not learn. Actually, your body will learn how to tense up and then you have to unlearn that. So, an important element of learning needs to be biting off just the right amount of discomfort and unknown, but not too much.
When you practice falling, make sure your goal isn't to overcome fear of falling but rather to develop more ability to be comfortable when falling. These may sound the same but they aren't. Overcoming fear of falling is an end result. You practice falling so you don't have to do it anymore. Developing more ability to be comfortable falling involves a process that you can continually apply each time you go climbing. You make it part of your routine.
Realize that fears will occur in areas where you lose familiarity. Identify all the foundational aspects of climbing—falling being one of them— and incorporate some practice each day you go climbing.
Access to Complete Learning
Since your mind will limit you to intellectual learning, you need to find a different process for accessing a more complete kind of learning. Gaining that access point involves two things: First, let go of your mind's desire for comfort. Second, find little ways to engage the stress. This two-fold process will help you stay present for the task and see value in the stress. Your mind will want to bypass the stress by making you do things such as letting go quickly when you decide to take a fall. You need to look curiously for where the stress comes up and send your attention there. Many climbers say that the actual falling isn't the scary part, "it's that letting go part that is scary." If this is where stress arises in you, then find ways to be present during that transition rather than getting it over with. It's important to remind yourself that the goal isn't to overcome fear of falling; the goal is to develop more ability to be present in the stressful falling situation.
Feeling comfortable means you are doing those four things I've outlined above: breathing, eyes on the task, relaxing, and proper posture. In order to develop this comfort, however, you need to take learning in small increments. In falling, begin by simply hanging on a toprope (first increment), then taking short toprope falls (second increment), and finally taking lead falls (third increment). Engage one increment at a time and don't progress to the next one until you're comfortable. Let's say you're at the second increment—toprope falls. Ask: "Can I take this toprope fall and breathe continuously, look down into my fall zone, relax completely, and maintain proper body posture keeping arms out?" When I ask my students about their observations after taking a practice fall, they usually say it was comfortable. "How do you know?" I ask. Then I hold up four fingers to remind them that they need to continually be attentive to those four aspects to know they have learned that increment.
Your comfort zone is made up of stressful situations from the past that you have "organized" by engaging those situations until they weren't stressful anymore. To expand your comfort zone, first intellectualize the next challenge for learning. Then engage it with your body, in small, manageable increments, until you can complete your practice exercise with the four indications of comfort. When you've done that you've embodied the knowledge that was previously simply an intellectual understanding.
Practice Tip: Falling
We tend to practice falling, or anything stressful, to get it over with. This will not only delay our learning of the skill but will also cause us to learn it incorrectly. Our body will learn to tense up. Learning how to fall means we learn to remain relaxed while falling. Here is a learning-based approach to practicing falling.
1. Small increments:
Begin on toprope
First, simply hang on the rope and swing around.
Second, take toprope falls
Third, take lead falls

2. Gauge for learning: Comfort
First, stay at the same increment until you are comfortable
Second, you know you are comfortable when…
B: You're breathing throughout the fall
E: You're looking down during the fall
R: You're relaxed throughout the fall
P: You're arms are out; not grabbing the rope

3. Belaying: Giving a cushioned catch
First, do not progress to lead falls until your belayer learns how to give you a cushioned catch during toprope falls.
Second, a cushioned catch is: the belayer gives in to the pull when you fall. Your belayer should end up about five feet off the ground when your fall is ended. If he isn't, then he will need to push off as the rope becomes taut. This will be a learning process for your belayer.
taydude

2008-03-20
wait, isn't good to grab the rope? It would stop you from potentially flipping upside down in a real fall. I've seen video of strong climbers grab their rope as they fall.
vector

2008-03-21
Taydude, you keep your hands out to protect your head. I had to block my head from hitting a roof in a fall at the gym just the other day (my belayer felt bad, but sometimes it can happen).

As for stopping an inversion, not sure if that would be effective. It would only work if you started to invert _after_ the rope was above you, I think (i.e. more than halfway through the fall). Would love to hear others' thoughts.
shoo

2008-03-21
Grabbing the rope won't prevent you from inverting whatsoever in a decent sized lead fall. The rope is slack during the whole fall bu the very end, so you can't reorient yourself using the rope during the fall. When it becomes taught, it will almost certainly have enough force to basically rip right out of your grip. Besides, if you're wearing your harness properly, inverting isn't the end of the world unless you're over a ledge.

In general, don't grab the rope. Keep your hands free to protect yourself if the fall isn't clean.
widm

2008-03-21
I'm wondering the same thing. Maybe rope burn or tangles are avoided. I've seen climbers grab their knot often.
arnoilgner

2008-03-21
Yes, that is an important issue. Basically it goes like this...
There is nothing wrong with grabbing the rope. However, ask yourself this:
"Am I grabbing the rope out of fear (reacting) or to help keep myself upright (responding to the fall effectively)?"
-
Just because some top climbers grab the rope doesn't make it the most effective thing to do. My experience has shown me that the end of the fall is where I'll usually impact the rock. So, it is helpful to have hands and feet about shoulder-width apart and relax/bent to absorb that impact. If my hands are grabbing the rope they cannot also be helping with the impact into the rock. The only time I grab the rope is if I am beginning to go sideways (where I'll end up not being upright). And, I only do it at the end of the fall, not during.
Arno
dutyje

2008-03-22
Thanks for taking the time to put up the article Arno... One of these days I'd like to get out and take another one of your classes.
counterweight

2008-03-22
Hey Arno, good article man. Totally redefines the falling learning curve and it really makes sense. Process as opposed to end result.
martinheynert

2008-03-24
Mostly nonsense. If you fall, it is the best to "crunch" together like a cat, NOT "relax" and "roll you shoulders back". Your body has to be unter tension, not relaxed if the impact force hits you.
jaablink

2008-03-24
Keep in mind that ropes are rated to X amount of factor-two falls and a log should be kept to keep track of such events. Also after such a fall, come down ,untie the knot, and do not !use the rope for 10 to 15 minutes to allow ropes to reshape & regain elasticity (and check them).
forkliftdaddy

2008-03-24
The dynamic belay/"cushioned catch" gets a lot of press these days. IMO it is great when necessary and when circumstances allow. But other times it can be the wrong idea. There's no need for a cushioned catch on sparsely protected slab; the climber's going to get enough road rash without the belayer's help. And there's often no room for a soft catch (or for a big loop of slack) when the climber is close to the ground. As a belayer and a leader, be aware of the potential fall. Things can get complex. For example, the climber might want to miss the lip of a roof, but not hit the ledge below it. And things can be very simple. There remain places where one cannot afford to fall, even on sport routes and especially just below the second bolt.

Arno speaks more at length about these things in his book, a very worthy read.
jermanimal

2008-03-24
I don't think talking about a "cushioned catch" is a good idea for a beginner. Lock up the device and hold on. Be ready, especially if the guy on lead out weights you by 25 lbs.
creek

2008-03-26
Good or bad I fall a lot, if you're not falling your not getting better. Solid gear beneath you and a keen sense of body position are all learned on the sharp end. There is a huge difference between a practice fall and the unexpected, know what is under your feet but concentrate on the rock above...wear a helmet!
burrito

2008-03-27
I figured out last night why he said not to grab the rope. I was leading a steep overhanging route, fell, grabbed the rope (probably an instinctive reaction to falling -- just wanting to hold onto something), and then the knot tightened on my skin and ripped a piece off of that fleshy part just below the thumb (on the palm). It's pretty nasty. I won't be grabbing the rope again...
harrisguitar

2008-03-28
"Belayer should end up 5 feet off the ground when the fall ends??" Hmm.. I don't know about the rest of you, but the belayer should be tight to the ground anchor. The belayer should move very little and stay focused on the falling partner. The dynamic rope provides enough cushion for a fall.
leinosaur

2008-03-28
martinheynert - I look forward to Arno's response but meanwhile, what are you talking about with a cat being crunched up? As for tension, our muscles are always tense enough to react, due to muscle tone. If you crunch down first, won't you miss your opportunity to guide your landing? (bosh and poppycock!)
rostevenson

2008-03-30
Creek's right, you've got to go out there and take those falls. I fell on my first lead, and I've fallen on damn near half the routes I've led since then. The key is to keep jugging up to your last clip and going at it again; repetitive falls from the same spot are great for allaying fears. Not to mention that if you're like me, you've got a greater fear of leaving behind expensive gear when you bail than you have of taking a few whippers in order to reach the shuts!
Bats

2008-03-30
I took a lead class the other night at the gym. My friend who was suppose teach it was in Hueco Tanks. So the guy who was teaching did not have the fall experience like my friend has. In order to pass the class you must take 3 whippers. My first one was great and fun. The second one my belayer, who also was in this class, anticipated the fall and tighten up on the rope. When I let go, it was if someone was tighten a corset on me. I had to take a break. On my last fall, I was really tense from that second fall, it was hard for me to get in the mood. I did it, and like a moron I lock my right leg up instead of keeping it in a bent position or small kicking. I had enjoyed that fall as I did the first except this time with that leg stiff, I hit the wall pretty fast. I have ankles from all the tennis years and I knew that I f**## my foot up. I have heard this is a very common injury on lead climbing. In order to pass this class, I sucked it up finished the route and clean the route. Once on solid ground, the instructor sensed that I might be hurt, but I did not let him on. I think the adrenline also help, because to me it was sort of fun. I just wished I knew how to slow down the swing of the pendulum so it be easier on the feet.
hunna03

2008-03-30
"Eyes…looking down, in the direction of the developing situation" LoL. Developing situation... I'll say.
jambojambo69

2008-03-31
I am comfortable falling on toprope and leading sport climbs (after the second or third bolt) but have started leading trad and am not comfortable falling on trad gear. Any suggestions for feeling a bit better about this? My local gym has the ability to place trad gear so I thought I could get toproped and with a second rope, place a cam. I could then fall on the cam with the toprope acting as backup in case something happened. Do cams have a number of falls rating like ropes? Any other ideas?
ecochica

2008-04-03
I've gotta say... I've only been leading trad for about a year, and probably what has helped me trust the gear the most (sometimes i still have trouble with this as well) is both seeing my climbing partner fall on his gear, as well as falling on my own gear. If you place good protection, and you're smart about it, you should be fine. As far as then whole backup toprope thing, I know many people who have done that, and it has made them much more confident about their gear. So I think that's a really good idea. I think it's very smart to understand the limitations of your gear, so do what ever it takes :)

Something that always freaks me out leading is taking lead falls on slab. YUCK! I've never taken one and it seriously scares the crap out of me. Is there even such a thing as a "clean" slab fall? Should I be this freaked out? can anyone give me some helpful advice so I can start getting over this?
arnoilgner

2008-04-07
Hello martinheynert. Your comment: Mostly nonsense. If you fall, it is the best to "crunch" together like a cat, NOT "relax" and "roll you shoulders back". Your body has to be unter tension, not relaxed if the impact force hits you.
-
It is difficult to express in words what I actually do when I teach falling. There are many aspects of it that are misunderstood. We could be agreeing more than it appears.
-
Consider martial artists and the body tension they have when performing. They use just the amount needed to do the task. Any excess tension is due to fear. This is what I mean when describing falling. We tend to contract (hold our breath, get tunnel vision, have concave posture, and tense up) when under stress, which falling can cause. Contracting causes us to be rigid and get hurt. By breathing, looking down, maintaining positive posture (subtle roll of shoulders back/down), arms/legs bent and shoulders-width apart, and staying relaxed (just the right amount of tension as we impact the wall)...the falls seem to cause less injury.
Anyway, that's been my experience; not saying it was yours.
Arno
arnoilgner

2008-04-07
Hello harrisguitar.
Your comment: Hmm.. I don't know about the rest of you, but the belayer should be tight to the ground anchor. The belayer should move very little and stay focused on the falling partner. The dynamic rope provides enough cushion for a fall.
-
No, the rope doesn't provide enough cushion. I would like to respectfully ask how many falls you have taken, how many falls you have caught, and if you've been injured. For me, I've taken many, many falls, belayed many, many falls, and thankfully not been seriously injured yet (knock on rock).
-
Much of life is paradoxical. We want something yet we must do the opposite to achieve it. In climbing we want to send the route but we must focus in the moment to achieve it. For falling we want to keep the climber safe so we can tend to retract and keep rope from entering the system. But, it has the opposite effect. We keep the climber/faller safer by giving in to the pull. Doing this includes us in the "climber, rope, belayer" system. Retracting essentially removes us from that system. This has been my experience when it come to falling and catching falls.
Don't mean to step on toes. Just consider it.
Arno

arnoilgner

2008-04-07
Hello jambojambo69,
-
Last weekend I taught a trad/mental camp at the New River Gorge and we did just what you describe. Students were falling on pieces they placed. Most were solid pieces but some ripped. The backup toprope allowed them to do this without risk of going beyond the piece ripping.
In trad climbing, especially when you are learning, you should place gear like you vote: early and often...
Arno
leinosaur

2008-04-11
ecochica - yes indeed, there are clean slab falls, though I think of 'em more as "slides" than falls. Similar principles apply, perhaps even more so as you have constant contact with the stone, rather than just at the end of the fall. Still, relaxation and awareness can help avoid obstacles and lessen the jolt if one does come in contact.

Interestingly, harder slabs tend to render less dangerous slides, since they tend to be slick and less-featured.

My buddy took a nice 20-foot slab-whipper last weekend, and had the presence of mind to push off the wall to avoid a grass-choked horizontal that looks like a real ankle-breaker. If he'd been "crunched up like a cat," his ankle might be crunched up like a squirrel. As it was he re-contacted the slab in control and slid to a stop without a scratch as the rope and I caught him.

Incidentally, this was on a bolt we had just replaced the previous day - my first bolt! - so it's a whipper I'll remember catching for a long time.

also since he outweighs me by about 50 pounds I gave him a nice dynamic catch by being jerked off the ground several feet. Was sorry to be wearing flip-flops, too, as I did an upwards-slab-fall in the process. Lessons learned!
johnny2plat

2009-01-10
Arno,

Great article. I just finished re-reading the Rock Warrior's Way and was looking for more info. on falling. This is all really helpful. I'm looking forward to getting in some "falling practice" next time I go out.

During my 30 years of climbing experience I've fallen many times and never gotten seriously hurt. My only "serious" fall was early on in my climbing career at Smith Rock. My feet blew off a lieback and I flew about 15'. I got a little bit more scraped up than the gal in the picture but was otherwise OK.

What I learned from that fall was that the nut below my feet held (yeah!) but the other 3 nuts below that pulled when the rope went taught (yikes!). If the upper nut hadn't held, I imagine the whole thing would zipper and I would be taking a "dirt nap". I learned an incredibly valuable lesson about the importance of using long slings (especially when placing nuts), setting a "reverse nut" at the start of the climb, and telling your belayer to stay close to the rock. This learning experience may save my life someday on future climbs.

john


cuppabrew

2010-08-20
Arno, I've just finished your book and climb in NC. I've been eyeing "Groover" at Laurel Knob but am honestly intimidated byt he whole scenario of the runout, remoteness, and slab fall potential. I've climbed frequently at stone mnt, nc and am confident on slab - but the well discussed 4th pitch 80' run-out in the water groove gives me shivers when I read about it here in my apartment in raleigh. Any advice on slab fall practice? I had planned on making a big training trip to stone, lapping "Yardarm" and taking those incremental lead falls on the bolts at stone - as insane as that sounds to most people.
-Jason
Jkroetch36

2012-02-21
As far as falling goes. If you jumped off a ledge to the ground below, how would you react to the fall? As funny as it would be sometimes, I have never seen anyone curl up and "cannon ball" to brace a fall. You would be looking at where you predict to land and upon impact your feet and/or hands would help absorb the fall. Taking lead falls is no different. Be aware of your surroundings and defensive. Get your hands up if need be (I would much rather take a blow to the arms/hands than my face/head). Just something to think about.

Soft catches are great and all, but they are not always the proper way to ensure the safety of your climber. Falling and catching a fall is SITUATIONAL. You should be aware of what your climber is doing and what is around them. Soft catches certainly do lessen the impact on the climber. But If providing a harder catch prevents the climber from being potentially injured then DO IT! The safety of your climber should be your biggest priority as a belayer!!! I would much rather have a hard catch by a rope than a catch by the ground or a ledge.

Adding to that as the climber before you even get on route be aware of any potential fall hazards. If the potential risk is more than your willing to take do not get on the route! Even if you have done the route 1000 times or are certain you are not gonna fall, the potential is still there.

Safety folks Safety! That's should be your deciding factor in anything you do in climbing.
Add a Comment