Epic day on Washer Woman
Submitted by
markguycan
on 2007-05-28 | Last Modified on 2007-06-03
Rating
:






Login
to rate this article. Votes: 13 |
Comments
: 12 | Views: 7735
by mark geikenjoyner
Recently, I found myself with the time, a willing and capable partner, and a window of decent weather. What we didn't have was an appropriate approach vehicle. The regular approach entails 17mi of 4x4 and dirt road bouncing down the Shafer trail to the White Rim above the Colorado River in Island of the Sky National Park. This is then followed by a grueling talus scramble. I don't mind sweating a bit to get to a route, it keeps the masses out; it also makes the summit that much sweeter to put that extra effort into earning it.
I had a plan...
Drive to Mesa Arch in the park, a casual walk along the rim, then a few raps down to the base of Washer Woman. It all sounded so simple.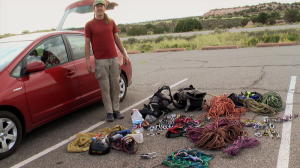 need it all except for one of the #3's and a half quart of water!

Need it all except for one of the #3's and a half quart of water!
My buddy "D" arrived about 1pm the day before our ascent. We decided to forego the warm-up climbing on Potash road and reconnoiter my plan. It started as I'd expected: an easy flat walk for about 20-30min. The terrain began to get a bit more complicated as we bouldered over and between petrified dunes. We then found it necessary to rap a short chimney. Scrambling down further ledges, making occasional 5th class moves on sometimes very crumbly exposed "stone"- if you can call it that! Another tough spot convinced us to fix a rope to an old juniper and rap 50ft overhang. Then there was the 120ft overhang- this had a nice big juniper for and anchor! Then we frictioned down a great bowl (perfect for the Extreme Skateboarder). A short exposed section which looked easy enough to climb but terrifying to contemplate down climbing caused us to retreat. We would need more ropes.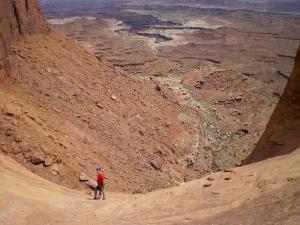 one more long rap...

One more long rap...
We returned the next morning leaving the car just after 7. It was a perfect day: slightly overcast and without wind. We followed our tracks, now cris-crossed with those of coyote, jack rabbit and big horn. We down climbed the easy chimney we rapped the day before, only to find this it's bottom was so narrow we had to walk sideways dragging our packs behind. We passed our first 2 fixed ropes. Then found a decent anchor for a third, the route down from here was pretty featureless so we tied 2 ropes together and rapped about 330ft to the talus below. The hard part was done and it only took about an hour.
We boulder hopped, tripped and recovered, slid, leaped and sweated as we crossed about a mile toward the tower. At times, absolutely nothing was trustworthy. At other times, it was like climbing at Fisher towers only we were walking! The solidified gravel was only solid at its angle of repose; the moment you weighted it, you'd slide. I found myself kicking steps as if I were mountaineering. The good news was that this also only took about and hour (2hr approach- not too bad!)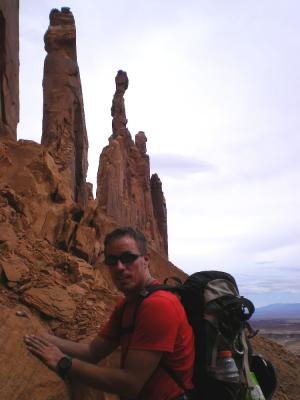 getting close now!

Getting close now!
I'd read somewhere that pitch 2 was the best so I was a bit disappointed when my buddy suggested I take #1 and #3. I was not sad for long though as the steep hands and fists right off the belay on pitch one got me going. The mental crux of this pitch is passing a large chock-stone which appears to be ready to go. I avoided it but it didn't move as D pulled gingerly past it. The sweet belay ledge with its window to the north delighted me. D climbed the 2nd pitch past the cool "keyhole" and up through some wide cracks (a little loose here and there, but no too much grumbling from D). The crux: OW to hands to slopper ledge definitely gets your attention and appreciation. The following pitch starts out the same way- in your face! Steep hands to small gear and a committing move then easier ground to the summit ridge.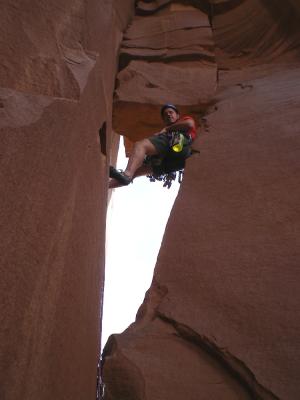 D relaxes in the keyhole

D relaxes in the keyhole.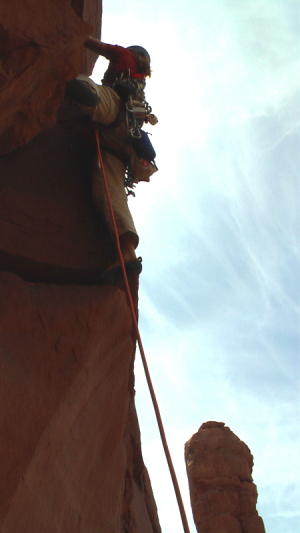 At the 10+ crack move on pitch 4

At the 10+ crack move on pitch 4.
An easy 5th class traverse reminds me of many alpine ridgewalks: incredible views and exposure. A short boulder move pitch past a shallow driven pin gets you set up for the final pitch up the old woman's head. Uninspiring rock with fair pro leads to a committing move past a bulge to some good pockets and excellent varnished rock and drilled pins. A few rodeo attempts allowed me to girth the second pin before pulling the crux move.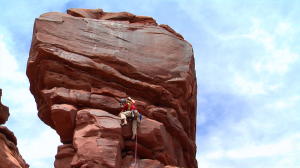 the author on the final pitch

The author on the final pitch.
4 hours climb time to the summit. And what a summit it is! Teetering like some DR Seuss drawing I found it larger than I imagined, flat comfortable and nearly windless. We lounged a bit, taking it all in.
A short rap down, then to an intimidatingly placed anchor for the arch rap. We were rapping a lot today for someone who really doesn't like rapping. As the rock fell away and the arch opened below and in front of me I felt and unusual pang of vertigo. Disoriented by the view which seemed mindblowing as space seemed to expand around you.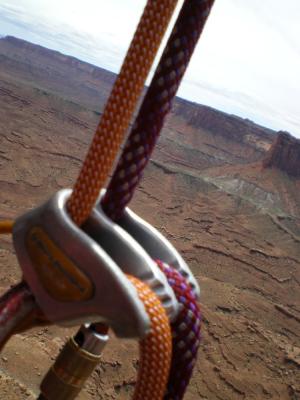 White Rim on rappel

White Rim on rappel.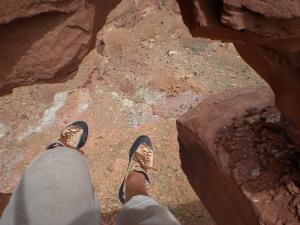 dangling in the void

Dangling in the void.
We pulled the ropes to thread the third rap while hiding in a cave to avoid rockfall. Then pulling a final time we frowned to find our tail rope snagged about 40ft up on the worst rock we'd seen all day. After a 30min detainment from our exodus to reclaim the rope we were back on the talus. The jugging was to begin, we would now climb about 800ft of rope and ledges while our packs swelled with the additional gear and ropes.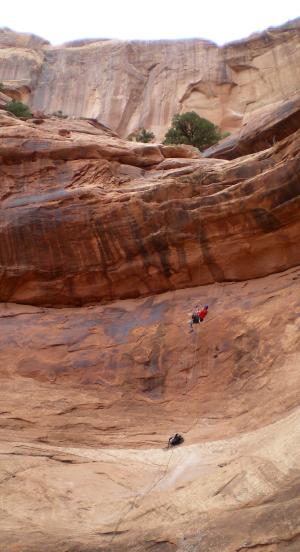 D on the steepest jug

D on the steepest jug.
10.5 hours car to car it was an Epic Day. Not that we didn't know it was coming; no we actually looked forward to the toil of it all. I'm not sure I would recommend it, but if you are set on doing WasherWoman, and you have no 4x4 it is possible. Be ready for big adventure, and hard work.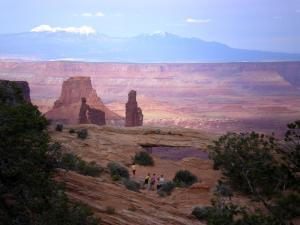 Mesa Arch and the Washerwoman, 5min til beer!

Mesa Arch and the Washerwoman, 5 min till beer!
More pictures:
Photo 1
Photo 2
Photo 3
knieveltech

2007-06-02
Short, sweet, and it makes me want to go climb. Good article!
saphius

2007-06-03
Awesome adventure :)
ddt

2007-06-03
Thanks for the TR. (I fixed the image label for you.)
lindajft

2007-06-05
Mark,
AWESOME!! great journaling skills once again.
cheers

live2climb

2007-06-05
Great TR thanks for sharing
what a great route and a terifing rap
we got our rope stuck on the last rap as well. and how about the route to the right as your raping crazy nails goin up a blank stem box WILD
sounds like you had a blast
pylonhead

2007-06-06
inspiring!
girbrn

2007-06-12
Great writting skills, nice route, ... many thanks for the trip;
Congratulations for both
dlintz

2007-06-14
Nice report but where's the epic? Sounds like everything went pretty well.
ullr

2007-06-16
It wasn't an epic in the typical sense, but Mark is speaking with 'epic' meaning simply fun.

Here's a vid from the day.
http://www.pitonproductions.com/ClimbingVids/WasherwomanQT.MOV
Nuggular

2007-06-21
Great Story!!! Good read! Need more pics. They just dont seem to do it justice.

Thx for sharing :)
metalhead

2007-06-25
wow i love it out there, saw it but dident get a chance to climb
markguycan

2011-04-15
Ullr's link no longer works for the vid, try pasting this youtube version:
http://www.youtube.com/watch?v=9QtnNzpxcqk
Add a Comment