Half a day up Grandfather Hobgoblin
by Manuel Rangel
Prime time for climbing in the Superstition Mountains is winter. Warm rock and cool temperatures, at least by desert standards, means even the lizards are out and they donít like cold weather. I have been climbing here for quite some time, about 25 years; some years more often than others. I keep coming back because everywhere you look, you can find a new line to dream about. At least if you like the unknown: will the rock be good, will the protection be adequate and will I come home!
Early climbing pioneers like Bill Forrest, George and Jean Hurley, Larry Treiber, Bill Sewrey and others ascended towers on the west face as early as 1964. They used a mix of gear and bolts to gain the unique volcanic summits, adventure was the name of the game. Route finding skills, reading the rock and knowing when to back off were, and still are, keys to success and longevity. When one of them put a bolt in, it was by hand on lead. Bolts and hangars can be anything the climber bought or made. It is not unusual to see rust on bolts of unknown capacity and make along with homemade hangars. ďThe leader must not fallĒ is a mantra totally suited to climbing in the Superstitions. One of these exciting towers is Grandfather Hobgoblin; a 300í spire first ascended with aid in 1972 by Chuck Graff and Fred Hill then freed (rope solo) by Larry Treiber in 1976.
Topo of Suction Gully and Grandfather Hobgoblin
Andrew Burr
January 7, 2010 is a perfect day for an adventure on the west face of the Superstitions. Mike Knarzer, Joe Garcia, Andrew Burr and I hike a little more than an hour up the Siphon Draw trail from Lost Dutchman State Park to look for Grandfather Hobgoblin. Located in Suction Gully, just north of Siphon Draw, it is on the furthest and highest spire at the back of the gully. Iíd tried to climb this classic with a stout reputation years ago with Mark Trainor but we got on the wrong spire and climbed a new route. Its not worth repeating but Iím sure some other poor soul will end up doing it if they are like the younger me: damn the torpedoes, full speed ahead! Iíve matured and try to keep that to a minimum. The trail is great walking until you get to the huge walls of the west face. At this point, head uphill along the west face of the North Buttress into Suction Gully. Wander up the gully, generally stay on the right to the bottom of the last spire on the north side.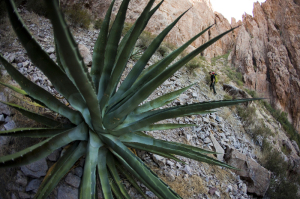 Reaching the base of Grandfather Hobgoglin
Andrew Burr
It is fairly easy to find the start: a flattened area, small but noticeable, behind a thorny small tree directly under the notch (two pitches above). After a short break, I am given the first lead and plan on combining the first two pitches to the notch. My rack has a few quickdraws and slings, camalots from small to #3, lowe tri-cams and DMM wallnuts, much of which I didn't use. As I work a small nut into the starting tricky moves over a bulge in a shallow dihedral, I wonder why it feels so hard. Nobody mentioned it would be a difficult start in any written account and now you have it. Gymnastic stemming and fear get me past the surprise and onto easier but chossy rock.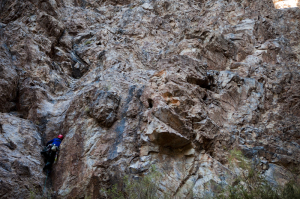 MR in starting dihedral
Andrew Burr
The first pitch except for the start proves to be a piece of cake on fairly good rock. Not a whole lot of protection pops up but there is enough there to keep you going. If you lead 5.9 comfortably and climb like a cat, no problem! Second pitch is easy 5th class and with only a little rope drag, due to good use of long slings, I reach the notch.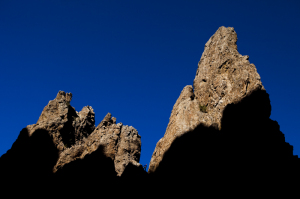 Notch ends pitch 2
Andrew Burr
From this notch the original route heads climberís left to a ledge at the start of a crack system with a bit of an overhang a little ways up. This difficult section of rock is fairly good and is well protected with camalots and nuts. You can avoid this by climbing directly above the notch anchor for a ďstiffĒ 5.9 face variation with a bolt on it. I prefer cracks and follow the original route. Joe and Mike are fast and have been staying within Andyís camera range. Joe is under the bulge of pitch 3 looking for the right piece and the most stable way over the bulge.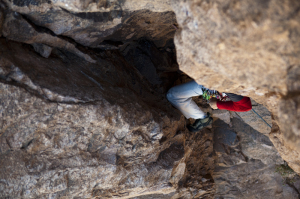 Joe under bulge in pitch 3
Andrew Burr
The final moves of pitch 3 are onto more questionable rock and thus inspired the leader must climb like a cat. A bolted anchor and comfortable belay ledge provide awesome views of the valley as you find yourself above the other spires. The vista provided by metropolitan Phoenix is huge. The ledge is big enough for all of us to comfortably hang out. This part of the spire is visible from the hike in (photo #1) and gets lots of sun, unlike the first two dark pitches. Sort of gives a brighter feeling for whatís to come as the spire we have been climbing gets smaller and smaller.
Itís my lucky day. I get to top out first. The fourth pitch has the reputation Iíve heard about for 25 years. The routeís bolts have been here since I graduated from North High School. Weakening, rusting relics Iím ready to love. My shoes get tightened, my teeth gritted and Iím off for the top, high diddle diddle right up the middle, a US Marines tactic Iíve kept since my time in. The rock quality feels good here. Traversing across to a small dihedral for a great first piece, I feel good. Getting to the first bolt (stamped ďbad boltĒ) is another semi-good feeling because after that I have to figure out how to get onto a sloping ledge. A few moves right, back to the bolt, look some more, move up to a scary looking crack directly above that turns out to be it and Iím looking at the crux.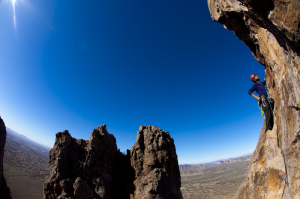 MR looking at tricky moves to gain sloping ledge to the right
Andrew Burr
A nice thing about climbing with Andrew Burr is that he documents the stuff I saw and forgot. Mike gets to lead this pitch too and Andrew captures him clipping the first bolt. It is stamped ďbad boltĒ for good reason Iím sure. Of course this was pounded in way before climbing specific bolts and hangars were common in Arizona. Youíll find many of these throughout the Superstitions along with another stamp by the climbers known as the Banditos, a rough riding bunch for sure.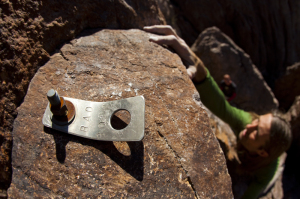 Mike clips homemade alulminum hangar
Andrew Burr
Reaching a bit to clip the antique protecting the crux, I crimp up and left stepping off the sloping ledge onto steep moves over a huge void. You can look down and see the west face bending to the north. Airy and steep, happy with the rock quality I move quickly on thin feet and tips to another bolt. Glad itís there but still suspect. The finish gives me pause. I wait a bit a few feet above the final bolt on a good stance. I try straight up a small square corner and find it gets more difficult than I like and the last not so inspiring bolt is nearly 10 feet below me. I down climb to the stance and shake out. I see more featured but slightly chossier rock to the right a bit. I head there because I see a possibility for natural protection. Iím an optimist. I sling a flake, not too small but it holds the skinny sling as I gingerly clip it. I figure it should help slow my descent if I do fall and thus reduce the impact force of a 50 foot fall onto a suspect bolt, hundreds of feet in the air. What fun not to fall!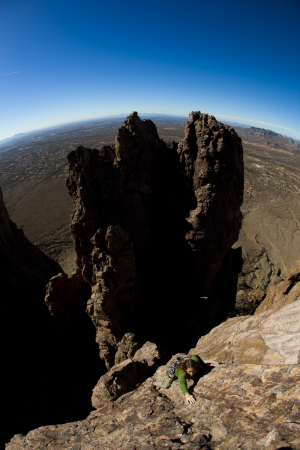 Mike on runout to top
Andrew Burr
Joe joins us on the summit and we bask in the January sun. The view is magnificent, the valley spreading to the west, Four Peaks to the north and desert all around us. Looking down our rappel and into Suction Gully, I begin to dread the steep hike down until I notice some of the anchor bolts. One is stamped bad bolt the other Banditos and both are aluminum.
The good thing is, we get down safely. History was not made that day, but we walked in some big shoes. Lots of climbers have ascended this tower over the years. Nowadays, it beckons to only a few though. It is a great tower and an exciting climb. The people that saw this line and headed up first have my regards and respect. I am not sure how long the route will exist in its present state but as long as it does, bring some Yates Screamers for the questionable bolts. Wish I had. All photos courtesy of Andrew Burr.
climbingaz

2010-02-05
Awesome write-up! Congrats on the climb
sonso45

2010-02-05
Thanks, I did feel good doing it. BTW, I had credited the photos but it doesn't appear. All photos are courtesy of Andrew Burr.
steelmonkey

2010-02-05
Yer gonna dieeeeee!!!!
sed

2010-02-06
I've done a lot of supes climbs but not this one. I may not. Sure wish the park would allow bolt replacement.
stamplis

2010-02-09
Great read and congrats! All the towers in the Supes are pretty "rewarding". I climbed the Grandfather 2 years ago and remember some similar thoughts in my head on the 4th pitch! I vaguely remember going straight up from the 2nd bolt and finding the climbing to be "solid 5.9", whatever that means.
steelmonkey

2010-02-09
I think "solid 5.9" means from a time when 5.9 felt sort of hard and 5.10 wasn't considered a beginner grade.
laurelja

2010-02-09
great write up thx manny..love the pic of you!!!!
joshklingbeil

2010-02-21
One of my favorite supes climbs
raymondjeffrey

2010-02-24
hey Josh,

Is this the climb that you and I combined the first 2 pitches?

jeff raymond
Add a Comment