Huasteca Potosina Limestone
by Manuel Rangel
I recently accepted an invitation from my amigo, Mauricio Goytortua, to visit the region around Ciudad Valles known as the Huasteca Potosina. It is a tropical forest spread among several Mexican states near the Gulf of Mexico. It is best known for the Sotano de las Golondrinas (Cave of the Swallows), a limestone shaft @ 220' wide with a 1200' drop used lately by base jumpers. This enormous area has a lot of limestone throughout with a few areas developed for climbing. Before I went, I saw a couple of videos showing some amigos deep water soloing on limestone overhangs with azure waters flowing underneath. I was psyched to explore such a picturesque area. I had also heard it mentioned by my kayaking buddies. Until Mauricio started drawing me in, I had no idea that there was much climbing there.
Mauricio has been living here for nine years, he is from Mexico City originally, and he's discovered a few gems while working as a guide in Hotel Taninul. The city of Valles is not much for amenities but the hotel is only 2 miles east of town. With his assistance I get a nice discount for a room with air conditioning. The place is big, clean, has a large helpful staff, and a hot sulphur pool for soaking. Mau shows me the camping area, a nice flat spot cleared from the surrounding jungle, with full use of the hotel. Best to camp in winter, the jungle is a tad humid for a desert dweller like me even during the spring time! Best of all, the hotel grounds have a small climbing area!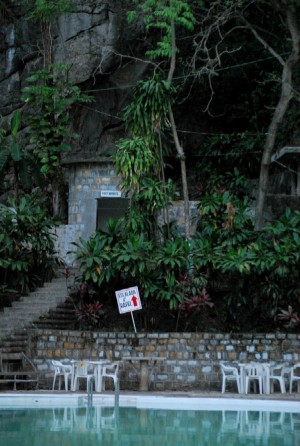 Hotel Taninul climbing
M. Rangel
The first morning we get on a couple of the routes above the thermal pool. A tall east facing shallow cave has several routes from 5.9 to 5.12 up to 80' tall. One of the routes, the easiest, consists of artificial holds. This is the tourist route. He has me warm up on an 11b, El Inombrable, up the left edge of the cave. The rating comes from the steepness and not the size of the holds as I easily find one great hand hold after another. As I draw myself up the route, the humidity begins to take its toll and make the holds feel less welcoming; I hit a sloper rail that stops me about halfway up. I struggle on after hanging and finish. We walk to the right side of the cave and work his project, Flor de los Cuatro Vientos 5.12ish. He gives it a burn and fails. I play on it and get wetter and pumped out. Mau dries off and powers through the final bulge on the overhung wall for the redpoint!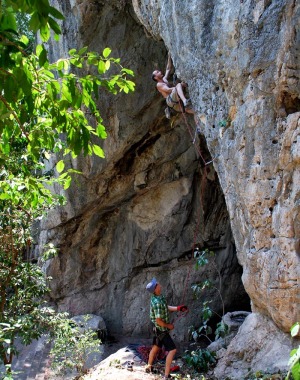 Mauricio redpoints his route
M. Rangel
Mauricio finds us a ride later to a secret spot he found only a few weeks ago. It is near the road to town and supposedly visible from there. I can't see anything but thorny impenetrable jungle and faint limestone along the hilly summit. As we arrive after a 5 minute thrash through the jungle we come to the opening. It draws us into a shallow cavern consisting of several large rooms with roofs and openings to the sky throughout. The sudden coolness contrasts with the heat and humidity of the walk in. I immediately recognize a gem in the making. Solid rock with tufas, arętes, pockets, edges and tiered roofs abound. The following two photos are taken at opposite ends of the cavern. There are other connected rooms not visible in the photos.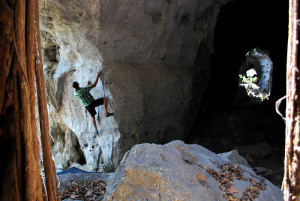 Manny boulder 1
M. Rangel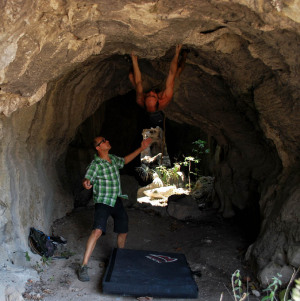 Mau bat boulder
M. Rangel
With the possibility of hundreds of routes on this gorgeous limestone cathedral, we marvel at the potential. This entire region consists of limestone so this is probably not unusual. Its proximity to a road makes it so. The bouldering turns out to be fun and the rock entirely solid. Beyond bouldering we talk about the logistics of developing routes. We finish up on a couple of problems to gather a few photos for his sponsor, Mad Rock Mexico, and head back to the resort. A great soak in sulfurous thermal springs feels great in the evening. Margaritas poolside make the day's end memorable. I am the only person in the entire resort and have the pool all to myself. A pleasure that won't last for long, they are gearing up for the madness of Easter week. A huge holiday in Mexico, I am told I probably wouldn't have been able to even get a room!
The next morning's dawn comes slowly as I unwind from last night's 5 hour bus ride. I had flown into San Luis Potosi instead of Tampico (only a 1.5 hr bus ride away) and suffered for it. Better coordination and communication would have saved me the added adventure. I did enjoy the USA movies in espanol though. Just glad I didn't see the narrowness of the roads as we barreled happily along on the comfy bus.
Today, Mauricio has the main event in mind, deep water soloing, and has invited a local news crew to meet me. I feel honored and wish I was a better specimen of our breed. As it is, I get to tell about my travels and why I am here: to sample the limestone of the Huasteca Potosina.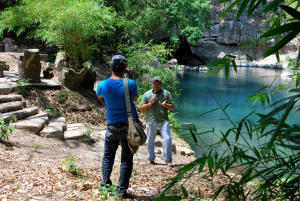 TV interview
M. Rangel
The area we walk into is called Nacimiento de los Aguas (Birthplace of the Water) for good reason. It erupts underneath a 150' tall bright cavern open to the sky; train tracks traverse the opening above. The water flows steadily and strongly under the rock bridge we first climb on.
After a brief interview, I swim across clear light blue flowing water. The holds are solid and water polished but not smooth or slippery. I am quickly above water that turns a darker blue as it becomes deeper. Trying to desperately represent for my fellow Americans from north of the border, I hang on and look for bigger and bigger holds as the wall steepens. Having no idea how deep exactly the water is, I climb to a high point, look down and take the plunge with a shallow water dive. Beautiful coolness and nothing but deep clear water; I am thrilled to be here. I dive down and find that the bottom, barely visible when I dropped, is about 15' deep. Perfect.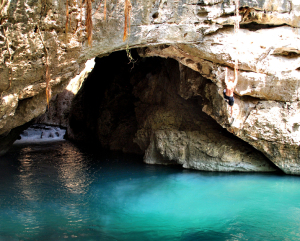 Manny DWS easy
M. Rangel
Afterwards Mauricio enters from the left and more dangerous side, it has a few moves over shallow water; he puts my performance to shame. He's the man! Another great surprise he has discovered.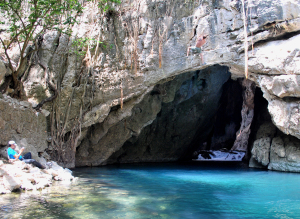 Mauricio DWS hard
M. Rangel
Mau and I decide to explore the interior where the flow originates from, the "ejaculacion de los dioses" and the crew lends me their video camera since neither man feels comfortable doing so. (I'll post a video link when they send me their final edition). As I look up at the train passing overhead, I can see potential for very long routes, some up to two pitches. I dream of belays over the pond and we begin to play on the traverses and tufas, dropping into cool deep water as we tire. The owner is about to open the area to the public, as it was many years ago, and Mauricio's plan is to work with him on developing the Nacimiento for climbing.
I spend some time traveling alone to visit other areas of note but my short visit only allowed a small taste of the beauty and potential for climbing in this vast region. Although current events make planning on visiting here a fearsome proposition for most gringos, I find that the people are friendly rather than murderous. The fact is that if you are intent on trouble, you will find it. If you want to visit and climb in Mexico, reach out and you will find a hand to welcome you. To visit this place I would recommend you contact Mauricio or his brother, Luis Enrique, at the Hotel Taninul.
caughtinside

2011-04-14
Great article Manny! Thanks for posting it. Mexico sure seems like it has a wealth of amazing limestone beyond the Potrero.
markguycan

2011-04-15
thanks Manny, looks like a beautiful place. I look forward to the video!
gblauer

2011-04-18
wow Manny, sounds like you had an adventure!
RyanJames1984

2011-05-02
I love reading about what other Arizonan brethren are experiencing! Gracias amigo!
Add a Comment