Indie Buttress Goes Free!
by Manuel Rangel
Roaming around the desert you get to know the rock and what is going to be a fun outing or not. I'm sure John Sherman and Larry Harpe know their desert rock. When you look at the 1,000' tower from the drive into the parking area, the brown low angle buttress is plainly visible. There are many huge features that become more complex the closer you get to the face. Route finding is an issue when you want the most stable rock around. The line these two climbed is Indie Buttress, 5.8, 7 pitches, 700' which ascends the easiest safest route to the saddle.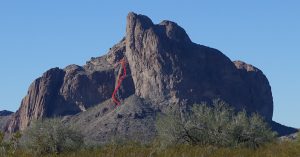 The Regular/Mountaineers Route begins left of Indie Buttress
MRangel
Mike Knarzer and Kathi Reichert agreed to join me in repeating my friends' new route, a chunk of rock many friends have wondered about for a long time. I've developed a route way to the left on steeper rock, The Groover, a fun climb but not as welcoming as this one. We walked along the flats for a while and headed uphill quickly. Tricky footing and cactus will slow you down; thank god. But we finally found the start after Mike Knarzer scrambled up and saw it above him.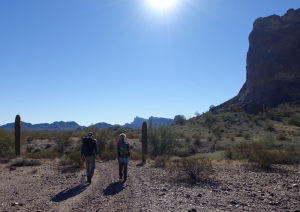 Easy start to the hike
MRangel
I had first pitch on my plate and after a bit of looking around on easy scrambling I found the first and only piton on the route. A few easy moves and I found the colored bolts on a comfy ledge.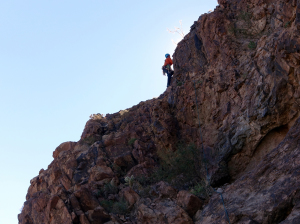 Clipping the first piton
MK
Mike Knarzer lead up the least consolidated pitch. Climbing like a scared cat is required. Test your hand and foot holds. Lack of chalk marks will make you look for scuffed rock instead. Also, the clean scabs will point you upwards in the safest, cleanest direction. Kathi and I simulclimbed this pitch and had no rockfall to speak of; I think.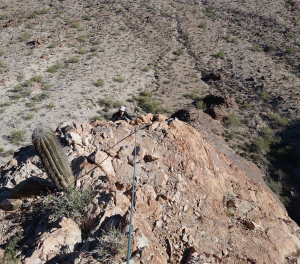 Kathi romps up the blocky tender arete
MK
Kathi took us up an easy gully with some blocky climbing. No dynos involved. Set up a gear anchor and hauled Mike and I up to her ledge. If I recall correctly, the Hillbilly Hilton. Also the ledge with the third rappel anchor on the far side. Also painted to blend in.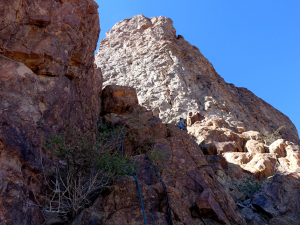 Third pitch gully up easy ground
MRangel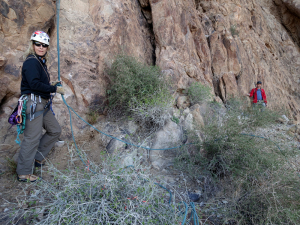 Hillbilly Ledge top of pitch 4 (3rd rappel)
MRangel
We moved Kathi's belay underneath the pitch 4 crux (route's too). It was a wide wavy crack that made me glad to have dragged along hexes. Cams aren't the answer to all my questions. In this case, I felt at ease when I had to face uncertain holds with a trusty bomber hex in not so good rock.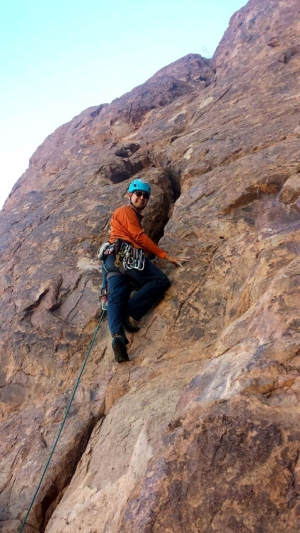 Crux moves off the ground pitch 4
Kathi Reichert
I ran a couple of pitches together; I wouldn't recommend it. Because we began a bit late, we thought. So I clipped the next anchor and continued up for a long enough ways through good rock that I felt bonded to the rock. So I stopped at the fifth pitch anchors. Mike Knarzer took off and did the same, passing the final chains and moving along the finishing traverse. We did a variation finish seen here with MK belaying and Kathi following. Phoenix in the far distance.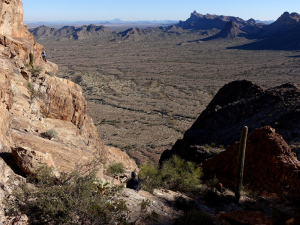 Topping out
MRangel
We had a fine lunch and rested on our laurels after bagging a second ascent. I would say it is a fun outing and after some more hold development, it should mature nicely. The rappels require a reverse traverse on the three bolts to reach the top of the rappels. This rappel is much cleaner, steeper and much easier to pull the ropes too.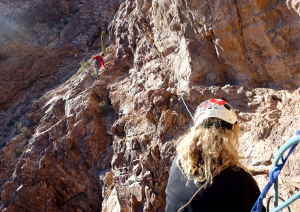 Start of the rappel requires reverse traverse
MRangel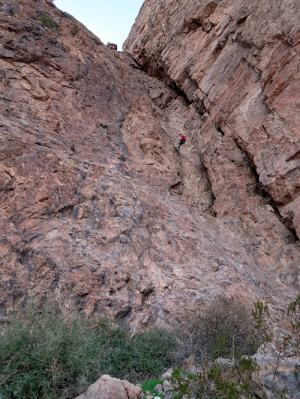 Steep final rappel
MRangel
There are three established routes on Courthouse Rock and this is going to be a fun, oft repeated adventure. I would not recommend a large contingent on it yet. But I would love to do it again and again for the fun of it. Thanks again Larry and Verm!
roninthorne

2015-05-03
Will be headed that way this winter!
Add a Comment