Kalymnos Primer
Submitted by
dumbsocrates
on 2012-05-04
Rating
:






Login
to rate this article. Votes: 0 |
Comments
: 5 | Views: 7701
by Ewa Nowak
Ahh... back from vacation. Good thing about vacations--no matter how lovely--is that they eventually end, and you return home to your own comfortable bed, your faithful dog, your routine. Now that I've been home for a day or two, I had some time to reflect on the trip.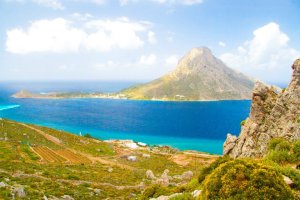 A view from Poets
Ewa Nowak
In retrospect, the trip was a complete success. However, I must add that it was not for the light of heart. We booked our trip a few months in advance choosing April as the ideal month: just a few weeks before climbing high season but warm enough to guarantee good climbing. Our flight took us through Dallas, Texas and Madrid, Spain. With all the gear--rope, shoes, quickdraws--we made some packing decisions: take the gear on the plane as carry-on luggage and check in clothes and such. The logic behind the decision? If they lost our luggage, at least we'd have our gear, which is infinitely more expensive. All was well, until we arrived at the security checkpoint in Madrid. The security guards were not sympathetic to our climbing endeavors and wouldn't allow so much metal to go on the plane, because surely all those quickdraws could become dangerous weapons in the right hands. With little time to spare, we checked the bag in, and continued onto Athens. Luckily, we arrived without any adventures, picked up our luggage and gear and headed for the ferry.
Getting to the port of Piraeus was the easiest and cheapest on a bus that skirted the city and an hour and a half later deposited us at the terminal. As we were cruising through the streets, we couldn't help noticing all the graffiti, vandalized buildings, and general disarray. Perhaps, it didn't look like a city after an apocalypse, but it was surprisingly unsavory. The dark-skinned peddlers at intersections and at the port did not add glamor to the city. Let's just say that the Greek economic crisis manifested itself in more than one way.
Because of the questionable infrastructure of the ferry booking system(s) in Greece, we chose to purchase the tickets once we got there. We figured there would not be that much traffic and hoped for plenty of availability. Alas, it worked out just fine. Word of advice: they only take cash! We purchased our tickets to Kos, an island neighboring Kalymnos, at the port a few hours before departure. The Blue Star Ferry did not stop at Kalymnos on the day we were traveling. Having killed some time refusing to purchase various nick-knacks from peddlers, avoiding stray dogs, and discussing politics with a disgruntled citizen of the Netherlands, who had his driver's license revoked because he (a.) was driving drunk, (b.) argued with the policewoman who pulled him over, and (c.) failed to convince the judge that women should not enter into police service, we boarded the ship. A lost iPhone, random bomb threat, and pirate boat episode later we finally arrived on Kalymnos.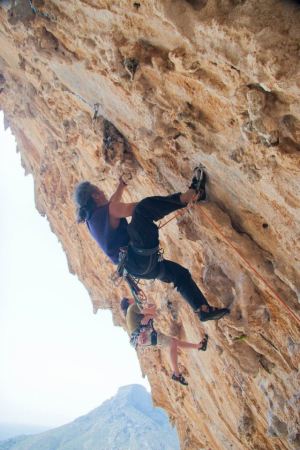 My partner on Ivi (7a+) in the Grota
Ewa Nowak
We stayed at Hotel Plaza, right on the beach. It was a pleasant place, with a beautiful marble-covered lobby, friendly service, free WiFi and breakfast, and a climbing shop with reasonably priced gear inside. The rooms were small but pleasant. The television set was the size of a postage stamp and offered virtually no programming, which did not bother us a bit since we had not time or inclination to watch the tube anyway. Our little balcony looked over the main street (as if there were any other) and at the rock bar, The Scorpion, that played fantastic music all the time. The owner of the bar had a strange and wondrous fascination with Native Americans and decorated the place accordingly with portraits of Indians, bows and arrows, and peace pipes. At this time of the year, there was plenty of availability of accommodations for climbers--hotels, rooms, and studios--all reasonably priced.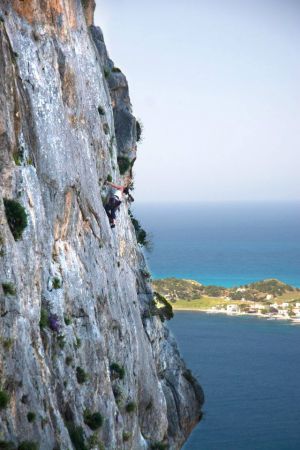 Femio (6a+) on the Odyssey
Ewa Nowak
The weather proved to be good although uncharacteristically windy and cool for the time of year. This did not prevent us from having a wonderful time both on the crags and off. The first day, after a rather later breakfast, we headed up to a crag closest to our hotel, White Shark and The Poets, about 30 minutes walking distance. We climbed a few easy 5c routes to get a feel for the rock. The rock, a sharp, porous limestone was super sticky and provided excellent feet. The texture offered divot, finger pockets, little sharp spikes, and cracks. The routes were well protected and most often provided a stationary carabiner for the anchor, which saved us from cleaning. On the following days, we ended up climbing at the Spartacus, Odyssey, Iliada, Grande Grota, Jurassic Park, Panorama, and Afternoon. As we changed crags, the nature of the rock changed as well: from slab to overhanging, from huge stalactites to hand pockets, from sharp limestone to wet tufa. The variety and the quality of routes was delightful.
The food on the island was awesome! We usually ate in tavernas close to our hotel. We especially enjoyed one in particular, The Aegean Tavern--a family owned establishment, where we met all the family members, were always greeted with sincere smiles, and enjoyed fantastic saganaki flambe and a sweet dessert of honey and cinnamon topped donuts, lovingly dubbed, "honey balls." With dinner, we drank mostly red wine and Greek beer, Mythos. Their white wine is nothing to write home about.
The climbing community, wherever we went, was very friendly, respectful, and fun. Everyone seemed to speak at least a bit of English, which made it easy for us to communicate. We made some excellent friends that proved great company throughout our stay on the island and, more impressively, were living proof that there is climbing after having children.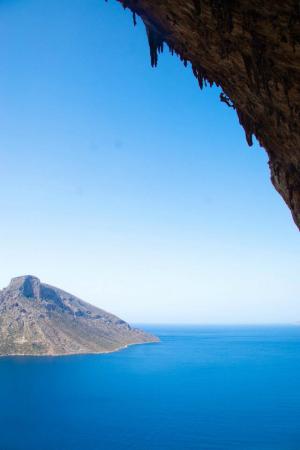 Climbing in the Grande Grota.
Ewa Nowak
The couple of days went by quickly and soon enough we were looking for a way to get back to Athens to catch our flight back to the US. I was not particularly keen on spending another 12 hours on boats, so we purchased plane tickets. We were to fly out of Kalymnos, change planes on Leros, and finally end up in Athens. We were two out of three passengers flying out of Kalymnos. The airport did not open until about an hour before departure, and the minimal staff--one lady and a security guard--hilariously performed all duties, from ticketing, to baggage check-in, to walking us onto the plane. Next time, we would probably purchase all plane tickets in advance to ensure best availability, less hassle, and more direct routes.
Our final adventure was spending a few hours in the capital. I wanted to walk the city, visit some of the historic sites, and learn about the city. But to our utter surprise and disappointment, the center of town looked as bad as the outskirts--vandalized, filled with peddlers and the homeless sleeping on the sidewalks, and hooligans occupying spray-painted statues. It was painful to see. I'm glad we could not get an earlier flight out of Kalymnos because I would have been rather upset that I missed a good day of climbing to visit Greek slums.
All in all, we had a wonderful time. Until next time, Kalymnos.
alex9

2012-05-09
Don't be so hard on Athens, we know it's not the most beautiful city but at least you should stay a little bit longer to see that it's not all about the peddlers and the few vandals that destroy the city every time people decide to peacefully demonstrate. The city has its good view too, all you need is time to discover it.. Until next time..
gblauer

2012-05-10
sounds like awesome climbing
dumbsocrates

2012-05-18
But it used to be one of the most beautiful cities, Alex. The shame is in the way its own people do not take care of their most prized possessions--pride and history manifested in the architecture and beauty of the city representing its people--the capital. After all, Greek economy relies on tourism. The problem reaches wider proportions when we factor in the pitiful state of Greece's economy at this time: the government is in no position to invest into the restoration of the city. And, you are right, Athens is still a gem, one that lost its luster, hopefully only temporarily. Cheers!
sadiegirl

2012-06-08
I had a blast in Athens...but I went before going to Kaly. You described Kaly very correctly- awesome community of climbers and people.
TXLimestone

2012-07-29
I loved your review on Kalymnos and I think it gave me the final push I needed to go there this year. However, I didn't like your critique of Athens at all, Athens is a beautiful city that shines in its own light. Different from London, NYC, Berlin does not mean bad: you cannot climb in any one of those places which is why you traveled to Kalymnos, at least perceive and appreciate the country for its differences good and bad. North European Metropolises are not all gold and glitter either.
Add a Comment