New Year @ 19000 ft
Submitted by
rockstallion
on 2008-05-06 | Last Modified on 2008-05-16
Rating
:






Login
to rate this article. Votes: 5 |
Comments
: 0 | Views: 5798
by kulbhushan suryawanshi
The morning of 31st December 2007, the thermometer reads seventeen degree Celsius below zero. I despise getting out of my sleeping bag to light up the fire. Its getting late as have to go out and search for the bharal (a kind of mountain goat of the Himalaya). I don't yet have a plan to celebrate the New Year tonight but its only Takpa and me at the camp what great celebrations can we have. While I was contemplating these thoughts my eyes fell on Mt Kanamo (5,975 mts). I have climbed this peak once before in the month of June but the thought of a winter ascent exited me and what better day than the 1st of January 2008. New Year at 20,000 feet.
I immediately rushed back to camp to prepare for a long day of climbing tomorrow. I was to follow the same plan as last time; early start, climb light and turn back time of one pm. At dinner I told my plans to Takpa. Initially he thought I was a nut to try and climb Kanamo on the first of January. All he kept saying was that it is going to be way colder than I can even imagine. I kept saying I know what I am doing. After dinner I asked him that in case I am not back by late evening would he come some distance with a thermos of tea. Takpa eyed me for some time and replied "I am coming along, the mountain has beaten me thrice and two is always safer than one". I was glad to have some company.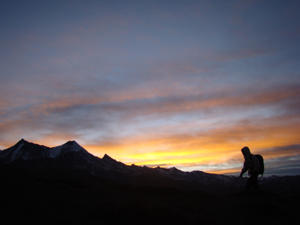 Sun rise and Cho-cho kang time

Sun rise and Cho-cho kang time.
Next morning we started from the camp at 10 minutes to six. It was completely dark with a little moonlight to show us the path. The sky was clear and then temperature was –19 degree Celsius at the camp. We did not discuss the cold but I thought that we were slightly over prepared for the cold but that was good. By the time the sun came up at eight thirty we were already up the lower slopes at the altitude of over 4,800 meters. What lay ahead was the huge south ridge of Kanamo that led all the way to the top. Unfortunate for us a light breeze picked up as soon as we were on the ridge. The ridge is completely wind exposed and provides little protection. Clear sky meant colder day. Soon the cold started to penetrate. We kept thinking that if we keep climbing we will stay warm and so we kept on.
I was now only a thousand feet from the summit and Takpa followed at about fifty paces behind. The cold had really got me worried at this time. My fingers were completely numb but could not mention it to Takpa. Takpa seemed to be having a walk in the park, I thought may be his better acclimatization to the altitude for having lived at 4350 mts all his life is helping him. Soon Takpa passed me; he now seemed in a bit of a hurry. We were now bare a few hundred feet from the summit. Takpa led at around fifty to hundred paces infront of me. But the knockout punch had been delivered, the light breeze turned to roaring winds. I could see snow plumes rising high in the sky on the neighbouring peak of Cho-Cho Kang Nilda. I could not feel my hands any more feet still had some sensation in them. I wanted to turn back but Takpa is already on the summit just a hundred feet more. I could not turn back when only hundred feet were left. A final dash to the summit and it should be over. When I reach the summit Takpa was ready with the axe and the flag to be photographed. I manage to get my camera with difficulty and got his snap, one more of the panorama. I asked Takpa to take a snap of me but he could just not grip the camera. Finally I placed the camera on the pile of rocks on the summit and asked him to press the shutter with his closed fist. It worked.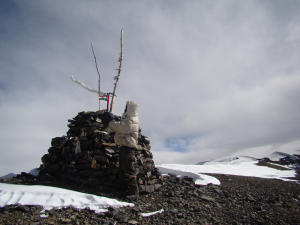 Takpa on the summit

Takpa on the summit.
The climb down was much colder. We barely looked at each other. Just kept climbing down. We knew there was a hut at the base that could provide some respite from the cold. Once at the hut Takpa broke a little part of the wooden roof to light a fire. My fingers started to hurt unbearably, tears rolled down Takpas eyes. Slowly the senses were returning. I was glad that the fingers were hurting it meant no frostbite.
We then melted a little snow had enjoyed a hot chocolate. What remained seemed like a cakewalk after what we had just been through and with the hot chocolate in our stomach we had enough reserves. Back at camp I was staring at the summit photos and then I noticed the time it read 11:05 am. So it took us 5 hours 15 minute to make it to the top. That's a record for the fastest climb in any season, the previous one being 5 hours 20 min. None of the people who stay at the base of the peak have heard of a winter ascent before so this could also be the first winter ascent of the peak but I never bothered to check with the Indian mountaineering federation to confirm it. What mattered the most was that we did it, first or not was not my concern. We also escaped unhurt just two blisters on my fingers. They way Takpa hugged and kissed his son was a sight. Takpa confessed that he thought we would never make it back but I knew things were never so out of hand. If it came to the worst we would have had some frost bitten fingers. This was surely that best New Year celebration of my life…