Verhoeven Nabs Fourth Ascent of The Nose
by Paul Nelson
The Nose has been dominating our newsfeed lately. Last week, we heard about Libby Sauter and Mayan Smith-Gobat speed climbing the route for a new female speed record. This week, it's all about the ultra-hard, techy free climbing of the route, as Dutch crusher Jorg Verhoeven nabbed the fourth ascent of the route after about a month of work, on November 6.
The Nose received its FFA in 1993 by Lynn Hill. FFA stands for "first free ascent," not "first female ascent," since those are silly. Athough, it was a "first female ascent" as well. Hill called it 5.13b/c, which though difficult, was not an unattainable grade for many at the time. However, apart from Hill repeating the route in a day the next year, and Scott Burke very nearly freeing the whole thing (he toproped the Great Roof pitch), the route sat unrepeated for over a decade, even as other routes on El Cap began seeing more free ascents. It was rumored to be sandbagged, with super scrunchy underclings in the Great Roof, and bizarre laybacks and stems on the Changing Corners pitch. Hardmen across the valley ad armchair climbers implied that only someone with Hill's ultra-strong fingers and short stature could fit into the bizarre movement of the route.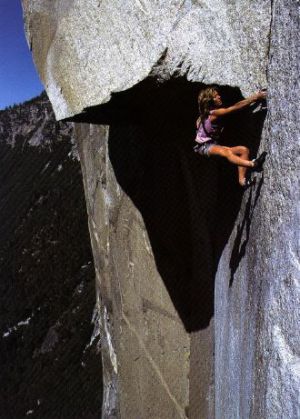 Lynn Hill coming out of the Great Roof, which at 5.13c is the first of The Nose's two crux pitches.
However, in 2005, the then-husband and wife team of Tommy Caldwell and Beth Rodden managed a team-free ascent. Shortly thereafter, Caldwell led the entire route, as part of a massive one-day linkup of The Nose and Freerider (5.12d). Caldwell also confirmed that Hill's original grade was a sandbag, and called the route's crux pitches (especially the Changing Corners) solid 5.14.
Verhoeven, a solid all-arounder with hard comps, sport, and bouldering on his ticklist, began getting close to sending in mid-October of this year, when he finally pieced together the Changing Corners. Over several days, he managed to send The Great Roof on his second day, and the Changing Corners on the third.