Rockslide threatens Curry Village at Yosemite
by Greg Gibson
Rockslide threatens Curry Village at Yosemite Peter Fimrite,Steve Rubenstein, Chronicle Staff Writers
Thursday, October 9, 2008
(10-09) 04:00 PDT Yosemite National Park --
A large slab of granite cracked loose from a cliff in Yosemite National Park early Wednesday and crashed into the Curry Village resort with a thunderous roar, flattening tents and forcing hundreds of campers to run for their lives.
Dozens of schoolchildren fled the scene screaming and crying as broken rock rained down, snapping trees, smashing through the walls of cabins and sending a plume of dust hundreds of feet in the air.
"It sounded enormous, like the earthquakes I've been in in Los Angeles," said Tom Voelpel, a lighting technician from Valencia who was sharing a tent at Curry Village with his twin brother, Dave, in celebration of their 50th birthday. "You could hear trees snapping and rocks crunching and cracking against each other."
The brothers jumped behind the wooden wall of their cabin just as a boulder smashed through the wall, causing it to collapse on top of a nightstand.
"It was scary," said Dave, an artist from Indianapolis who saw one bleeding boy amid the dozens of panic-stricken schoolchildren. "I want to go home," he said the boy screamed. "I'm bleeding!"
The slide occurred shortly before 7 a.m., sending an estimated 1,800 cubic yards of debris - equal to about 200 dump-truck loads - into the area near the village amphitheater and cafeteria, park spokeswoman Adrienne Freeman said.
Pandemonium
The place erupted in pandemonium as hundreds of terrified campers rushed out in underwear and nightclothes amid a roar that several witnesses said sounded like thunder.
Deanne Maschmeyer, 41, of Seaside (Monterey County) was sleeping next to her 14-year-old daughter and 12-year-old son when the slide began. At first they crouched down. Then her daughter, Alexis Mooneyham, screamed, "Run for your lives!"
"We literally bolted out of bed and started running," Maschmeyer said. "It was like the tsunami footage several years ago. We hurdled garden fences and sprinted through the meadow. It was a pure adrenaline rush. We were surrounded by kids crying and yelling."
The three of them found themselves in the parking lot in skimpy nightclothes. Maschmeyer's son, Connor Mooneyham, was wearing only boxer shorts. A Yosemite park worker gave him his coat. Strangers and park workers gave them clothes to wear.
Two wooden cabins and five tent cabins were destroyed. Three visitors suffered cuts and other minor injuries.
All occupants of the more than 600 tent and wooden cabins and a small, hotel-style building at Curry Village were ordered out as a precaution, and trails in the area were closed, Yosemite officials said.
In all, 1,005 people were evacuated. By nightfall, 100 to 150 had been allowed back in, but the rest were put up in motels and hotels around the park, unable to retrieve their belongings.
Freeman said it was fortunate nobody was killed. Some of the cabins had been evacuated Tuesday after a smaller rockslide in the same area struck a single unoccupied tent cabin and caused no injuries. The others were empty just by chance, apparently because the occupants had left before 7 a.m. on various excursions.
"I definitely think we were fortunate that people were not in their cabins at that time," Freeman said.
The falling rock in both slides came from the mountainside directly above Curry Village, about halfway up the granite wall between the valley floor and Glacier Point.
Looking up from the valley floor Wednesday, one could see a large oblong patch of lighter granite where the chunk had broken loose.
There was no word on when the rest of the camp would be reopened. A search and rescue team was deployed Wednesday afternoon to help park geologist Greg Stock off of the wall on El Capitan where he was halfway up on a research expedition. He apparently was to be winched up the rock face and helicoptered over to the site of the slide.
Curry Village, founded in 1899, includes the most modestly priced accommodations in Yosemite Valley. It has 427 tent cabins and 180 cabins with baths, along with communal facilities, restaurants and shops. It is in the eastern end of the valley.
Not unusual
Gerald Wieczorek of the U.S. Geological Survey, an expert on Yosemite rock slides, said even large slides are not unusual in the park and that substantial slides can occur as often as a dozen times a year.
"It's rare when they don't occur," he said. "And, typically, they start around this time of year," when rain and freezing overnight temperatures loosen the rock.
Wieczorek, who has studied the 160-year recorded history of Yosemite slides, said the sheer granite walls of the valley will always be prone to slides.
"It's the steepest area," he said. "They're going to occur there, and occur regularly."
It was not the first or the worst slide in Yosemite. In July 1996, a slab of granite weighing as much as 162,000 tons broke loose from Glacier Point and plummeted onto the Happy Isles area about a mile east of Curry Village. The massive blast of air caused by the rockfall knocked over 500 trees, one of which killed a 20-year-old man from Southern California who was near an ice cream stand. Four people were injured, including a woman who was left paralyzed.
'Very loud rumble'
Carol McElligott, a clerk at the Ansel Adams Gallery in Yosemite Village, said the sound of Wednesday's slide was a "very loud rumble and it went on and on and on."
The dust cloud rose hundreds of feet in the air, she said, and was still visible nearly four hours later.
"Mother Nature owns this park," McElligott said, "and she changes it all the time."
It was a change that park visitors could have done without.
"It was the scariest thing that I've ever had happen to me," said Alexis Mooneyham. "I seriously didn't think we would have a chance to even get out of the cabin. It sounded that close."
glaicer point rock slide
SFGATE.com

Glacer point rock slide. Photo: SFGate.com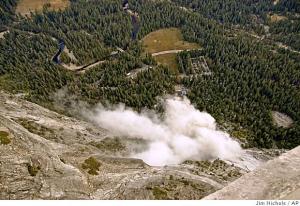 Dust from above Curry Village after the slide
SFGate.com

Dust from above Curry Village after the slide. Photo: SFGate.com
potreroed

2008-10-12
And people complain about a little loose rock in the Potrero Chico!!
lin

2008-10-13
none of us ever understood the real risk of stealing showers at Curry village.
tongueinbarbie

2008-10-13
Used to be ice falls on Glacier Point when I lived in Curry Villiage back in 81,82. It would feel like an earthquake. We thought the bear patrol yelling "get out of here" and shooting the bear guns was exciting this June. Our last night, 4 NPS biologists were outside our Curry Villiage tent cabin, one with a flash light, one with an antenna and some type of device he was pointing past our cabin, and one was loading the noise maker, which looked like a flare gun. They said she was up there but not ready to come down yet. That was the last night for us there and the high point of our trip, with exception to being married earlier that day in the meadow with Yosemite Falls as the backdrop.
philbox

2008-10-13
FA anyone?
p0bray01

2008-10-14
Yep im game there will be totally new routes now...that is if they don't exfoliate beneath our feet!
unrooted

2008-10-21
At least Delaware North has yet made any plans on removing the tents from this obviously unsafe spot. $$$$$$$$$$$$$$$$$$$$$$$$$$$$$$$$$$$$$$$$$$$$$$$$$$$$
unrooted

2008-10-21
At least Delaware North has yet made any plans on removing the tents from this obviously unsafe spot. $$$$$$$$$$$$$$$$$$$$$$$$$$$$$$$$$$$$$$$$$$$$$$$$$$$$
unrooted

2008-10-21
At least Delaware North has yet made any plans on removing the tents from this obviously unsafe spot. $$$$$$$$$$$$$$$$$$$$$$$$$$$$$$$$$$$$$$$$$$$$$$$$$$$$
Gmburns2000

2008-10-29
Hmmm...I wonder if Delaware North has made any plans on removing tents from this obviously unsafe spot?
bradmarlett

2010-05-23
Doesn't look like they will any time soon>
Add a Comment