Tragedy in the Potrero: A Reminder that Rappelling is Dangerous
by Paul Nelson
On the second and third days of January, as climbers from around the world nursed hangovers from New Year's Eve and soaked up the Mexico sun on safely bolted multipitch climbs, two climbers died in separate accidents at Potrero Chico. Both made mistakes while rappelling from classic, popular routes.
The first occurred on January 2, when a European party of two began rappelling one of Potrero's longest routes, the 23-pitch Timewave Zero, after climbing the route. Apparently, one or the party, a strong climber from Germany, misjudged the middle mark of his 80-meter rope, and rapped off of one end, even hitting another climber (who was uninjured) during the 1000 foot fall.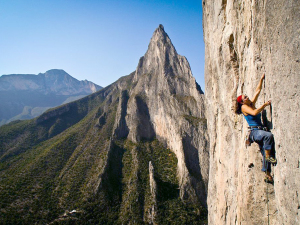 A Climber in Potrero. The spire in the background shows the route Timewave Zero, which was the scene of the first accident. Photo from National Geographic, by Renan Ozturk.
The next day, January 3, a party of four from Austin, TX, was making the standard five pitch rappel that descends off the backside of a ridge after climbing the 12-pitch Estrellita. Although they do not know exactly what happened, members of the party saw rope whipping through the anchors and presume that their friend, a 26-year old experienced climber, rapped off of one end of the rope.
Potrero is a very laid-back, fun loving place, but friends of mine who are there right now describe a very somber vibe through the crags and campgrounds there. One friend writes, "The scene was slightly somber after the first death, but everyone still went out and climbed. But after the second, it changed more. The second victim was part of a huge group from Austin, and they all left the morning after. Everyone was feeling much, much more cautious after that."
It is always hard to deal with one of our climbing tribe dying while pursuing what we all love to do. And in particular, tragedy at Potrero hits close to home for me; I spent five winter seasons in a row in Mexico, climbing the sunny limestone in between semesters at grad school in Texas. Although the climbing falls more on the side of "quantity" than "quality," Potrero Chico is nonetheless a special place. The locally-owned campgrounds, the open air markets in nearby Hidalgo, the quirky crew of expatriot developers, and the international crowd of revelers who congregate there for the New Years celebration all make Potrero the place of memories.
But tragedy is nothing new at Potrero, either. My first season there, during the new year of 2002-03, I exchanged campfire banter with an exuberant Venezuelan. I had no idea that he was one of the world's best crack and speed climbers at the time; Jose Pereyra had even FA'd one of the Southwest desert's most difficult crack climbs, the 5.13+ No Way Jose that nobody had heard of until Alex Honnold repeated it for a well-known video. Only a few days after our campfire chat, Jose died taking a leader fall on Las Auras, a sparsely-protected route on EL Toro, the massive feature that overlooks the entrance to Potrero's canyon from the north.
Several years later, Jimmy Forester, friend of mine from Texas who was no stranger to the Potrero or bold ascents, embarked on a free solo ascent of the ridge route Scariest Ride in the Park. Despite the "moderate" grade of 5.9, this serious route has very little protection. I remember one of the FA's of it telling me that her party's strategy on the route was to simul-climb most of it, and hope that if one climber fell off of one side of the ridge, the other would jump off of the other to arrest the fall. There was really no more pro in the rotten limestone to provide better options than that. Unfortunately, Jimmy did not have a belayer. Presumably a hold broke during one of the route's initial pitches, and he fell to his death.
However, it is easy to dismiss the deaths of Jose or Jimmy, because they were climbing very risk routes. Jose was on an r/x traditional route, and Jimmy was free soloing, and both of them on limestone ridges that are notoriously chossy. However, many of us assume that the bolted faces of Potrero are much safer than these routes. Not many people are repeating the routes that Jose or Jimmy died on, but Timewave Zero and Estrellita get possibly hundreds of ascents per year. These closely-bolted lines are sport routes in every sense of the word, you can get up them with just 12 quickdraws and a rope, yet they are the size of big walls. Lines like these are the reason that people come to Potrero.
However, we need to remember that, even though these multi-pitch routes are "sport climbs," they are still very serious, vulnerable to as many if not more objective hazards as Yosemite, Squamish, or Red Rocks. Rock fall and benighting epics are common in Potrero. And, as these two recent tragedies remind us, rappelling off of these routes is just as potentially dangerous as it is off of a trad route. We don't need to speculate about why either of the recent victims made their fatal mistakes, but we do need to remember that these "sport climbs" are still very big affairs. Their ease of ascent might even cause some of us to forget about the seriousness of their descents.
Accident reports and tragic articles such as this are rarely the places to get into detailed analysis of what went wrong, and too often it is easy to fall into judgemental language or theoretical gear-head talk in the wake of peoples' death and loss. However, the cause of these tragedies was something so simple, and so common throughout all of our climbing lives that I want to wrap up with this, even if you never go to Potrero:
Rappelling is dangerous. It's the most dangerous part of most peoples' climbing days, and even more dangerous because most of us have let our guards down by the time we rappel. We are hyper-aware and cautious when we're in the middle of a crux or a runout, but rappelling usually happens when the sun is setting, we're tired, and thinking about food, beer, and spraying about the day's sends to our friends. To invoke more personal experience here, I have had three friends die and two more become seriously injured from rappel accidents.
There are a lot of ways to make rappelling and descending safer, but there are no hard-and-fast rules that apply to every situation. With single pitch cragging, it is usually safer and faster to be lowered off than to rappel (and one rappel at the end of the day causes next to no wear and tear on fixed anchors). but sometimes, it is better for the rope or for natural anchors to rap rather than lower.
On multi-pitches such as Potrero's there are a lot of things you can do to be safer. Always check the status of webbing if you are at a tat anchor, and carry knives and replacement webbing in case you need to upgrade and anchor. Neither of the Potrerovictims tied knots in the ends of their ropes, and this is almost always a good idea to do (unless high winds are threatening to get a knot wedged off-route). You can also use prussik backups for your rappel, although these can be clunky and slow to set up. Although they require LOTS of practice and communication, I've found that simul-rappels with gri gris are the safest and most in-control rappels in many situations.
But above all, just be aware and on your guard when rappelling. We are not canyoneers who take pride in doing dangerous rappels, and we are not military-fetished noobs who seek out the "extreme thrill" of the activity. We are climbers, and we should reserve risk for those calculated situations when we need it, not for descending to the ground from our dream routes.
erikkloeker

2015-01-22
Thanks for this well written article Paul.
ClimbClimb

2015-05-07
Good post.
ttfocms

2017-09-09
Excellent read. Thank you sir.
Add a Comment