Adam Ondra Ascends 5.15c – World's Hardest Route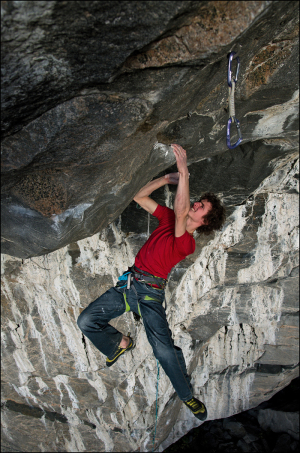 Photos by: Petr Pavlicek
On the 4th of October 2012, Adam Ondra send which is believed to be one of the hardest climbs in the world. Situated in the Hanshelleren Cave at Flatanger, Norway, the 55 meter route named Change (by Adam) includes a 5.15a/b section with a marginal break followed by a 5.14d climbing section.
Adam laid out the route earlier this summer but was forced to abandon his climb attempts due to its high level of difficulty. On his first visit to the Hanshelleren Cave upon creating the route, he managed to complete the first half of it which includes a 22 meter pitch with a grade of 5.15a/b. The full route includes another 30 meters with a grade of 5.15d climbing.
Between the time of his first visit and his next where he finally conquered this climb, the route has become quite famous as it is one of the few climbs that Adam had failed to complete on his first visit.
Although setting it up, this route was an exceptional challenge for Adam. This route could very well be the hardest sport climbing route out there. But confirmation will be required by other top climbers to make it official. Achieving this new level of difficulty is definitely a great step for Adam's career and we look forward to his next big project.
Here's what Adam had to say about the ascent:
"I can't believe it – was, if my memory is right, the first words I said after clipping the anchor of this route. It is definitely the most rewarding feeling I have ever had after sending the route. I can't stop smiling, even now, typing these words. Despite the tough process of working the route, this can't be any sweeter. Not only because it is 9b+, a number which looks so strange typed on the screen.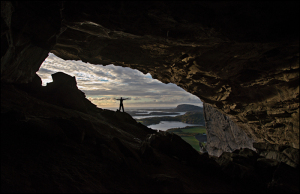 Photos by: Petr Pavlicek
The route can be divided into two pitches – 9a+/b (20m), nohand-rest and 9a (25m). The first pitch is bouldery – first twelve meters can be described as 8b route into 8B+ (some of the most crazy moves I have ever done) into 7B+. Above this, there is a bad kneebar, where I pull the rope down and the belayer starts belaying again. The rest of the first pitch is pretty easy. At the chains, there is a nohands rest, where you stand on good footholds in the vertical wall leaning with your head on the roof above (I did not find rest in summer).
The second pitch has a long power-endurance sequence of about 6 meters just above the first anchor, long moves, compression style and heelhooks including hard crimping as well. From here on, it is not more than 8b+, but tiring and never ending pumpfest, which offers numerous jugs to rest, but one is not able to recover there any more... It is the route I've put the most effort into. It took me three weeks of trying in summer, two weeks in autumn.
But I must say that sometimes it was a lot about waiting for the conditions to arrive, sometimes I went up the route only to find out it is was too damp and especially in autumn, when the temperature was excellent, but two holds were seeping in the upper part as it had been raining for three weeks straight prior to arrival.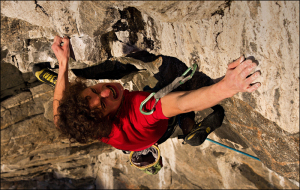 Photos by: Petr Pavlicek
Just the day of the send they finally got almost dry. I could do the single moves despite wetness, but it would be extremely difficult on the link. I have never got that high before sending it, but during the send I realized that I would definitely fall off if got in the previous conditions.
Regarding to grade, it has been a long dilemma. After sending the first pitch for a first time (after about 5 or 6 days), I thought that the first is merely 9a+ and the second pitch felt close as I could recover at the first chains pretty well. The ascent felt in grasp, but the more I tried it, the more I realized how hard the first pitch is on itself and how pumpy the second pitch is. The more I tried, the more the idea of 9b+ was buzzing in my head. The final decision was made two days before my ascent. My self-confidence was low down, the ascent a million miles way and I was playing with the idea that chances of doing this trip are dashed. As I though about it, it felt so much harder than any 9b's I have done so far, I put so much time into it, additionally it fits my style quite well, I told myself that it was going to be too hard for a 9b... I realize right now how extremely lucky I was to find a line that turned out to be exactly on my limit. No waste of bolts only to find something impossible, just long hours of looking at the endless sea of Flatanger granite and good decision. I must say, in the end I did not choose the first line that struck my eyes at first glance, the most impressive one. This one is still in my mind, I'll probably give a look at it next year. But Change turned out to be exactly as I anticipated.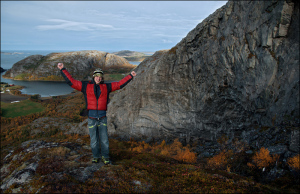 Photos by: Petr Pavlicek
Challenging with good movements, various styles of climbing. The only thing that spoils the route is the nohand-rest and the fact that it doesn't go to the top of the cave, or at least to the lip. I had an idea of trying a line to the top in one push, but in the end I found out that it is impossible due to rope drag and climbing with two ropes and having one rope already hanging in the wall is just too artificial. And climbing another pitch only to go to the top – that would be nice for the feeling, but a lot of work and no one would ever really climb, even though it could be world class 8c, as it is too complicated to jug up there. I really focused on finding a good spot to set the anchor, not in the middle of blank wall on bad crimp, but good ledge on the top of the obvious square-shaped feature.
The recent times and the route itself definitely changed myself a lot. I live a totally different life as I am not going to school anymore. The trying of it was an ever changing process. In the meantime, I learnt a lot, but I suppose that once I will start something new, I will make the same mistakes. The fight with your mind is the one you can win only temporarily. But one thing the route did not change – my desire for opening new routes. First ascents turned out to be as enjoyable and satisfying I had thought."
A full interview with Adam about this climb can be found here.
The video below shows Adam's early attempts on this project.


Adam Ondra climing in the Flatanger cave in Norway from Ove Magne Ribsskog on Vimeo.
slartibartfast

2012-10-22
I call shenanigans; everybody knows you're not legally allowed to claim a grade unless Chris Sharma has climbed it first.
slartibartfast

2012-10-22
But seriously, this is awesome!
Tfinney110

2012-11-05
How do all the bolts get placed for first sends?
slick_rick.org

2012-12-04
5.15d?!??
Add a Comment