Adam Ondra Flashes and Onsights 5.14d at Red River Gorge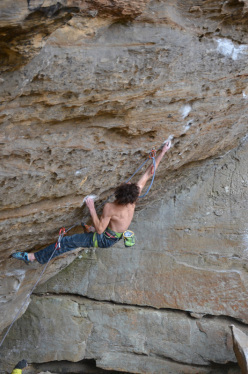 Photo by: Ales Rozsypal
Adam Ondra has recently made his first climbing trip to the U.S. and has been making headlines ever since.
He has started it off with a few amazing climbs. On the 29th of October, Adam had flashed Southern Smoke Direct which is located at Red River Gorge, sheltered by the overhang of the Bob Marley crag. This was believed to be the hardest route at Red River Gorge and was first freed by Adam Taylor in 2011, and he rated it 5.15a.
Adam has managed to onsight many 5.14c's in the past, but this is his first true 5.14d flash. Ondra did attempt to flash Sharma's Biographie, which is rated 5.15a, earlier on in June this year but wasn't able to send it.
In less than a week he has also climbed Lucifer(5.14c), 50 Words For Pump(5.14b), and Transworld Depravity(5.14a).
It is said that Adam Ondra's climb is the hardest established route to be flashed in the history of climbing, although Ondra is hesitant to claim the grade of 5.15a and is suggesting 5.14d.
This is what Adam Had to say about the climb: "I had the beta from Daniel Woods, Jon Cardwell and Cedric Lachat and I think the general consensus is 9a. The route was an incredible fight, I had the beta for the first boulder problem, which I climbed without any mistakes as I fought my way through this Font 8A+. The route then joins with Southern Smoke and I didn't know much about this section, but I had about five people underneath who knew the route really well. There were such good vibes from them as they encouraged me and so I just kept climbing. Towards the end I simply ignored the lactic acid, the fight got tougher and tougher, but I didn't let go... My personal grade is definitely 9a (5.14d). Yes, I'm living the dream indeed."
This Fall the Kentucky crag has been visited by many big climbing names, Jacopo Larcher from Italy managed to onsight Omaha Beach 5.14a, Melissa Le Nevé repeated Transworld Depravity 5.14a, Cedric Lachat from Switzerland managed a repeat of Pure Imagination 5.14d, Jon Cadwell from U.S.A handled 50 Words For Pump 5.14c, and also from the U.S.A, Daniel Woods tackled Southern Smoke, 5.14d.
On Adam Ondra's 8a.nu scorecard, he writes: "Hard to believe it, but it is true! Two days ago felt bad, didn't know what to climb as I wanted to save onsights/flashes for another year, and now this came! thanks everyone for the beta and good vibes, moment I will never forget. Everything went so perfect. 9a benchmark I'd say."
On the 1st of November, Adam Ondra also managed to onsight some of the Red River Gorge's other hard routes, namely: Pure Imagination and The Golden Ticket, both these routes are rated 5.14d.
Visit Planet Mountain for a report with Adam Ondra where he talks about his recent ascents at Red River Gorge: "Yes, in all honesty I confirm that I didn't find any of these climbs hard enough for 9a. Believe me, I don't want to offend anyone, but for me personally Pure Imagination felt even easier, although I know it's ideal for my body constitution and finger strength. There nothing but sharp incuts with jugs in between. Golden Ticket felt way harder. It's not the most obvious for an on-sight and it doesn't fit my style as much. But I climbed with a psyched and empty mind. I knew I already had some great ascents in the bag and there was nothing to lose. No space for fear or doubts... I simply kept climbing, fighting hard and somehow I made it to the chain of what might definitely be my hardest onsight to date."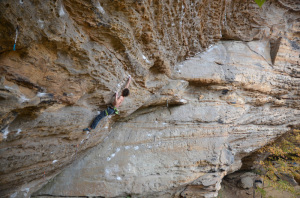 Photo by: Ales Rozsypal
Pure Imagination was first climbed by Jonathan Siegrist in November 2010, and has been repeated by the likes of Adam Taylor, Sasha DiGiulian and Jorg Verhoeven. The Golden Ticket was redpointed by Adam Taylor in October 2009 for its first ascent. Adam Ondra managed to climb these two routes located on the Chocolate Factory brisk fully and an hour apart.
Adam Ondra has also downgraded all three routes, he states his flash of Southern Smoke Direct, which was originally rated 5.15a, was more of a solid 5.14d for him. Adam also stated that Pure Imagination and the Golden Ticket both be taken down from 5.14d to 5.14c.
The following are some of the grade changed suggested by Adam Ondra, and also confirmed by others:
Southern Smoke Direct - 5.14d down from 5.15a. (Daniel Woods confirmed the 5.14d grade)
Pure Imagination - 5.14c down from 5.14d.
Golden Ticket - 5.14c down from 5.14d.
Lucifer - 5.14c (Ondra needed four tries to redpoint this route)
50 Words for Pump - 5.14b down from 5.14c. (Confirmed by Daniel Woods)
100 Ounces of Gold - 5.14a up from 5.13d.
God's Own Stone - 5.13d down from 5.14a. (Confirmed by Daniel Woods)
Omaha Beach - 5.13d down from 5.14a. (Confirmed by Adam Ondra)
Congratulations to Adam for these great climbing achievements while visiting the states.