Caldwell Frees Final Crux Pitch of Dawn Wall Mega-Project
by Paul Nelson
For the past six years, all-around badass and El Cap freemeister Tommy Caldwell has been throwing himself at a free version of El Capitan's Dawn Wall. It has defined "mega-project" for a climber who has proved himself in all disciplines of free climbing, and who more than any one else can lay claim to just dominating El Capitan. The Dawn Wall has been heavily publicized from the get-go, and Caldwell calls it the most difficult project he's ever taken on. He has enlisted the help of luminaries such as Jonathan Siegrist, Chris Sharma, and most of all Kevin Jorgeson, who has been his most steady partner on the project. They've taken epic falls, done crazy sideways dynos, "thumb-derclings," and even experienced a falling haulbag disaster that wound up dislocating several of Caldwell's ribs.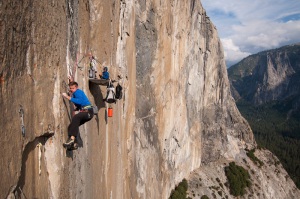 Caldwell working one of the route's crux traversing pitches.
And it's not even over yet! Caldwell has now redpointed every pitch of the route that includes seven pitches of 5.14, seven more of 5.13, and at least ten more of 5.12. This in itself is an accomplishment, and by some climbers' styles (notably the late, great Todd Skinner), this already means that Dawn Wall is a free route. However, Caldwell still wants to open the route properly, which will mean an in-a-push free ascent of the entire route from top to bottom. Obviously, this is going to be incredibly difficult, but Caldwell and Jorgeson plan on attempting it in December. Will they send, and put away the hardest, most sustained big wall in the world? If they do, it will be amazing. As Winston Churchill once said during WWII, "It is not the end, it is not even the beginning of the end. But, it is the end of the beginning." Bring it, Tommy!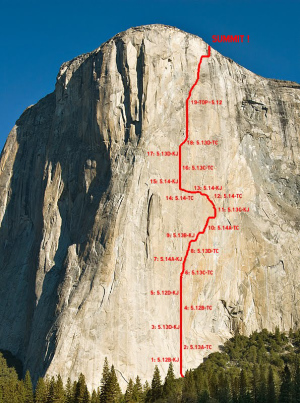 Here's a topo of the route, in case you want to go steal Tommy's proper F.A.
theguy

2014-11-25
"Caldwell still wants...an in-a-push free ascent of the entire route from top to bottom": that sounds impossible.

Would certainly be easier to rappel from top to bottom. Kudos to Tommy for inventing new climbing styles in the search for challenge ;)
Add a Comment