Chris Sharma frees Stoking the Fire 5.15b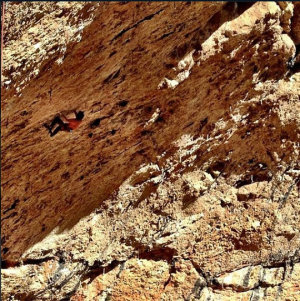 Photo by: Coletter McInerney
On 6th February 2013, Chris Sharma has managed to complete one of his long term projects in Spain's Santa Linya cave. This new route at Santa Linya is called Stoking the Fire and has been reported by Chris as being a solid 5.15b.
The majority of this route was initially bolted by Czech climber, Tomas Mrazek, he bolted up to the jug. Chris stepped in and continued bolting the line straight up, after the jug it cuts left to finish on Mercenaris del Pasat (5.13c).
The full route still remains on Chris Sharma's projects list and he estimates that it would add a 5.14d section above the 5.15b.
Chris posted ascent via Instagram and commented:
"The last couple of years I've been focusing all of my energy trying these in insanely hard projects that I've rarely had the pleasure to actually send a route. Today in Santa Linya was one of those illusive moments. I sent a project that I've been trying the last few years."
"I think I'm going to call it Stoking The Fire and I think it's pretty solid 9b. So many hard complex sequences with no rests! Climbing is so much about the process and all of the lessons we learn along the way but it sure is good to get to the top once in a while. It's nice to remember what that feels like and that I still have it in me! Psyched for more!!"
ax

2013-03-21
very nice...
NedderLander

2013-04-01
I guess when you've climbed every great route ever set...you need a challenge?
rurprider

2013-06-13
Way to go, Chris! And the hits just keep on coming.
guitarpick02

2013-11-03
You truly inspire me
cragcrustacean

2013-11-05
Nice

roninthorne

2014-04-30
Fourteen months later, still front page news... here, at any rate.

Priceless.
jiayouyexiong

2014-06-26
amazing!!!!
Add a Comment