New Five Pitch M11 in Canada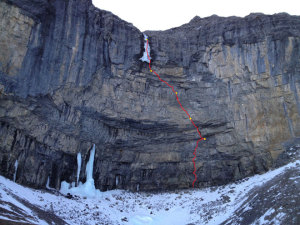 Photo by: Will Gadd/Courtesy La Sportiva
On the 10th of January, Will Gadd, Will Mayo, Pat Delaney, and John Freeman managed to establish a new M11 route called Nophobia situated in the Ghost River Valley area near Canmore, Alberta.
Nophobia goes up five pitches to M11 in a huge cave, a total of 150 feet of overhand and a 50 foot roof, and is also located near Cryophobia and Hydrophobia in the Ghost River Valley area. Mayo has also referred to this location being "the biggest sport mixed cave in the world."
Will Mayo and Pat Delaney were the first two to start developing the route in 2009, but due to the remote location of the cave, great time and effort was required to get there.
Will Gadd said:
"It's important to understand that just getting to the trailhead involves some really serious 4x4 sports action,"
"I have about a 50 percent success rate on trips into this area of the Ghost; creek crossing that result in frozen brake drums (there are tricks for getting these unfrozen involving fires etc.), mud, getting stuck one way or the other, fully half the battle is just getting to the place where you walk another hour to the climb."
Two in the party managed to successfully climb the route on the day without falling, but because of all the effort that went into making this climb possible, they all agreed that the first ascent would be shared between them irrespective of who redpointed it first.
Will Mayo has been extremely committed to this project, reportedly making about a dozen trips to the cave over the last four years; Will Gadd, Pat Delaney, and John Freeman have also put in great effort with more than six trips each under their belts.
Will Mayo and Will Gadd are also up in discussions about making another trip out to the cave soon, congratulations to these climbers for completing this unbelievable M11 ascent.