New testpiece at Castle Crags in Northern California
by iaN k@z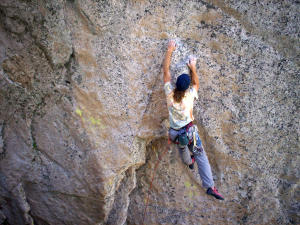 Ran out of CraK! on Marbelous
Amy k@z

Running out of crack on Marbelous. Photo by: Amy Katz.
On July 6, Ian Katz racked up and sent "Marbelous" in true Shastafarian style. "Marbelous", 115' of slightly overhanging marbled granite with discontinuous cracks, features sustained 5.11 liebacking, followed by sporty bouldery cruxes with 20-30' fall potential, on small cams. The route is all placed gear and Ian gives it a grade of 5.13a R. This route marks a new era of climbing at Castle Crags pushing the standards to a more modern level.
Although thousands of verticle feet of granite are visibile from the I-5, the Crag has seen only limited route development through the years due to long approaches and the reticant nature of the last generation. Their efforts through the 80's and 90's were awesome, leaving a trail of classic routes in the 5.8-5.10 range and a few 5.11 test pieces as well. Some of their best accomplishments are "The Dike Route" 5.10+, "Solar Wind" 5.10+ R, and "The Dagger Dihedral" 5.11.
Althougth past generations feel that the Crags are a masterpiece not requiring another stroke, a new generation of climbers has arisen with a whole new set of eyes, seeking out harder lines yet keeping the bold tradition of Castle Crag's alive. Some of the new school testpieces are "Apnea" 12d, "Castle Corner" 12c, "Stellar" 12a, "Year of The Dragon" 12a R, "Meclazine Dream" 11d R, and of course "Marbelous" 13a R.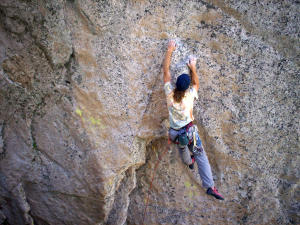 Ran out of CraK! on Marbelous
Amy k@z

Approaching Beck's Tower. Photo by: Amy Katz.
For more information go to www.alpineaddict.com.