Nose in under 3 hours AGAIN
by Hans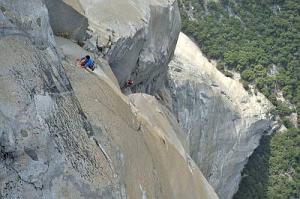 looking down from the top as Yuji and Hans come up.
Paul Hara

Looking down from the top as Yuji and Hans come up. Photo: Paul Hara.
Yuji and I climbed The Nose route yesterday, the 8th of October, in 2:48:33 - This is a good indication that we are fit for breaking our own record of 2:43:33 set this past July 2nd. Why are we doing it? well the Japanese TV, Discovery Channel team and others weren't there to catch it on video/film so we are going at it again.
Our run yesterday put us on top of Dolt Tower in 48 minutes. that is 5 minutes faster than our pace during the record time in July. I think we went out to fast and couldn't hold the pace.
We'd love a big supportive crowd to cheer us on. Both Yuji and I love the pressure and cheers from there being people around pulling for us. Weather permitting we'll start about 30 minutes after sunrise on the 12th. tell your friends to come to the meadow.
Check out more info at speed climb dot com.
Hans Florine
Bosworth

2008-10-10
We were one of the many parties that these guys passed by on this attempt. While clipping in at the anchor they even asked if they could pass us by??? Respect!! ....Of course we told them to wait their turn. I'll be routing for them on Sunday.
yetanotherdave

2008-10-12
Sunday attempt update:

Yuji and partner[Hans] started off at the base of El Capitan this morning at 10:20 am and topped out on the Nose route at 12:57:03 pm. It was crisp morning and there was a late fall feel in the air.

Fun numbers:

Today time to Sickle ledge: 18 minutes, July 2nd when we did the route in 2:43:33 it took 16:20 to get to sickle.
Today time to Dolt Tower: 46 minutes, July 2nd: 56 minutes.
Today time to Eagle Ledge: 1:04, July 2nd: 1:06
Today to camp 4: 1:28, July 2nd: 1:26
Today to top: 2:37:05, July 2nd: 2:43:33

Today we passed four parties along the route.

Add a Comment