Psychedelia – The Spot Gym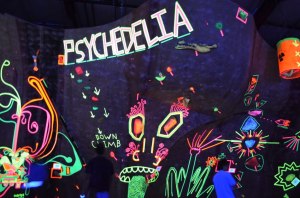 Photo by: Melinda Rider
The annual Psychedelia competition took place at The Spot Gym on Saturday, 20th of October. This event is the second event of the season for The Spot Gym, and deemed to be the most popular event of the season.
Psychedelia is all about having fun and enjoying yourself. It has a great party atmosphere featuring wild shows and loads of entertainment for all ages. Many have said that Psychedelia is one of the most interesting, unique and exciting competitions in the country.
One of the major features at the Psychedelia competitions is the black light climbing. Members and volunteers spend a couple days before the event laying down colorful tape across the climbing walls. These end up as various artworks around the gym which are brought to life with the black lights, making the taped areas glow up brightly! This of course makes for a rather interesting climb up the walls.
There were also great prizes up for grabs from the sponsors of the event and it even included a costume contest.
Food and drinks were supplied by Avery Brewing Company and Naked Pizza – Boulder, there was also a raffle on hand where climbers could win amazing prizes from some of the other sponsors such as gear from Moosejaw Mountaineering, crash pads from Kinetic Climbing Products, rock climbing shoes from La Sportiva, protein drinks from Mix1, gift cards and jackets from Adidas Outdoor, and stuffed animal chalk bags from Crimp Chimps.
The finals comprised of the top 6 men and women from the youth and adult groups. Their scores were calculated by combining their climbs to reach a final score. The onsight format was used - therefore competitors could not watch the other climbers until they had climbed themselves. Each climber was given time to preview the wall and then 4 minutes to attempt the climb. If a climber was still on the wall at the 4 minute mark they got to finish that attempt.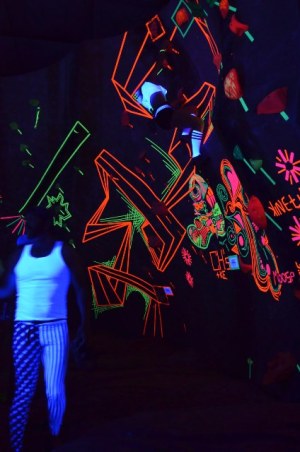 Photo by: Melinda Rider
Men's Final
The men's finals started off with a bit of confusion due to a misplaced scorecard. The format usually runs from the person who qualified last upwards, but Greg Seitz ended up by starting things off in the finals even though he qualified 3rd overall.
Greg was full of energy and made a great attempt, he managed to peak at hold 13 before falling off and couldn't manage to get any higher.
Next out was Owen Graham from Team Texas Alumni. Owen is a young strong climber who has spent the last few years attending college in Fort Collins. He had an amazing climb in the finals and managed to work his way up to a score of hold 10 of his 3rd attempt.
Matt Lubar was the third competitor out, he has been a long time Spot Team member but for the last few years has been with Team ABC. Everyone was excited to see Matt in the final and he got great encouragement from the crowds and managed to send this problem on his 2nd go!
The fourth competitor out was Matt Wilder. Matt is also a rather famous rock climber, he has added many first ascents of hard boulder problems to his name, he is also a guidebook author. Matt is a regular competitor at many of the Spot Series events and is a top contender, making it into the finals at many of the events. Matt was on form in the finals, unfortunately his feet slipped near the top and the same thing happened on his next go leaving him with a score of hold 10 on his second go. In spite of his climb, Matt managed to win the best costume contest.
Following Matt was Sergei Kiefel. Sergei was also a long time Spot Team member but has gained great experience and skills throughout the years and is now setting out on his own. Although Sergei's climbing abilities are getting stronger, things started off rough for him in the finals as his first three attempts got him nowhere, but on his last attempt he managed to work his way up to a score of hold 10.
The final competitor in the men's finals was Ben Hoberg. Ben was on top form throughout the competition, he was the top qualifier and also the winner of the first event of the season, The Gun Show 2012, which happened on the 29th of September. Ben went into the finals very comfortably, on his fist attempt he slipped but managed to send the problem on his second attempt and reached the top of the boulder with the crowd applauding his great effort.
Big congratulations to Ben for taking 1st at this event!
Men's Final Scores
Ben Hoberg (top 2nd go, 1st place qualifier)
Matt Lubar (top 2nd go, qualified lower)
Greg Seitz (hold 13-)
Matt Wilder (hold 10, 2nd go)
Sergei Kiefel (hold 10, 3rd go)
Owen Graham (hold 10, 3rd go, qualified lower)
Women's Final
The women's finals took place on the Hueco Boulder and involved a rotating pipe and two handing dog bones. A few rules were set up, "don't get stuck in the ropes, don't crawl over the top of the pipe, don't hit your head on the bones, and don't forget to pat the bat!" which made the finals a lot of fun for the competitors and the spectators.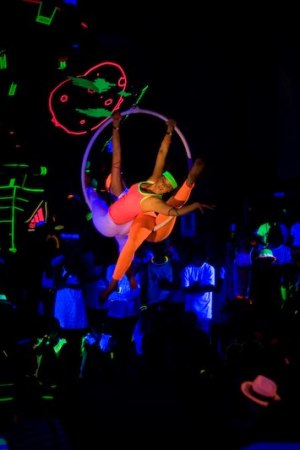 Photo by: The Spot Gym
First out in the female finals was Isabelle Goodacre, Isabelle was doing it for Team ABC and has performed in pro finals at the Spot before. Isabella attached the problem and managed to clean the bones and the transition to the pipe, just falling off after grabbing the hold 10. She managed to get to the same position twice more getting her a score of hold 10-.
Next out was another ABC climber, Laurel Todd. Laurel gave an outstanding performance on the bones section and rotating pipe, though she encountered the same problem as Isabelle on hold 10. Laurel managed to get a final score of hold 10-.
Hailey Bridgewater from Iowa was out third. She started by having some trouble with the bones and rotating pipe as she had never experienced any features as these before, but she managed to work it out 2nd go. Hailey couldn't manage to get a solid grip of hold 10 before falling off, getting her a score of hold 9+.
Next out was Margo Hayes, Margo is another ABC climber and also took third place at The Gun Show competition. Margo's first attempt ended shortly before reaching to the hanging bones, she definitely did not expect to fall so early on her first attempt. On her second go she got past the bones and across the pipe, managed a solid hold 10 then proceeded to send it all the way to the top with great support from the crowd.
Tiffany Hensley was the fifth competitor out, Tiffany also happens to be a coach at the Spot Gym. She was also on top form. On her first attempt she almost managed to get a hold 12 but just couldn't make it as she was in a weird position. Her next attempt got her to hold 12 but also couldn't get any further, therefore getting a score of hold 12.
The final competitor out was Nina Williams who also happened to win The Gun Show Competition held earlier this season. Nina has been attending many competitions over the past few years and has been doing very well in them. Nina's first attempt was powerful but she fell just before reaching hold 10, this was a problem for many of the competitors. Nina wasn't taking chances on her second attempt and sent the problem. This secured first place for Nina as she qualified higher than Margo.
Huge congratulations to Nina for coming out on top at Psychedelia 2012!
Women's Pro Final Results
Nina Williams (top 2nd go)
Margo Hayes (top 2nd go, qualified lower)
Tiffany Hensley (hold 12)
Laurel Todd (hold 10-. 1st go)
Isabelle Goodacre (hold 10-, 1st go, qualified lower)
Hailey Bridgewater (hold 9+)
Below is a video of the hoop performance at the Spot Gym with Juliana Gaines, Amanda Thibault, and Kaitlyn Eans.
For more information on the final results, visit The Spot Gym's site here.