Red River Wrap-up: The Fall Report
by Paul Nelson
For the last eight years or so, the Red River Gorge of Kentucky has exploded in popularity. Due to ample overhangs that stay dry in the rain, a series of climber-friendly land acquisitions, weekend-travel distance from much of the Midwest and Eastern Seaboard, and the simple fact that its high-friction sandstone weathers into tons of holds on steep terrain, this is now THE area for college-age road-trippers, visiting Euro superstars, and gym rats to visit.
Compared to years past, when notables such as Adam Ondra, Ashima Shiraishi, and Sasha Digiulian crushed the 5.14+'s, the news from the Red this fall has been fairly limited. Is this because the wet, rainy weather was even worse than usual? Has the Red finally passed its peak coolness factor for mutant climbers? It may be a combination of these factors. However, a few noteworthy things did still happen over the last few months, and as December sets in with warmer-than-usual conditions, we may still see some cool ascents going down.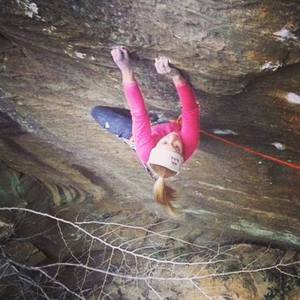 Digiulian on Thanatopsis, taken from her Twitter feed. Photo Keith Ladzinski.
Starting off a few months ago in early October, Sasha Digiulian took a few days off of life as a student at Columbia University to make a trip to Kentucky, and managed an ascent of
Thanatopsis
(5.14b). This route is fairly unique for the area. Put up in 1996 by a young Dave Hume, it was the first 5.14 to be established at the Red, and remains one of the less-travelled. While many routes in the area are steep, marathon endurance affairs,
Thanatopsis
is short and characterized by very hard individual moves that suited Hume's young, first-generation climbing gym background. Though less overhung than many other RRG routes,
Thanatopsis
was evidently "steep enough that the bad weather didn't affect the rock and I was able to rally for the send" in Digiulian's own words. The Red's guidebook says of the route, "14b may be a sandbag… Hume spend two or three years trying to do this route. Shortly after he succeeded he did
Just Do It
(5.14c) at Smith Rock in a mere four tries." Although new beta has been found to avoid Hume's original v10-ish crux, the route still packs 5.12+ climbing into a v9, followed by a 5.13a finish, all in 60 feet. Digiulian's send marks the first female ascent of the route.
A few weeks later the next crusher arrived, the relatively unknown 18-year old Sean Bailey of Washington state. In a blitzkrieg reminiscent of Jonathan Siegrist's 2009 trip to the area, Bailey quickly started dispatching the testpieces. First he onsighted two 5.13d's, Ultraperm at Bob Marley Crag, and Last of the Bohicans, an extension to the classic Bohica at the Motherlode's Madness Cave. Shortly thereafter he put away two 5.14c's very quickly, The Golden Ticket at the Chocolate Factory and Lucifer, a bouldery line at Purgatory crag. It is noteworthy that The Golden Ticket only took Bailey four goes, despite it having been originally rated 5.14+. He wrapped up his trip with three more 5.14c's (Siegrist's 24 Karats, Fifty Words for Pump, and Southern Smoke), more 5.13 onsights than I care to list, and then his first two 5.14a onsights (Omaha Beach and God's Own Stone). This spree has catapulted Bailey to the top of the 8a.nu heap, at least for Americans.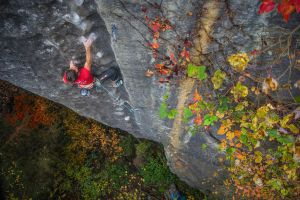 Fischhuber on The Tube. This photo, by Andy Mann, made National Geographic Adventure's "Extreme Photo of the Week" feature.
The sends seemed to die off after Bailey's spree, at least from the out-of-towners. The infamous tween invasions that usually hit the area did not really materialize at the same rate as they have in years past, when the likes of Brooke Raboutou, Kai Lightner, Ashima, and the Hörst brothers have trounced all of the place's (non-reachy) routes. RRG locals continued to crush, however, with Shaun Corpron, Kris Hampton, and Dru Mack all breaking the 5.14 barrier, and old-fart Ben Cassel emerging from retirement to repeat his now-popular route
God's Own Stone
. Visiting Austrians Killian Fischhuber and Anna Stohr also made a low-key visit, sending but not publicizing
The Golden Ticket
,
God's Own Stone
, the Motherlode's
Transworld Depravity
(5.14a), and the unique
The Tube
(5.14).
Then, as the Arctic Blasts began hitting the Midwest and November rolled to an end, Italian Stefano Ghisolfi stepped up, first onsighting a slew of 5.13's, as well as Omaha Beach (5.14a), and a second go send of Thanatopsis (despite the guidebook calling this line a sandbag, Ghisolfi's 8a.nu entry labels it "soft"). His major coup, however, was a send of Southern Smoke Direct. This line is probably the Red's hardest, and tacks a v13 boulder problem right into the 5.14c endurance route Southern Smoke. Originally speculated to be 5.15a (though FA Adam Taylor never gave it the grade), it was downgraded to 5.14d during "Hurricane Ondra," when visiting Best Climber in the World Adam Ondra flashed it.
After all these numbers and spray, which certainly have not helped dry up already nasty winter conditions in the Southeast (zing!), I think that we can probably count the best send of the year as a purchase of 3000 new stainless steel bolts by the Red River Gorge Fixed Gear Initiative. The softness of the rock, and just the sheer popularity of the place have been putting a lot of strain on the area's hardware, and several bolt failures have already occurred there. So, if you want to keep hearing about mutant gym rats warming up on harder than you'll ever send, and want to keep climbing safely at the most fun (not the best, the most fun) crag in the world, consider donating to the Mank Bank bolt fund.
***
UPDATE: Since this article was originally published, Ghisolfi has polished off most of the Red's other 5.14c's, including Lucifer, Fifty Words for Pump, Pure Imagination, and The Golden Ticket.
Thanks to Greg Kerzhner, Kris Hampton, and Ian Kirk for filling us in on all this news.