Up'n the Ante on NorCal Granite
by Ian Katz
On August 1st I sent "The Flying Monkey" in the Marble Gully of Beck's Tower, Castle Crags Wilderness, giving the route a grade of 5.13b(r). This route is 120' of climbing and has several hard 5.12+ sequences with gear being primarily tcu's. I began working this route late last season but couldn't complete it, so I picked up on it again in June when the last of the snow had melted out of the Gully. I was feeling like I would send it fairly quickly but was set back by a sprained ankle and other minor injuries I sustained in a fall while working the route. I've got several other projects in the works which will probably be in the same range of difficulty and are of the same high quality. Other notable new routes are 'Tagged' 11d, splitter cracks leading to a wildy exposed overhanging double arete and 'Don't Give up the fight', 12b bouldery sustained and well protected. Castle Crags Wilderness has unlimited potential for hard natural lines on high quality granite. The crux of course is getting there as approaches are an hour minimum on rugged back country terrain. Never the less I feel Castle Crags are a diamond in the rough and will be the site of some of northern California's hardest and boldest lines for generations to come.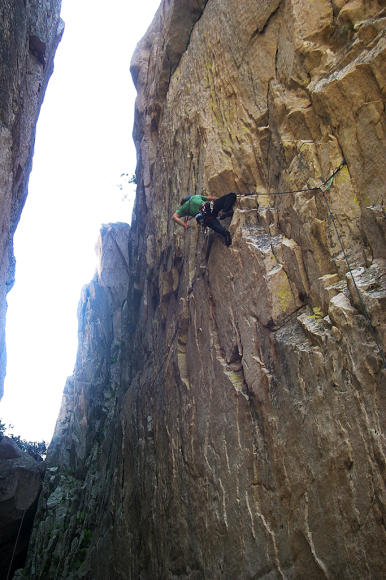 heading into the biz
Sean Malee
sonso45

2008-08-17
frickin awesome, glad you're hitting it hard. I gotta visit.
scottb

2008-08-18
Nice work, Ian. Hopefully I'll get a chance to climb with you guys some time this fall.
patmay81

2008-08-19
nice spray Ian, I wish I could climb that hard. ;)
braaaaaaaadley

2008-09-05
I'm glad your climbing hard, but you make yourself look bad when you write an article about your own send. You should try and wait until you get good enough so that others write about your accomplishments. Your article made me think about that thread a couple months ago where some kid who had been climbing something like four months asked how hard he had to send until he gets sponsored. Of course he then went on to name all of the gym routes and ratings he had sent. Your article put the same bad taste in my mouth as this one had done. Again, I am not trying to take away from your send because it sounds and looks impressive, but it really takes away from it when you write about it in this sense.
Add a Comment