2012 Lead World Cup - Final Stage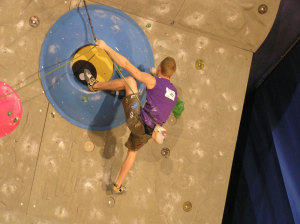 Photo by: © Franz Schiassi
The ninth stop and final stage of the 2012 world Cup series took place on the 17th and 18th of November in Kranj, Slovenia. This lead competition came to an exciting finish with Mina Markovic from Slovenia taking first in the women's final, and Jakob Schubert from Austria taking first in the men's finals.
The men's final route was dominated by Jakob Schubert who managed to climb almost 10 holds higher than the second place finisher, Sachi Amma, and Magnus Midtboe fell just below Sachi Amma taking third position on what was estimated to be a 5.14a/b route.
The women's final kicked off next and was tense from the start. Momoka Oda from Japan, Mina Markovic and Maja Vidmar managed to reach the same hold in finals and therefore their final placing was determined from their semi-final results, this left Mina taking the top spot.
Mention must go out to Dinara Fakhritdinova from Russia and Jain Kim from Korea who both managed to top out in the semi-finals but couldn't capitalize in the finals, leaving Jain Kim in fourth overall, and Dinara Fakhritdinova in ninth place.
The overall lead World Cup title went to Sachi Amma, this is his first overall World Cup gold! Mina Markovic has dominated the 2012 season, not only taking this stage but also got top positions in the women's Lead World Cup 2012 final standings and women's combined rankings for 2012. See the full results here.
Lead World Cup 2012, Kranj – Men
Jakob Schubert (AUT) 43+
Sachi Amma (JPN) 34
Magnus Midtboe (NOR) 33+
Jorg Verhoeven (NED) 33+
Thomas Ballet (FRA) 27+
Romain Desgranges (FRA) 26+
Ramón Julian Puigblanque (ESP) 22+
Hyunbin Min (KOR) 16+
Lead World Cup 2012, Kranj – Women
Mina Markovic (SLO) 37+ (39+ in Semifinal)
Momoka Oda (JPN) 37+ (38+ in Semifinal)
Maja Vidmar (SLO) 37+
Jain Kim (KOR) 36+
Akiyo Noguchi (JPN) 31+
Johanna Ernst (AUT) 28+
Evgenia Malamid (RUS) 28+
Christine Schranz (AUT) 28+
Dinara Fakhritdinova (RUS) 23+
Lead World Cup 2012 Final Standings – Men
Sachi Amma (JPN) 600
Ramon Julian Puigblanque (ESP) 568
Jakob Schuber (AUT) 538
Lead World Cup 2012 Final Standings – Women
Mina Markovic (SLO) 675
Jain Kim (KOR) 617
Johanna Ernst (AUT) 522
Combined Ranking 2012 – Men
Jakob Schubert (AUT) 737
Sean McColl (CAN) 681
Sachi Amma (JPN) 499
Combined Ranking 2012 – Women
Mina Markovic (SLO) 764
Jain Kim (KOR) 631
Akiyo Noguchi (JPN) 590