Bouldering World Cup 2010 Results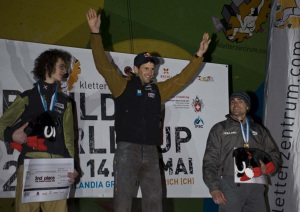 Mens Winners
Photo by ASP Red Bull
Last weekend saw the start to the Boulder World Cup 2010 in Switzerland, with some exciting bouldering taking place. Kilian Fischhuber managed to surpass Adam Ondra after a good semi-final run which lead him to first place after the two were neck and neck. Bronze was handed to Christian Core followed by Cedric Lachat in forth place.
Fischhuber had some troubles on the second problem in the finals, though flashed both problem 1 and 3. Odra managed to get three tops in the first three problems during the finals, the first problem required 3 tries before he managed to top it, while the other two he managed to nail. At this stage both Fischhuber and Odra were tied in regards to the finals, though Fischhuber had a better semi-final run and was slightly ahead in that regard. For Odra to stand a chance at winning he would need to flash the final problem and hope Kilian Fischhuber wouldn't be able to follow suit....
Odra does it! Flashing the final problem and leaving everything up to Fischhuber. Kilian would need to flash the problem if he were to win the title, and that he did. After the neck and neck battle between the two Kilian managed to pull it out from Odra with a flash on the final problem and a leading score in the semi-final, making him the winner of the mens section.
The United States were also representing in the form of Alex Johnson, who won the womens title after some very close competition with the other competitors. The competition was just as, if not even more tight in the womens section where Alex managed to just inch past her fellow competitors in claiming first place by a difference of only 1 attempt.
Mens Results
1. Kilian Fischhuber AUT
2. Adam Ondra CZE
3. Christian Core ITA
4. Cédric Lachat SUI
5. Klemen Becan SLO
Womens Results
1. Alex Johnson USA
2. Akiyo Noguchi JPN
3. Chloé Graftiaux BEL
4. Cecile Avezou FRA
5. Katharina Saurwein AUT
Full Results Full List of IFSC Results

The next stage of the IFSC Bouldering World Cup will be held in Vienna on 28-30/05/2010.


cultureshock

2010-05-19
Also:

http://www.youtube.com/watch?v=_vH0KbJKcDM
Add a Comment