Dark Horse Championship Series 4 Highlights and Results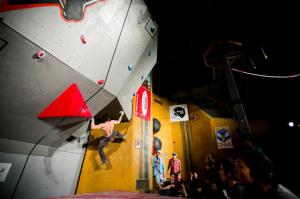 Photo by: Vince Schaefer
On the 19th of January, Metrorock in Everett, MA, hosted the 4th and final series of the Dark Horse Championships.
Dave Wetmore and Josh Larson were in charge of running the event and have done well in the past but this year they made it bigger and better than before with a whole new wall for the climbers to sample. The way in which this event works is that any climber can compete, pro or non pros are all welcomed.
The Dark Horse Championships is made up of 4 series, this being the final in the series and included the likes of Daniel Woods, James Webb, Vasya Vorotnikov, Nick Piccarella, Paul Robinson and Josh Levin, all in contention for the top spot on the podium.
Winners from the previous events were automatically qualified for the final series event, giving James Webb, Vasya Vorotnikov, and Josh Levin safe passage to the finals, for the rest of the climbers a qualifying round was in order.
Qualifying
The qualifying round saw many top notch athletes compete to fill the 6 spots into finals, these included Daniel Woods, Brian Kim, Paul Robinson, Rob Anastasio, Carlo Traversi, Michael O' Rourke, Sebastian Lazure, Nick Piccarella and many more.
All climbers were allocated 2 hours to complete their top 5 boulder problems in redpoint format, the first place into finals was secured by Daniel Woods as he managed to send the top 5 hardest climbs.
Finals
Daniel Woods, Nick Piccarella, Paul Robinson, James Webb, Vasya Vorotnikov, Josh Levin, Carlo Traversi, Michael O' Rourke, and Sebastian Lazure all made it to the finals.
The finals consisted of 4 boulder problems to complete, and was scored by number of tops and the amount of points for each hold gained. All climbers warmed up in isolation to prevent any beta from being obtained in order to maintain a fair competition.
Paul Robinson managed to flash the first three problems but was unable to complete the forth. Nick Piccarella also managed to send three problems and managed to get more hold points putting him above Paul. Daniel Woods managed to claim the top position and Dark Horse Champion for 2013. He flashed the first problem, then got problem 2 on his second try, problem 3 on second try, and sent problem 4 on the first attempt, this secured Daniels third Dark Horse win!
Congratulations to Daniel Woods, and all participants who made this event a great success.
Menís Pro Final Results
1. Daniel Woods
2. Nick Piccarella
3. Paul Robinson
4. Carlo Traversi
5. James Webb
6. Vasya Vorotnikov
7. Michael O' Rourke
8. Josh Levin
9. Sebastian Lazure
Womenís Pro Final Results
1. Isabelle Faus
2. Angie Payne
3. Meagan Martin
4. Chelsea Rude
5. Annalisa Flynn
6. Katie Lamb
7. Kasia Pietras
8. Galina Parfenov
9. Zoe Liebovitch
Dark Horse Championship Series 4 Highlights
Dark Horse 2013 Series 4 Championship Highlights from Louder Than Eleven on Vimeo.
UhhhTake

2013-01-28
Would it have killed the author to spend some time describing the women's performance? Until I got to the table at the bottom of the article I started to wonder if the women's portion was going to be mentioned at all!
Gmburns2000

2013-02-02
Agreed. Not a single word about the ladies. Maybe they simply weren't as interesting? I doubt it.
fred-iv

2014-07-12
I believe there shouldn't be a gender distinction at all.
Add a Comment