La Sportiva Legends Only 2012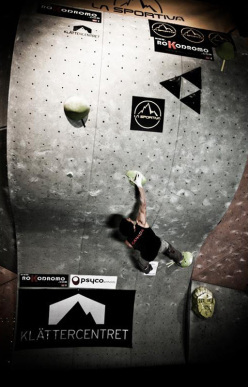 Sean McColl. Photo by: Lars Lindwall
The second instalment of the La Sportiva Legends Only boulder competition took place on the 1st of December at one of europe's top climbing facilities, Klattercentret in Telefonplan, Stockholm.
The setup for the 2012 La Sportiva Legends Only invitational competition included five bouldering problems to be tackled by some of the best climbers in the world namely Adam Ondra (CZE), Dmitry Sharafutdinov (RUS), Jakob Schubert (AUT), Guillaume Glairon Mondet (FRA), and Sean McColl (CAN), who need no introduction.
This boulder competition was an "after work" competition where the climbers had an opportunity to have a 2-3 hour session the night before to work out the problems. The problems set by chief route setter, Shauna Coxsey and her team were estimated in the region of V11 – V13. The work sessions were intense and there was no clear person standing out, all had a good chance of taking the win.
The competition kicked off on the Saturday evening and after the first two boulder problems, Adam Ondra and Sean McColl were in the lead with two flashes. Adam did have some problems on the third boulder route which bumped him down allowing Dmitry Sharafutdinov to move into the second spot. On the last boulder problem, the athletes climbed in reversed order to the leaderboard, leaving the outcome of the competition uncertain until the very last climber.
Guillaume Mondet was the first out to tackle the problem and managed to top this difficult problem. Adam Ondra and Jakob Schubert unfortunately were unable to capitalize on the last boulder problem. Dmitry Sharafutdinov came out swinging and even managed to flash this problem, this left Sean McColl up last, he had two attempts to top this boulder problem if he wanted to win, and with a dramatic finish, Sean managed to top the problem on his second attempt.
Huge congratulations is in order for Sean McColl, also ending his year on a high note.
Planetmountain managed to get an interview with Sean McColl straight after his last climb, see it here.
Final results:
Sean McColl (CAN)
Dmitry Sharafutdinov (RUS)
Jakob Schubert (AUS)
Guillaume Glairon Mondet (FRA)
Adam Ondra (CZE)
Below is the highlights from the boulder problem 2: