Maureen Beck Wins Paraclimbing Worlds
by Paul Nelson
Although not too many American climbers were paying attention, September's International Federation of Sport Climbing (IFSC) competitions saw some amazing results. First, at the adult championships in Gijon, Spain, Adam Ondra became the first climber to ever win both the Lead and Bouldering titles in the same season. Then, at the Youth Championships on the Pacific island of New Caledonia (ever heard of it?), American Kai Lightner took the gold medal in lead climbing.
Closer to home here at rockclimbing.com, one of our own has finally reached world domination in the comp field. Maureen "Mo" Beck of Arvada, Colorado, better known here as Carabiner96,, recently took first in the World Paraclimbing Masters event for her division, Women's Amputee Arm. In other words, it's official: 'Biner is the greatest one-armed female climber in the world!
Maureen admits that it was a fairly small field of competition: she qualified to make it to Worlds in Spain by taking first in nationals at Stone Summit Gym in Atlanta in a field with no competitors. Nonetheless, she trained her tail off in the gym in the months leading up to the comp, and managed to beat out climbers who were younger, taller, and stronger than her.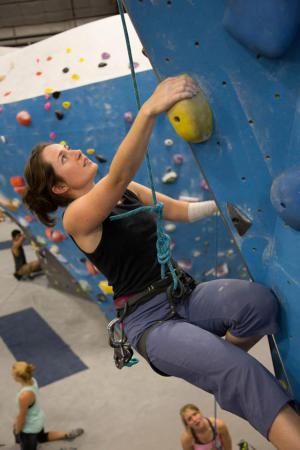 Carabiner96 putting in laps on the plastic
Victor Henderson
Although she has been climbing for over a decade, Maureen had to relearn her technique and approach for this competition. Outdoors, she does best on the traditional footwork-intensive slabs and jam cracks, such as those of Cathedral Ledge, NH, where she learned to climb. However, as anyone who has made the transition from real rock to plastic knows, gym climbing focuses on big moves on steep angles. So, as part of her training, Maureen worked on the body positioning, straight-armed efficiency, and flow that so many gym rats excel at.
When I climbed with Maureen several years ago on the granite of Lover's Leap, California, she would grab a hold with her right hand, match on it with her left stump, the bump up to the next with righty again, while simultaneously mantling up with stumpy. This approach obviously does not work so well on steep terrain, and she really had to relearn movement for this comp. In viewing the video of her climbing the finals route (it starts around 1hr10min), I noticed that she was doing very little of the old "match'n'mantle" maneuver, and was instead wrapping holds with her stump, locking off, and moving off of them!
When Maureen is not climbing, she lives with her husband, Brian, in Colorado with their dog, Burley, and cat, Nugget. We will be paying close attention as she continues to train and compete in bouldering and sport comps here and abroad. Paraclimbing is just taking off as a sport, and we are beyond psyched that one of our own is at the forefront as it develops and matures. Go Mo!
carabiner96

2014-09-26
Hey clam! Thanks for the article! Just to clarify while the greater event was the world championships, any field that had 4 or less competitors was deemed a masters event, not a championship. So if anyone knows any one armed climber ladies out there please get them competing because I want the official world champ title in Paris!
Add a Comment