PanAmerican Championships 2012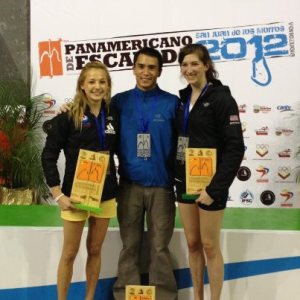 From left: Sasha DiGiulian, Sean McColl, and Francesca Metcalf
The Pan American Championships took place from the 7 Ė 11th of November in San Juan de los Morros, Venezuela. This championship is held every two years and this year, was attended by nearly 100 competitors from Brazil, Canada, Costa Rica, Mexico, Peru, and USA.
The US presence at this yearís PanAmerican Games included Sasha DiGiulian,20 , and Francesca Metcalf,19.
Sasha DiGiulian dominated this yearís championship by taking first place in both the lead climbing and bouldering events, and ended up returning home with three gold medals for lead, bouldering, and the womenís overall divisions.
Sashaía outstanding performance is nothing new to the PanAmerican Games, she has consistently placed first in the PanAmerican Youth Championships since 2004, and Sasha managed to take first place in the womenís lead climbing event in 2010. This yearís win was a huge motivator and confidence boost as Sasha had ruptured her A-2 pulley on her left ring finger and had to pull out of the finals at the Arco Rockmaster in Italy. This also caused her to miss both the World Championships in Paris and the World Cup in Atlanta, USA. This fall was definitely a rough time for Sasha because of her injury.
Sasha told Rock and Ice: "I'm REALLY happy. I was nervous. This competition meant a lot to me especially after having to sit out for Paris and Atlanta. I've been really motivated to get back though, lately. It was difficult to train as much as I'd like to having started at Columbia University this fall, but I have been training at Chelsea Piers and Brooklyn Boulders to prepare!"
With this victory at the PanAmerican championships, Sasha DiGiulian has earned a spot at the World Games in 2013 where she will be representing the USA.
A mention must also go out to Francesca Metcalf who placed second in the bouldering final.
Sean McColl, 25, from Canada, managed to take the top spot in menís lead and second in the bouldering event. He started on a high note by tying for first in the qualifying round, he then dropped to a third place tie in the semi-finals, but managed to take the win in the finals. On top of the gold for lead, and silver for bouldering, Sean also took silver for menís overall divisions.
Venezuelan climbers also made their presence known, the womenís lead top five was rounded out by Francis Rodriguez, Francis Guillen, Alvaeliz Ortega, and Rossi Gabazķ.
Top stand outs include Francis Guillen who placed third in the womenís bouldering behind the USA competitors, Manuel Escobar who place first in menís bouldering and speed, and third in menís lead, and also Reinaldo Camacho who took second in menís lead.
The Venezuelan competitors bagged 12 medals at this yearís PanAmerican Championships, these include three gold, four silver and five bronze medals in the lead, bouldering, speed and overall divisions.
Congratulations to Sasha, Sean, and Manuel for their outstanding performances at the PanAmerican Championships 2012!
Womenís Lead Final Results
Sasha DiGiulian (USA)
Francis Rodriguez (Venezuela)
Francis Guillen (Venezuela)
Alvaeliz Ortega (Venezuela)
Rossi Gabazķ (Venezuela)
Carolina Rosero (Ecuador)
Menís Lead Final Results
Sean McColl (Canada)
Reinaldo Camacho (Venezuela)
Manuel Escobar (Venezuela)
Christian Medina (Ecuador)
Mauricio Huerta (Mexico)
Richard Morales (Venezuela)
Womenís Bouldering Final Results
Sasha DiGiulian (USA)
Francesca Metcalf (USA)
Francis Guillen (Venezuela)
Francis Rodriguez (Venezuela)
Lucelia Blanco (Venezuela)
Rossi Gabazķ (Venezuela)
Menís Bouldering Final Results
Manuel Escobar (Venezuela)
Sean McColl (Canada)
Mauricio Huerta (Mexico)
Reinaldo Camacho (Venezuela)
Josmar Nieves (Venezuela)
Esteban Eguez (Ecuador)
Menís Speed Results
Manuel Escobar (Venezuela)
Leonel De Las Salas (Venezuela)
Womenís Speed Results
Lucelia Blanco (Venezuela)
Francis Guillen (Venezuela)