Rockclimbing.com Gets a New Owner and Goes Back to Outdoor Retailer!
Submitted by
climbs4fun
on 2014-08-22
Rating
:






Login
to rate this article. Votes: 0 |
Comments
: 3 | Views: 5637
As most of you know by now, RC.com has new ownership! What this means to you, the user, is that things will start to change around here. Look for the changes to be in front-page content starting with this brief* re-cap of Outdoor Retailer Summer Market. While I'm no Vegastradguy, I'll do my best to bring you a sneak peek into some of the shiny new goods coming soon to a retailer near you around the first of the year.
*Due to our trip being planned on short notice, we were not able to visit with all of the companies that we would have liked to, but we look forward to speaking with them at future shows.
Scarpa
The folks at Scarpa were excited to show us a new line of shoes that appeals to all types of climbing styles.
The Furia
Nothing between you and the rock but… stick!" is how Scarpa describes this ultra aggressive shoe. "With no midsole between your foot the Vibram XS Grip2 rubber, you can feel every feature and can activate every nerve and muscle in your foot."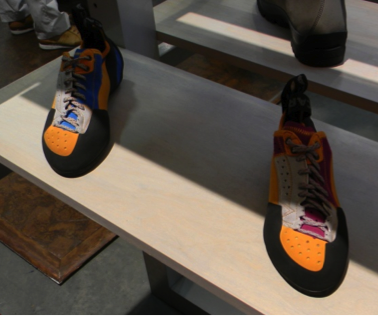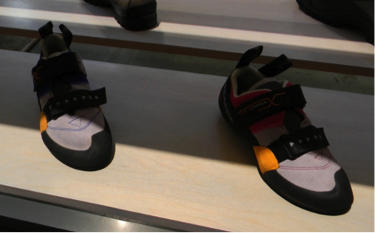 Techno X and Force X
The Techno X is billed as an all-day trad shoe with precision features while incorporating all-day comfort, while the Force X is great for alpine and long routes with the comfort of an approach shoe.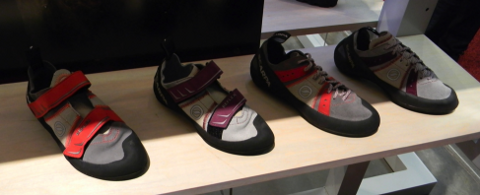 Reflex and Helix
The Reflex and Helix are great beginner or rental shoes due to their comfort level and affordability.
Metolius
Metolius had many new products for 2015, but the two that Brook was most excited about were the Sport Glove belay glove which sports a supple goat skin palm with a breathable stretch nylon back (pictured below with ¾ finger next to the original belay glove) and the Bravo Keylock Carabiner which is exceptionally lightweight with a strength rating of 24kn.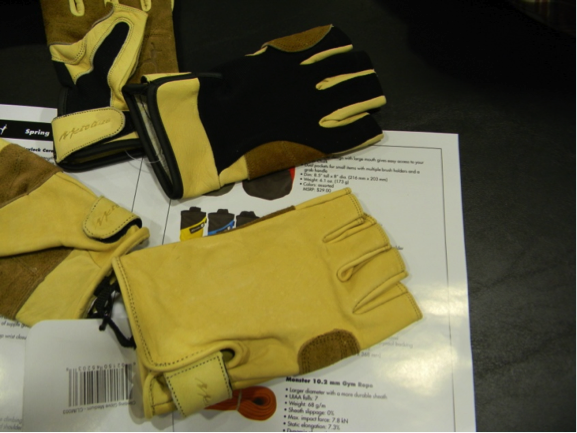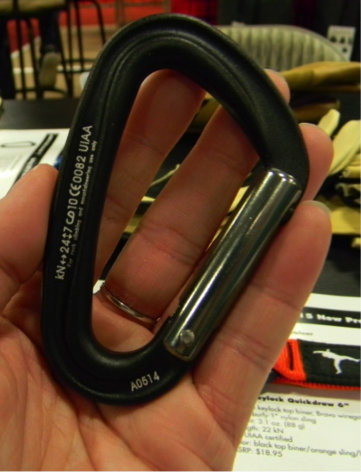 DMM
A chat with DMM revealed two new innovative belay devices, The Grip and The Pivot.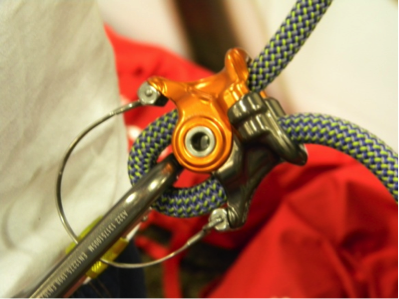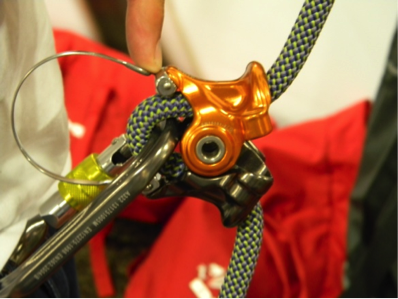 The Grip
This is not your standard belay device! The Grip will allow you to catch a fall without changing or learning a new belay technique. The Grip is a concept intended to increase the levels of safety that includes springs, magnets, and a unique split body construction.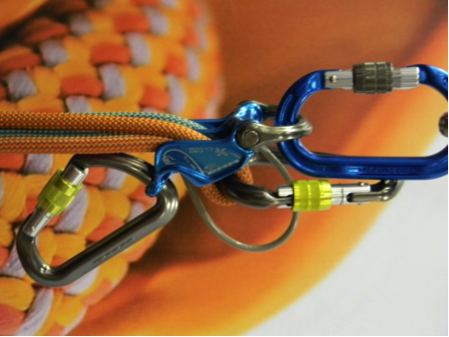 The Pivot
The Pivot allows one to belay from the harness or directly from the anchor. What makes this belay device so different is the innovative pivot – this solution shifts the lever arrangement to allow controlled and easily initiated lowering when used in guide/direct mode. Even with a weighty second, the belayer can lower one, both, or either second with total control using the specially shaped biner cavity.
MadRock
Our friends at MadRock wanted to talk to us about their new belay device – the Lifeguard – and their new Obe Carrion designed super aggressive shoe, the Red Line.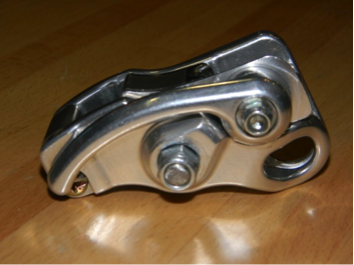 The Lifeguard
Kenny assured us that the final product will be much prettier, but this gives you the idea. The Lifeguard assisted braking device is compact, light, and durable. The Lifeguard is designed to be used with single ropes ranging from 8.9mm to 11mm.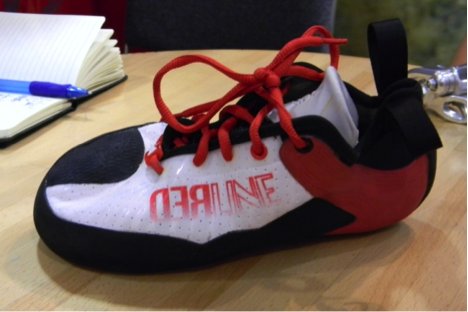 The RedLine Shoe
This shoe is jam-packed with features from the silicone frame which allows for a dynamic fit for all varieties of foot shapes to the patented concave sole which allows climbers to use their feet almost as though they would their hands to grab hold on overhanging climbs.
Mammut
Mammut had some fun and impressive new harnesses to show from the fun "Realization" pants/shorts with integrated harness to the high-end Zephir line harness.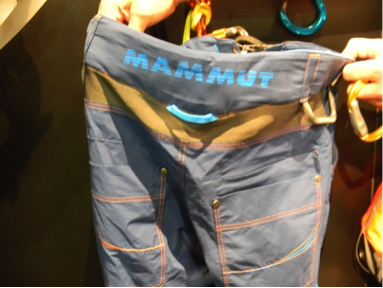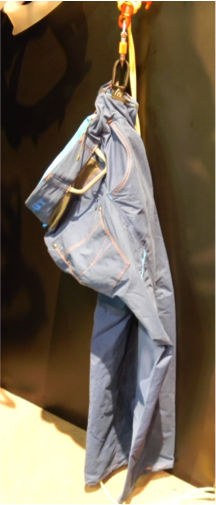 Realization
The Realization features fast and easy adjustment with the practical board short closure which makes tying in correctly through both tie in loops which are a part of the integrated harness structure. The load bearing structure is made of one single Split Webbing integrated into the waist (hipbelt) and inner pants (legloops).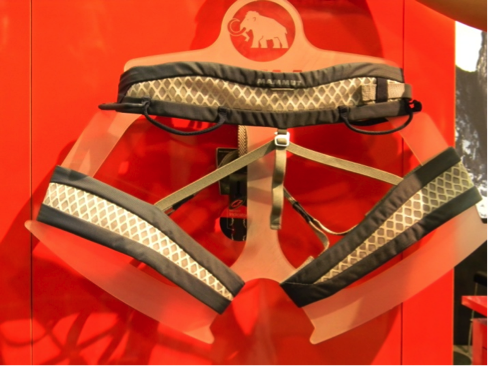 Zephir
What makes this harness unique is the new and innovative webbing developed just for this harness. A complex webbing process is used to split one piece of webbing into two sections which allows for even pressure distribution across the whole width of the hip belt and leg loops.
Omega Pacific
Omega Pacific had a couple of new pieces to show, one was a super lightweight spring-gated keeper biner with a strength rating of 27kn and the other was a super useful nut tool with an extra grabber tool that fits into the holes on the lobes of cams and link cams without grabbing trigger wires.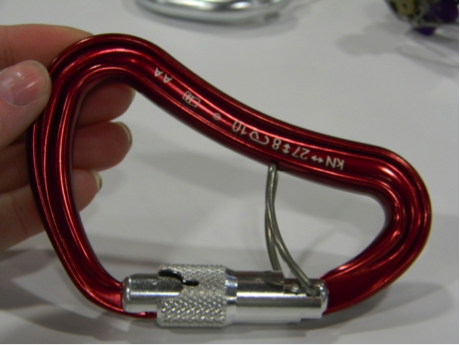 Sterling
We sat down with the folks from Sterling on the final day of the show. They had some new ropes to show with new upgraded sheath weaves designed to avoid slippage and of course new colors.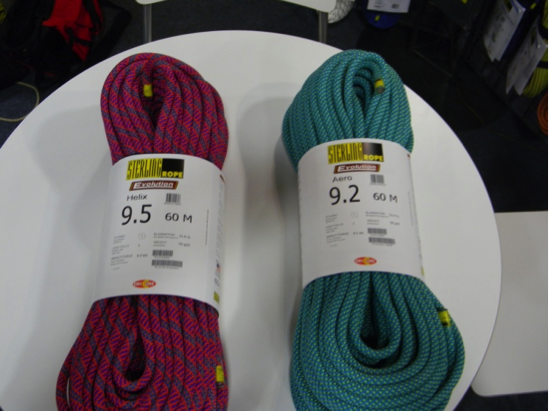 CAMP
CAMP had a ton of new gear to show, mostly in the carabiner space, however, one exciting new piece of gear was their Matik belay-descender device with assisted breaking. This device is designed to reduce the impact force of a fall by 40% while also reducing the wear on the rope caused by pincing from the camming device. The proprietary anti-panic system double-hinged lever automatically blocks the rope if the user loses control of the descent.
The device sounds complicated, but I really liked the way the rope moved through while feeding slack without engaging the camming device, and lowering with it is a breeze.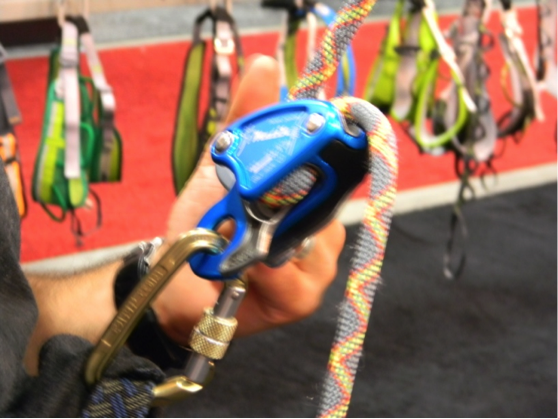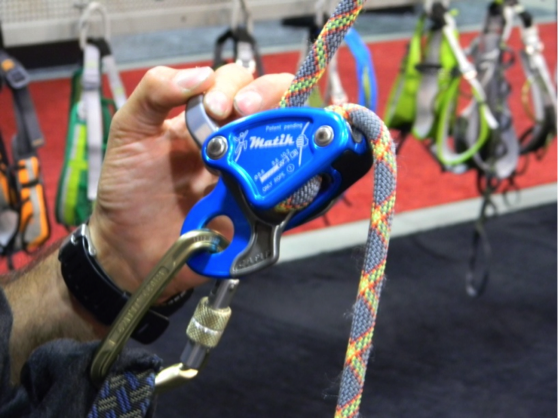 The other item that the CAMP crew was excited about was the 22 gram nano carabiner. While the nano has been out for a while now, they have improved the strength ratings to 21kn.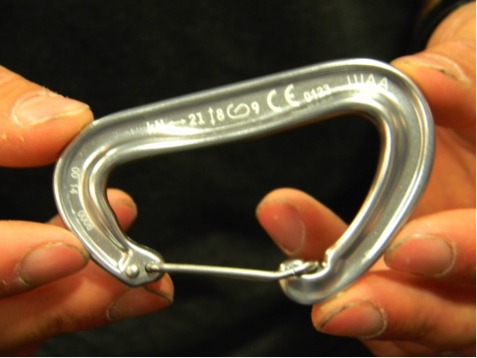 Jeff and I met with several other gear manufacturers and while we did browse the goods so-to-speak, the focus of those meetings (as it was with all of them) was more on relationship building and less on the gear. But not to worry, good things are coming and you will all be able to get the heads up on new gear going forward!
sonso45

2014-09-07
I'd like a Pivot. Looks like a good tool. Nice write up.


climbs4fun

2014-09-18
Sonso45, it was remarkably easy to use.

And thank you
ngolden02

2014-09-19
I wonder if there were any new pieces for hauling? Still trying to figure out the best setup for three giant haul bags & everything else associated with it...
Add a Comment