Anthony Love Awarded the Access Fund's Bebie Leadership Award
Submitted by
eric_crews
on 2010-02-21 | Last Modified on 2010-02-22
Rating
:






Login
to rate this article. Votes: 2 |
Comment
: 1 | Views: 5023
by Robert E Crews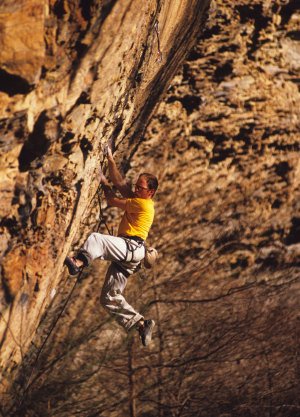 Anthony Love, the 2010 Bebie Leadership Award recipient, hanging tight at the Red River Gorge
Anthony Love Collection
Anthony Love doing what he loves.
Anthony Love, president of the Carolina Climbers Coalition, was recently awarded the Bebie Leadership Award by the Access Fund, a national climbing advocacy organization. For Love, what began simply as love for climbing and time spent in nature has developed into a pursuit of preservation. When Love, a lab technician at ASU, isn't examining recent soil samples and mineral deposits in the Rankin Science Building, he can most likely be found out at one of the area crags on a favorite climbing route or boulder problem.
Love's long hours in the lab, mixed with a serious pursuit of climbing, would seem to absorb most anyone's free time. However, even with a busy schedule, Love makes the most of his extra time to volunteer for several area organizations that seek to preserve and enhance climbing opportunities in the area. Most recently, Love has been working in a volunteer capacity as president of the Carolina Climbers Coalition on a number of projects that merge rock climbing with land conservation.
When a tract of land at Rumbling Bald, one of the state's premier bouldering destinations, went up for sale earlier this year, many in the climbing community envisioned a not-so-distant future when the bulldozers of progress would be clearing the land for another multi-million dollar home. That very fear is what motivated the Carolina Climbers Coalition (CCC), a nonprofit organization that advocates for climbers across the Carolinas, to move quickly in acquiring the land.
In order to prevent the closure of the popular recreation area, the CCC arranged for a bridge loan from the Access Fund, a climber advocacy group that seeks to preserve access to climbing areas across the United States. The CCC applied for, and was granted, one of the first loans granted through a new program called the Access Fund Land Conservation Campaign (AFLCC). The AFLCC is the first-ever multi-million-dollar revolving loan program that provides local climbing organizations and other agencies with the funds and expertise needed to act quickly to save threatened climbing areas.
"In December 2008 we were in the process of looking for opportunities for new land acquisition projects," Love recalled. "We went through a list of possible opportunities and this one came out on top due to the feasibility of the project."
The CCC moved quickly through the application process and with the loan from the AFLCC, was able to purchase the land, thereby preserving the area in its natural state. Once the land has been paid for, the CCC plans to donate the land to the state of North Carolina for inclusion into the Hickory Nut Gorge State Park.
Currently, the CCC is working hard to raise money to repay the loan so that the funds they used to make this monumental purchase will be available to other climbers as soon as possible.
"We need everyone's help," Love said. "Whether it is $10 or $100—any money helps with this project. We need folks to spread the word to their friends who climb there and those who have never been there before. Go and enjoy this place and help us purchase it. Each and every person who donates plays a role in saving a boulderfield indefinitely."
Love's tireless activism and hard work to preserve land access for climbing, hiking and exploration have raised awareness of access issues and helped to create a grassroots movement to raise money to purchase and preserve other areas across the state.
"Anthony Love has done a lot to be a keystone in his community when it comes to protecting access," Joe Sambatora, president of the Access Fund, said. "It started years ago with his work in the Boone Climbers Coalition, and has led to his work with the Carolina Climber's Coalition. He's put in countless hours working and collaborating with the National Park Service around Boone and helped to maintain access to some of the most popular areas around the state, not to mention the successes he and the CCC have had over the years at places like Laurel Knob, Asheboro and most recently, Rumbling Bald.
"Of course, as Anthony said, it really takes a whole team and there's a lot of other people supporting the effort and we definitely recognize that, but we would like to recognize him for all of his outstanding leadership in that team effort," Sambatora said.
For more information on how you can get involved, visit Carolina Climbers
curt

2010-02-25
Hey Anthony,

Congratulations on the AF Bebie award from a fellow recipient, 2005.

Curt

Add a Comment