Climbing for Healthy Ovaries
Submitted by
slockwoo_knits
on 2007-02-12
Rating
:






Login
to rate this article. Votes: 2 |
Comments
: 3 | Views: 4600
by Samantha Lockwood
Philadelphia based Climb4Life Team Bury the Dragon is auctioning off two hours of climbing time with professional climber, Michael Reardon to benefit HERA, an all volunteer, grassroots non profit organization dedicated to raising money and awareness for Ovarian Cancer through rock climbing events. You can bid for climbing time with Michael on eBay now. The last day to bid is on 2/17. The climb will be in Philadelphia on in the evening of 2/18. You should bid and bid to win. Two hours with Michael is well worth it. Why? Well, all I can do is tell you about my experience with Michael Reardon.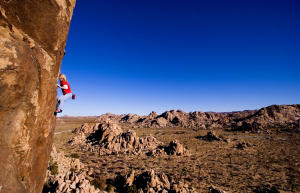 Free Soloist Michael Reardon
unknown

Free Soloist Michael Reardon.
Michael first met Team Bury the Dragon during the HERA Women's Cancer Foundation's Salt Lake City Climb4Life event in September 2006. I was lucky to have 12 friends join me in my adventure. We call ourselves Bury the Dragon in homage to the dragon which was tattooed on my chemo bald head being buried with hair when I went into remission. I continue to celebrate my remission by raising money for Ovarian Cancer through the HERA Foundation and Team Bury the Dragon.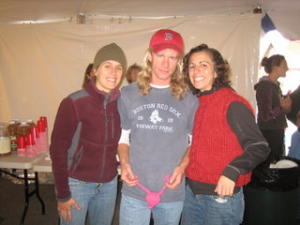 Michael Reardon holds knitted ovaries with Team Bury the Dragon Members
Andrew Simpson

Michael Reardon holds knitted ovaries with Team Bury the Dragon Members. Photo by: Andrew Simpson.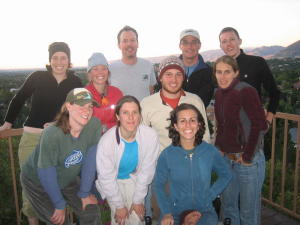 2006 Team Bury the Dragon -Climb4Life SLC

2006 Team Bury the Dragon -Climb4Life SLC.
During the 2006 SLC Climb4Life Event, I had the opportunity and pleasure to climb with Michael Reardon. If you don't know, Michael is a free soloist. Occasionally, I'd see a free soloist on the rock in Seneca climbing a 5.4 or something like that. I think to myself, I trip walking up the stairs NO way I'm getting above five feet without ropes. Well, Michael Reardon sends 5.13s without ropes, onsight. Meeting him made my jaw drop. Bad ass. Crazy shit.
Michael was assigned to Team Bury the Dragon as our 'pro' the day we climbed in the gym (it was raining). His wife, Marci, was a Climb 4 Life participant who actually raised more money than any other participant (over $11K). Their daughter was also with us. Michael really took the time to get to know us and share his philosophies. Five of us sat near a bouldering cave and listened while he and his daughter talked to us. We asked questions like. "Why?" "Are you afraid?" "Do you ever walk away from climbs?" "How do you deal with fear?" He answered our questions with passion, energy and frequent use of the eff word (scoring points in my book). We talked climbing, politics and travels. He was also just as interested in us as we were in him. He took the time to ask us questions about our climbing. I told him I wasn't climbing nearly as strong on lead as I do on TR because I had a HUGE paralyzing fear of falling, even in the gym. He looked at me and said -"Today you are taking falls."
Dread filled my gut. I tied in. He got on belay. He said, "Do the 10b". I said "but I can't". He said "you will learn to fall and thank me for it." I got on. He said, "by the way, if you yell 'take', I won't." I cursed him.
I had never done a 10b on lead, let alone with zero takes. I tied in. I was sweating and cursing. It was very over hung. I became aware that everyone in the gym was watching me. Great, ugh. I was terrified of falling, each hold, each clip I was so close to slipping. But my fear won out - I stuck each hold and pressed on. I finished the climb without falling. Every muscle in my body ached. I thought I was going to puke. Everyone in the gym was cheering and yelling at me for not falling. (Bastards.) I clipped to the top, I yelled 'take', Michael laughed. I said "TAKE!", oh no!...he isn't going to take. I let out a loud scream and let go. I fell about five feet before the rope caught me. I was thrilled. Michael said, "you didn't take a real fall". Dread filled my gut again. I knew what was coming. I obediently tied in to the 11c. This time I fell three times. My fear was fleeting.
When I got back to my hometown gym I knew I needed to continue falling. I talked to one dude who mentioned to me that when he learned to fall his climbing level jumped. I was inspired and ready. The next two times I climbed inside I decided I would only lead and the word "take" would not leave my lips. I was climbing to a fall. However, even with this new rule, I found myself only doing routes within my range. I wouldn't get on anything harder than a 10-. I was challenged but I wasn't falling.
After discussing my lack of progress with a few team BtD members one night, I decided I would fall. I warmed up on a 5.9. I then did a 5.9+, a really hard one because it is over hung the whole route at a 45 degree angle. HARD. I did it clean. I ached. I got on a crimpy 10-. Again, clean.
Oh crap, I was tired but I still hadn't fallen. I said to Keith and Andrew, "I am getting on that 5.11." Andrew's eyes widened. He was in Utah. He knew what my goal was. He said "do it". Keith grabbed my ropes. I said, "I don't expect to do the whole climb, it is way above my level and I'm tired. I just want to practice falling." Keith replied, "You can do the whole climb. You will get to the top."
Well that didn't happen, I was too pumped when I started... but I did surprise myself. I got on and pulled myself up to the sixth clip (3/4 of the way up). I was pumped and I fell, about 10 feet. Keith caught me. I didn't scream this time. I'm no longer afraid in the gym. The best part... I know I will finish that climb when I'm fresh. There I go... I just progressed three levels from 5.10- to 5.11!
Thank you Michael Reardon for pushing me to press on past the fear! I will never go without a rope, but perhaps a 5.12 lead is someday in my future?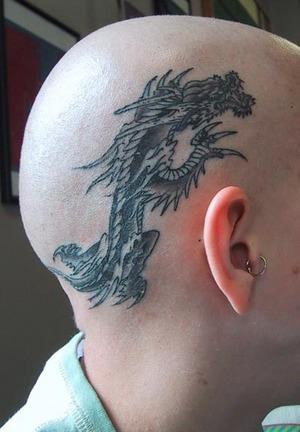 The Dragon
Anjenette Milner

The Dragon. Photo by: Anjenette Milner.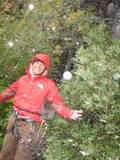 Joe Rand can't believe it is snowing druing the '06 C4L
Samantha Lockwood


Joe Rand can't believe it is snowing during the '06 C4L. Photo: Samantha Lockwood.
I am honored to be able to afford the lucky eBay winner with the same inspirational energy that pours out of Michael Reardon. He will focus on what you want to work on. He will pay attention to you and your climbing needs. He is amazing in so many ways. You should bid and bid to win because Michael is a man who is dedicated to raising money for Ovarian Cancer Research. A man who cares that much about women's health… well that is the most inspiring part for me. Thank you Michael.
To join Team Bury the Dragon for SLC Climb4Life '07, Team Bury the Dragon is now gearing up for 2007.
slockwoo_knits

2007-02-13
Michael will be appearing at 8pm, Monday Febuary 19th at Stigeler Hall Room B6 at the University of Pennsylvania in Philadelphia. Tickets are $10 at the door. There will be raffel prizes from REI and EMS, proceeds of the raffel will go to HERA Foundation.
you

2007-02-21
i just wanted to thank those involved in organizing the talk with mike....entertaining presentation...good cause....and i dunno how ems knew how grimy my jacket is, but it was uncanny they should throw leather cleaner in with the kayaking gear...thanks again - sean
slockwoo_knits

2007-02-21
To "you" -- thank you for your support. Glad you had fun and very glad the kayaking gear went to a kayaker!
Add a Comment