OuroBoulder 2008 - Brasilian event
by Ildeli dos Santos da Costa
The Festival of Boulder in Ouro Preto (OuroBoulder 2008), was successful. This year, the goal of the event was the exploration and consolidation of several new areas of boulders. Climbers from several Brazilian cities were present.
Climbers from the Rio de Janeiro, Espirito Santo, Rio Grande do Sul, Minas Gerais, SŃo Paulo and Goias climbed during the day and night, in Pedreira Area. There were several climbers from Sao Paulo, but the massive presence was climbers from Brasilia (Cocalzinho), which were fundamental to the achievement of the event.
The climbers from the city of Belo Horizonte, arrived on Sunday. They had strong participation in the event. Among them, were Haddads, Kbeša, Dani and several others important climbers from this city.
A friend of Dani Andrada called Fernando was present.
Much of the climbers were in Pedreira Area, mainly climbers who did not know yet this boulder area.
For those who are experts in the Pedreira Area, a new area of boulder was presented and explored. It was used maps (GIS Assessment) published in croqui, which was distributed on the day of the event.
The maps indicate two new areas of boulder: Oportunidade 1 and Oportunidade 2. On Saturday, a group of people led by Maggo, Kabeša, Dani, Faraˇ and Kblo were to Oportunidade 1. Other climbers, from Montes Claros and Belo Horizonte, were in the group.
In most eastern portion, was located an area of High Ball, surrounded by several excellent boulders The news spread quickly.
A group, from Brasilia, led by Rafael Passos and Maromba came to know the new area. Several projects were launched over v10. This occurred on Sunday.
Rafael Passos won a v9. This boulder was discovered on the previous day by kabeša.
ZÚ Ricardo, from Brasilia, found a place with several boulders on Sunday (also on Opportunity 1).
In accordance with the purpose of the event, the OuroBoulder 2008 was a success.
Dozens of climbers, from various cities of Brazil, celebrated the bouldering in an excellent boulder area. New areas have been explored in Morro do SŃo SebastiŃo ľ Ouro Preto, since then.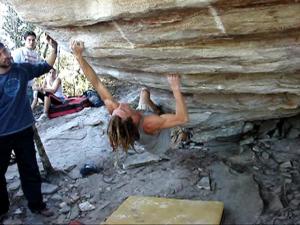 Faraˇ das Montanhas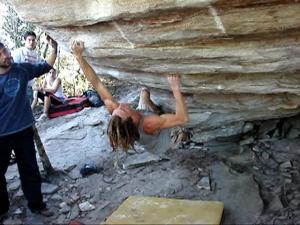 Faraˇ das Montanhas
Faraˇ das Montanhas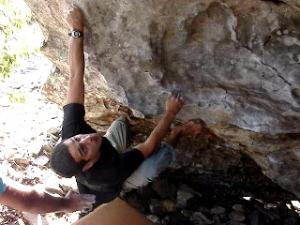 Faraˇ das Montanhas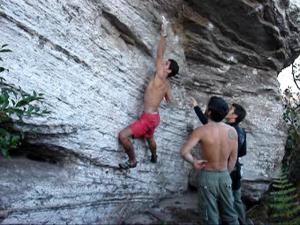 Faraˇ das Montanhas
Faraˇ das Montanhas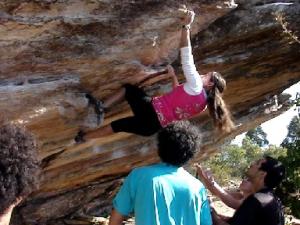 Faraˇ das Montanhas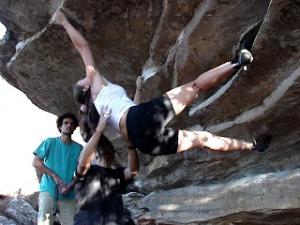 Faraˇ das Montanhas
All photos: Faraˇ das Montanhas
bortoletto

2008-07-28
Yeah, it is great to see news from Brazil in this site (mainly in the front page).

I┤ve been heard you guys in some topics in the internet and it┤s awesome.

For sure you are in way to exceed the limits by pushing the bondaries of brasilian boulders skill.
Add a Comment