Reel Rock Film Tour Kicks Off September 5th
by boo turner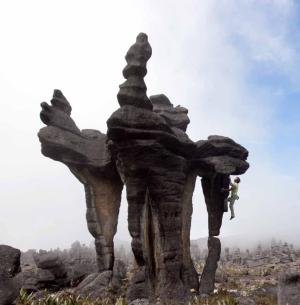 Sharma on surreal formations in Venezuela
courtesy Reel Rock Film Tour

Chris Sharma on surreal formations in Venezuela. Photo: courtesy Reel Rock Film Tour.
REEL ROCK FILM TOUR RETURNS IN SEPTEMBER 2007
2ND ANNUAL TOUR TO FEATURE NEW FILM STARRING CHRIS SHARMA KING LINES: CHRIS SHARMA'S SEARCH FOR THE PLANET'S GREATEST CLIMBS
(Boulder, Colorado)—Sender Films and Big UP Productions are pleased to announce the 2007 Reel Rock Film Tour (http://www.reelrocktour.com), an annual event that showcases the best new films about the sport of climbing and brings together communities of climbers, outdoor enthusiasts and film aficionados for high-energy evenings of entertainment.
This year's Reel Rock Film Tour highlights King Lines: Chris Sharma's Search for the Planet's Greatest Climbs, which will take audiences globetrotting alongside Chris Sharma—the 25-year old climbing phenomenon—as he discovers and climbs the world's most outrageously difficult and beautiful rock climbing formations. The 2007 Reel Rock Film Tour kicks off in Squamish, British Columbia on September 1st, and in Encinitas, California on September 5th, starting an expanded, two-month schedule that will reach as many as 60 cities in North America and beyond. Sharma, who has set the bar in his sport with improbable, gravity-defying feats of free-climbing wizardry, will make rare appearances at several shows in California, as well as at other major Reel Rock Film Tour stops in the northeast. The 2007 Reel Rock Tour is presented by Windstopper®, and is additionally sponsored by Climbing Magazine, Urban Climber, Prana, Evolv, Petzl and Osprey. Complete information on the 2007 Reel Rock Tour, including tour dates, locations and venues, can be found on www.reelrocktour.com.
"Sender Films and Big UP Productions are privileged to capture this intimate look at Chris Sharma's world," said Nick Rosen of the Reel Rock Film Tour, which, in 2006, its inaugural year, presented award-winning films to over 10,000 people in over 50 locations. "We are bringing Sharma's mind-blowing prowess to big screens across the country, and audiences will be breathless and inspired by his accomplishments."
The opening act for King Lines is a highlight showing of Committed, a new film documenting the legendary British appetite for hard and dangerous rock climbing, by filmmakers Dave Brown and Paul Diffley of Hot Aches.
About Chris Sharma's King Lines Chris Sharma is undoubtedly the strongest and most famous rock climber of his time. For the past decade, he has consistently redefined the boundaries of his sport, and, at 25 years old, the Santa Cruz, California, native embarked on a new quest to seek the planet's greatest uncharted climbs. His first stop, in September 2006, was off the coast of Mallorca, Spain, where, without a rope, he climbed a spectacular route on a massive rock arch surrounded by the Mediterranean Sea. This deep water solo tested Sharma time and time again over the course of several visits. When interviewed during filming in Mallorca, Sharma deemed the route, which he named Es Pontas, more challenging than all the climbs he'd ever done.
"What makes this climb so difficult is that you're upside down, you're hanging on your arms and on your fingertips the whole time," Sharma said. "On top of that the wall is absolutely blank for seven feet. You have to actually just leap through the air and stick another hold." That critical hold is just the size of three of Sharma's fingers, and that explosive upward leap, on the underbelly of a steep overhang, is, Sharma said, "a pure, all-four-points, cut-loose dyno. I've probably tried that move a hundred times." Every time he missed the one hand-sized pocket, he plummeted 50 feet into the sea below. A video clip of Sharma's effort on Es Pontas can be seen on the filmmakers' websites, www.senderfilms.com or www.bigupproductions.com. This segment—which aired on NBC's Jeep World of Adventure Sports—won the Sports Emmy for Outstanding Camerawork in April.
Sharma's spectacular first ascent of Es Pontas is just one of the highlights of Chris Sharma's King Lines. Film crews follow Sharma to remote jungle plateaus of Venezuela; to stunning, untouched limestone walls of France's Gorge du Verdon; to the sea cliffs of Kalymnos in Greece, as well as to Nevada, where Sharma works on a new, difficult breakthrough route. Along the way, Sharma is joined by fellow climbers, BASE jumpers and other adventure junkies, and the film reveals the compellingly private and focused personality of the man on the cutting edge of his amazing sport.
Chris Sharma's King Lines is the first full-scale collaboration between leading filmmakers Peter Mortimer of Sender Films and Josh Lowell of Big UP Productions. Friends from college, experienced climbers, and award-winning filmmakers, the duo has pooled their talents, experience and resources to create the new film. The entire production is being filmed with multiple high-definition cameras, utilizing cranes, helicopters and state-of-the-art rigging techniques to best capture Sharma's incredible skill and accomplishments.
collegekid

2007-09-06
The movie has too much focus on Sharma. Ok, so he's a great climber--aren't there any other climbers looking for "King Lines"?
Add a Comment