Athletic Challenge for Top Boulderers and Route Setters Alike
When the world's best bouldering athletes compete for a 20,000 Euro prize purse at the adidas ROCKSTARS invitational contest on the 29th and 30th of July, they climb on artificial boulders that have been set by outstanding route setters. To present the event on the highest athletic level, the organisers brought a great many of experts on board, including referees with years of world cup and world championship experience.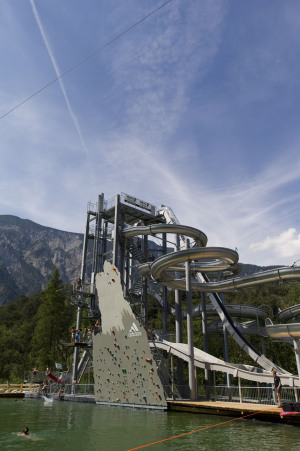 Photo credit: area47.at
If the racecourse makes up the challenge for a Formula 1 or mountain bike race, the screwed "problem" on artificial rock marks the challenge of a bouldering competition. The routes must be varied and demanding, difficult but feasible, because if no competitor is able to "top" the problem, the event may get boring for the audience. A challenging task for which one needs years of experience.
"A good course setter can estimate the level of the athletes very well. He must be able to create different kinds of boulders in order to make the competition fair, thrilling, and attractive for athletes and spectators", says 21-year-old world cup competitor Lukas Ennemoser from Austria. "The athletes should push their boundaries while having fun. At the same time you want to entertain the crowds to create a great atmosphere. If the vibes are good the athletes surpass themselves."
According to Mélissa Le Nevé from France it's all about the right mix: "A good route setter must be creative, climb himself on a very high level – especially outdoors – and he should have a unique style." "In my opinion, versatility and openness are crucial", say German world cup athlete Jule Wurm. "It's nice if you see lots of different boulders in a competition and if the route setter is willing to take on a style that may differ from his basic attitude. A negative example for me would be if there are only small ledge boulders (note: tiny grips which are very difficult to hold). I prefer a good mix of technique, dynamics, strength and creativity."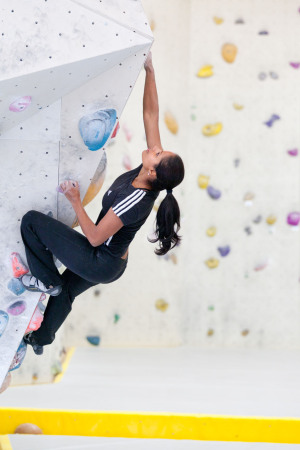 Photo credit: Reinhard Fichtinger
Top-class route setter team on duty
To fulfil these demands the adidas ROCKSTARS organisers have recruited Austrian route setters Reinhard Fichtinger and Matthias Woitzuck as well as Frenchman Laurent Laporte. Fichtinger, in the climbing community better known as "Reini", will head the trio as chief route setter. The 36-year-old started climbing two decades ago and was leading the Austrian competition scene together with Kilian Fischhuber for many years. Today he trains Austria's route setters. He screwed he first routes in his local indoor climbing centre in Innsbruck. In 2001 he set his first competition. Ever since then Reini Fichtinger worked hard for his excellent reputation as route setter in Austria and worldwide. "As a course builder you are certainly instrumental for the success of a competition. You must find the perfect balance of difficulties that make the event attractive for both, athletes and spectators", says Fichtinger who loves the competition format the adidas ROCKSTARS invitational contest. "What I like about the concept is that the winner is only determined on the very last boulder. Not all competitions are like that. This concept is easy to understand for the audience and the athletes can perfectly present themselves. On the super boulder the winner climbs directly onto the podium! However for us it's more difficult, because the competition is ultimately not decided on four boulders, but on one. The super boulder must be extremely versatile and challenging, so that only the best athlete can master it."
Not an easy job for which Fichtinger got experienced people on his team. Frenchman Laurent "Larry" Laporte has over 20 years of experience in route setting. He doesn't quite remember how it all started, but he knows very well why he's still so passionate about it: "I just love being creative. I enjoy trying my own boulders. The tension during a competition appeals to me and I love the feeling of relief afterwards." Laporte has worked at four world championships and many world cups. For the 45-year-old each competition is a new challenge. Asked what makes setting a good route so difficult Laporte replies that it is the play with rhythm and the hunt for new concepts to create a good "show".
Matthias Woitzuck is the third man in the adidas ROCKSTARS route setter team with six years of experience. The Austrian loves to be creative and to express himself through climbing. "I thoroughly enjoy watching someone climb a route of mine", says 27-year-old Woitzuck, who is also a member of the Vienna world cup route setter team.
Reini Fichtinger has worked several times with both Larry Laporte and Matthias Woitzuck. "Apart from getting along very well when working as a team, it's important that you perfectly complement each other", says the chief course setter. "We all have different strengths and weaknesses, but as a team we are well-balanced as the strengths of one person compensate the weaknesses of another."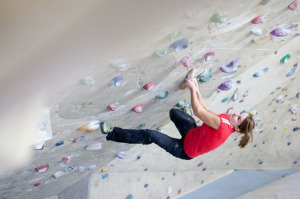 Photo credit: Reinhard Fichtinger
Nature is the main source of inspiration for the boulder problems they create. "Sometimes you see something outdoors and try to copy it. Or you think of a certain move and try to enforce it with our equipment, i.e. wall structure, gradient, volumes, grips and holds", explains Fichtinger. "But it also happens that the athletes find a much easier solution during a competition than the one we thought of. So next time you puzzle and work meticulously until there is only one difficult solution to a problem. That's the challenge of our job."
Athletes believe that Fichtinger is the right man for the job. "I think he's great", says Jule Wurm. "Reini works at man international competitions and is a very experienced route setter who again and again whips up amazing boulders."
Accumulated expert knowledge
Head referee Susi Knabl, assistant head referee Markus Fillafer and their team of referees of the Austrian Competition Climbing Federation (ÖWK) will ensure that the top-class athletes can enjoy a fair competition. Knabl took her first national jury class in 1994 and completed an international training in Switzerland three years later. She has been working as head referee at national and international competitions around the world like world cups, masters, European and world championships ever since. The mother of three is looking forward to adidas ROCKSTARS: "After my first meeting with the event project management I got really excited. Normally I go to a world cup or a championship and complete my normal programme. Here they've really given a thought to a new concept and I always enjoy trying something new. I'm sure the event will be very interesting and I hope all the great ideas will fall on fertile ground. Besides, I am really curious how the athletes will embrace the super boulder."
Markus "Fiffi" Fillafer will support Susi Knabl as assistant head referee at the event. He, too, has been in the climbing business since 1994. Fillafer has six years of experience as referee and was part of the referee team at the 2010 European Championship in Imst. According to him adidas ROCKSTARS is the perfect package for the young generation.